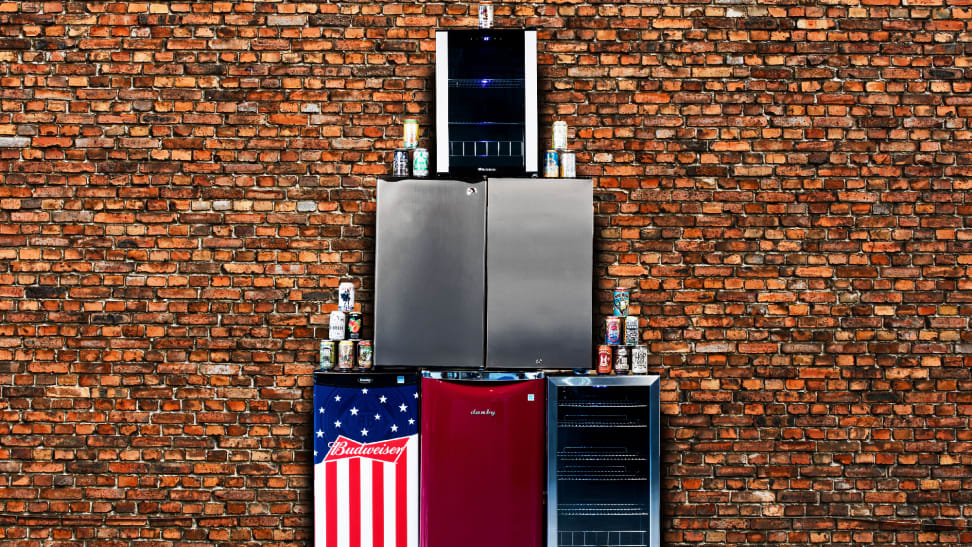 — Recommendations are independently chosen by Reviewed's editors. Purchases you make through our links may earn us a commission.
No matter whether you drink Bud Light or nerd out over craft brews, or if you're outfitting a home bar or a man cave, you'll need a place to chill all those cans and bottles.
There are hundreds of beverage coolers and mini fridges out there to choose from. Some of them are surprisingly large, while others are impractically small. Still, others require built-in installation. For this guide, we chose to focus on some of the most popular models at manageable sizes and affordable price points, to help you find the most practical option.
After testing them for both capacity and temperature range control, we used our years of kitchen fridge testing experience to figure out just which one you should buy. That's why we recommend the Wine Enthusiast Evolution Series Beverage Center (available at Amazon) as the best beer fridge to buy.
Here are the best beer fridges we tested:
Wine Enthusiast Evolution Series Beverage Center
Igloo 3.2-Cu.-Ft. Platinum Fridge
Danby Contemporary Classic Chrome Line
Danby 3.3-Cu.-Ft. Beverage Center
EdgeStar 3.2-Cu.-Ft. Beverage Center
Avanti 3.2-Cu.-Ft. Mini Fridge
NewAir 126-Can Beverage Center
EdgeStar 3.6-Cu.-Ft. Beverage Center
Whynter 5.75-Cu.-Ft. Beverage Center
How We Tested Beer Fridges
The Testers
Hi there! We're Reviewed's appliance testing team. Between us, we've spent many years testing major appliances including washers, dryers, refrigerators, dishwashers, vacuum cleaners, and robot vacuum cleaners.
We have plenty of experience testing these products in the lab, but we've also used them as normal people would in the course of their daily lives, which means that we have a great sense for what appliances are bargains at their price points, and which appliances have really useful extra features (as opposed to the kitchen-sink approach to features).
The Tests
We test each beer fridge from two perspectives—first, from a data-driven, objective point of view, and second, as a regular person trying to get at the leftover Chinese food. The combination of these two types of experiences allows us to recommend the best fridge for you at any price point.
Refrigerators pull in air and cool it down to temperatures cold enough (usually around 37°F) to preserve food and limit bacterial growth. This cooling method means that fridges are very sensitive to air conditions. In hot weather, the condenser and cooling coils have to work harder to cool the warmer air. In cold weather, it may get so cold that the fridge condenser doesn't turn on. This is why, if you happen to have a second fridge in your sweltering hot or freezing cold garage, you may have noticed that the air inside that fridge is not as cold as the air inside your kitchen fridge.
To avoid these temperature effects, we test each refrigerator in a lab that conditions the air temperature to 72°F +/- 5°F (basically, room temperature), and relative humidity to 50% RH +/- 15% RH. This way, each fridge can perform at its best, and doesn't get penalized by dealing with warmer or colder air than its competitors.
We spend a week putting each refrigerator through its paces. After packing the fridge with water filled containers (since fridges operate better when there's less empty space), we measure the fridge's temperature, humidity loss, freezing time, usable space, and energy use.
Temperature — Our ideal temperature settings for the fridge and the freezer are 37°F and 0°F, respectively. With fridge temperatures higher than 37°F, you may have to start worrying about bacteria growth, as 40°F is the start of the bacteria "danger zone". Food isn't properly frozen at freezer temperatures above 0°F. Once we set each fridge to those temperatures, we collect temperature data throughout the week's testing that tells us not only how close the temperature in the fridge and freezer are to 37°F and 0°F, respectively, but how close the air temperature stayed to those ideal values.
Usable Space — One of the most common refrigerator specs is the total capacity, or the volume inside the fridge, in cubic feet. You'd think that a higher capacity means more storage, but that's not always the case as shelves, drawers, and ice makers can eat into that capacity. We measure the usable space, which is how much empty space is actually available in the fridge's interior to store your food and drinks.
Energy Use — Using an electric meter, we measure the fridge's energy usage (in Watt-hours) over the week of testing. The less energy used, the more efficient that fridge is, and the more money it'll save you on utility bills in the future.
We also use each fridge in a more casual sense so that we can answer usability questions about the fridge's specs and features, like the doors, shelves, controls, water/ice dispenser, and extras like smart connectivity, door-in-door or flexible storage options, etc. If a refrigerator keeps the temperature at a perfect 37°F, but it's very difficult to open the doors and the control panel makes no sense, we're going to penalize that fridge with respect to its ease of use.
---
What You Should Know Before Buying A Beer Fridge
How Long Does Beer Last In A Fridge?
In general, beer can last from six to eight months in a fridge—but the quality of the fridge could make it last longer or cut into its lifespan. Make sure to get a beer fridge with excellent internal temperature consistency if you want to up the shelf life of your suds.
What Temperature Should a Beer Refrigerator Be?
Ideally, your fridge should be exactly 37°F, but if it's a dedicated beer fridge it's best to set it between 50°F and 55°F—just make sure to not also store perishable food in there! Microorganisms can proliferate more rapidly at temperatures above 40°F, which will turn leftovers into new ecosystems. For beer, however, it lets yeast continue to do its thing.
What's best for your beer: a mini fridge or beverage center?
The line between what constitutes a beverage center and a mini fridge is a bit blurry, but in general a beverage center includes basically every dedicated storage area for beverages. This can include everything from a small, stand-alone, mini fridge to a separate drawer compartment in a full-size fridge that has its own temperature controls. In general, because beverage centers are built specifically for storing beverages, they often do a better job with the details than a mini fridge, which are built for more general storage. Beverage centers will often have better storage solutions for corralling bottles and cans, come with their own temperature controls, and can (and should) run much warmer than you should ever keep your fridge. In general, beverage centers will be better for your purposes than a mini fridge as they are more specifically purpose-built for the task of keeping cans cold.
How Long Do Refrigerators Last?
While the lifespan of any appliance can vary wildly due to several factors, you should expect your fridge to last for about 10 years.
Most manufacturers will at least cover the first year in their warranty, but some companies will offer more robust programs that will cover specific parts up to five years, 10 years, or for the lifetime of the product.
---
Other Beer Fridges We Tested
More Articles You Might Enjoy