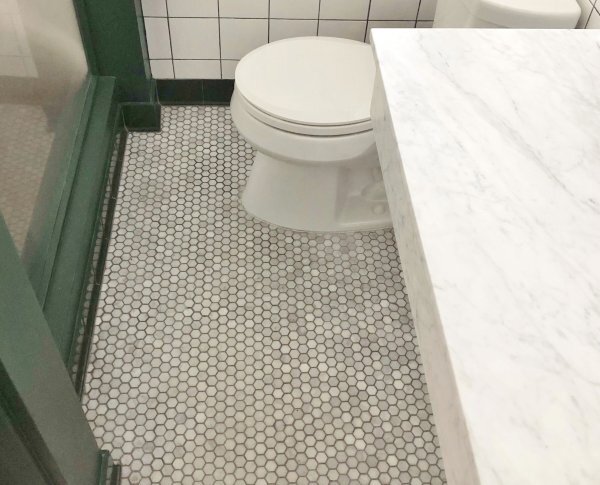 Small Bathroom Design Tips
I stayed in a hotel recently with a beautiful marble bathroom, the big problem was that it was exceptionally small.
The length of it was okay, but it was only 4 deep. To top that off, the countertop was a standard 24 deep in that 4 deep bathroom, so you only had 24 to move around, get ready for the shower, etc.
It was really like a bathroom in a closet.
They used an exceptionally small sink. It would have been easy not to go so deep with the marble counter, but they used a typical depth on the countertop that really crowded the available depth of the bathroom.
Small Bathroom Design Tips - Hotel bathroom with Carrara marble countertop and small round sink.
To top that off, they used a mostly see through textured glass that basically hid nothing, between the toilet and the bedroom. When you sat down, your knees were almost right up against the glass there. :-/
Small Bathroom Design Tips - Check out the distance between the counter and door frame and then the toilet and glass wall, in this hotel bathroom.
Really, it was a pretty impractical design. It would have been better to just take down the wall and leave the bathroom open! :-)
Of course, with all the nice finishes and the location, this hotel was priced at a premium. Oh well..(Its good blog fodder for me!)
It was a really pretty bathroom otherwise. Loved the hunter green with the white marble and that classic luggage rack style towel bar is always good for small spaces.
My blog contains affiliate links. Any purchases, at no additional charge to you, render me a small percentage, are most appreciated and make this blog possible. :-)
Small Bathroom Design Tips - Hotel bathroom with Carrara marble countertop and small round sink.
Small Bathroom Design Tips - Hotel bathroom with train rack style towel bar

Is there a better way to design this bathroom so that it can feel like there is more room to function and not feel so tight?
Yes! Cheat the depth of the Bathroom countertop.
If youre struggling for ways to deal with small spaces, you need look no further than the recreational vehicle market.
Theyve been dealing with this for years.
Take a look at this bathroom counter and sink design in the Living Vehicle I toured at the Dwell on Design show in LA, a few years ago. Its not more than 15 deep, yet the sink is standard size.




Small Bathroom Design Tips - Small space bathroom vanity design with glass vessel sink in recreational vehicle
See how the front curved edge of the sink extends out over the counter?
And it is glass, so very visually unobtrusive. The faucet isnt behind the sink either, it is off to the side.

And thats one way to create more space in a bathroom.
I have another popular post with more suggestions. Many of these bathrooms arent small, but they employ design tricks and tips that work well in the design of a small bathroom.
And here are some great space saving sinks that can be used in similar situations. These are all under 20 deep, and one is even less than 9!
Truly great finds for small space living. :-)



Im heading to KBIS in January, the National Kitchen and Bath Show. Ill be looking for comfortable free standing tubs, cool small space solutions, new products in accessible design, and much more!
Subscribe below to get my takeaways delivered right to your inbox. :-)
Subscribe to my blog for design insights, advice and inspiration sent twice weekly to your inbox. You'll get my FREE Top 5 Tips For Bookshelf Styling when you sign up. The link pops up right here when you enter your email address below.
Thank you! Heres your FREE Bookshelf Styling Guide!