This decadent quinoa gluten free chocolate cake super moist and fudgy, flourless, and not too rich. Plus, it's naturally dairy free and gluten free!
Is quinoa gluten free?
Yes! Quinoa is a gluten free grain. It's safe on a gluten free diet as long as it's free from cross-contamination with gluten-containing grains during the growing, harvesting, storage and preparation processes.
What is quinoa?
Quinoa is a gluten free grain. It's from a category called "pseudocereal," which just means that it's a non-cereal that produces seeds and flours that are used as grains, but are not grasses, like cereals.
Is quinoa a wheat?
No, quinoa is not a form of wheat. What is in the grass family, unlike quinoa which is a pseudocereal.
Quinoa: gluten free or not?
If you're here on this gluten free blog, you probably just want to know if you can eat quinoa safely on your gluten free diet. And the answer is yes!
Is all quinoa gluten free?
Quinoa comes in 3 main colors, and they're all safely gluten free. White, red, and black quinoa varieties are all gluten free, and sometimes are sold all together, as "tricolor quinoa." White quinoa tends to cook up the fluffiest of all 3.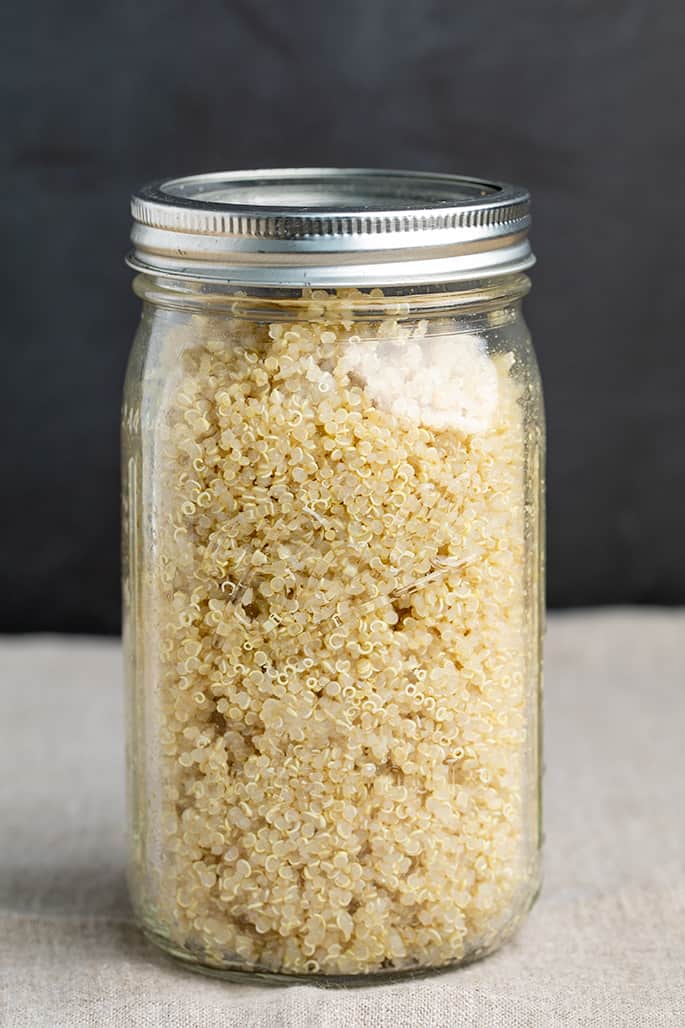 Why make a chocolate cake with quinoa instead of gf flour?
Everyone loves a flourless chocolate cake for that dense fudginess that can't be beat. But this cake is different.
It's not only because its texture is more like a more traditional chocolate cake. Or because it's naturally dairy free, made with oil instead of butter.
I've made this cake so many times over the last week or so, and I broke the cardinal rule of making someone else's recipe. The first time I made it, I did the very thing I always say you should never, ever do. I made it with my own special changes.
But to be fair, since the first time I saw this recipe for a naturally gluten free chocolate cake on Mel's Kitchen Cafe (hi, friend!), I was super curious to see if you could substitute the cooked quinoa for a cooked grain or alternative porridge-like food. And I'm happy to report that… you can!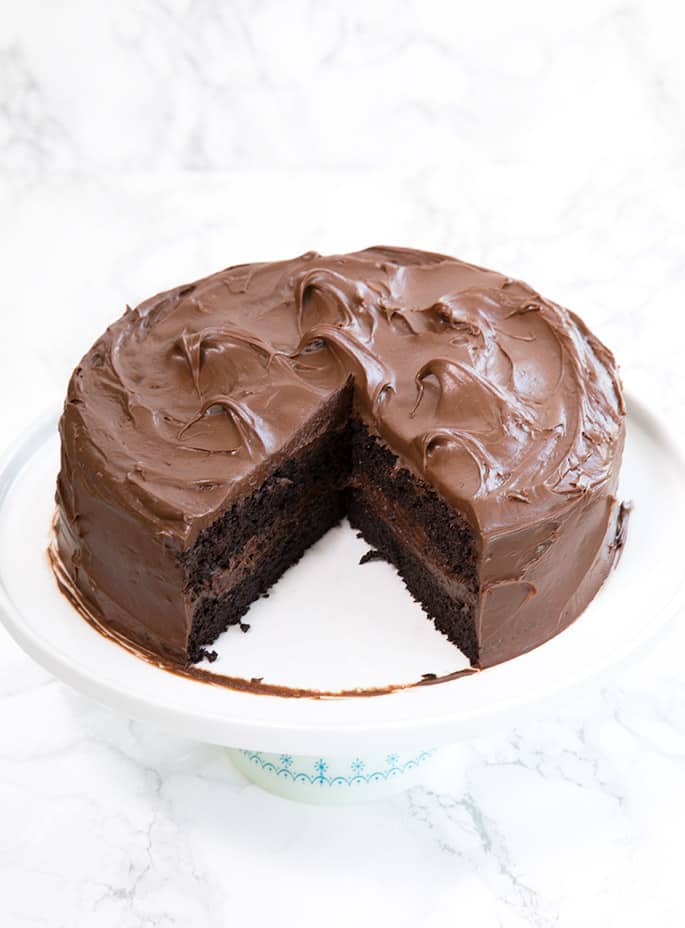 You can make this naturally gf cake with cooked quinoa or cooked teff
I've made this cake with either cooked quinoa or cooked cooked teff. The original recipe has a slight tendency to sink as it cools sort of like a soufflé, so I removed some moisture and changed a few other ingredient proportions.
Making this quinoa gluten free chocolate cake as I've specified below (no milk, more cocoa powder, oil instead of butter) made a similarly moist and tender cake as the original recipe I tried. It also made a chocolate cake that rises without sinking very much at all.
The cake is stable whether you make it with cooked quinoa or cooked whole grain teff. Just make them on the stovetop according to the basic package directions with water. Note that the proportion of grains to water is different for each grain.
If you're using teff to make your flourless chocolate cake
If you use cooked teff to make this flourless chocolate cake, you should know a few things about whole teff. First, be sure you're using the individual grains of this ancient nutritional powerhouse, not teff flour, for this recipe. They can be somewhat easy to confuse, since the whole grains are super tiny.
When you cook the whole grain teff in water, you'll need a ratio of 4 parts water to 1 part whole grain teff. For example, if you'd like to cook 1/2 cup of whole grain teff (raw), you'll need 2 cups of boiling water. You'll find that it cooks like porridge, and becomes firm as it cools like polenta.
You can crumble the cooked and cooled teff, or you can let it take the shape of the bowl that it's in, and throw that right into your blender to make the cake batter.
Tips for preparing the quinoa for this naturally gluten free chocolate cake
I started out making this cake in what's become the traditional manner: cooking it in water. But it turns out that you don't even need to cook the quinoa. You can just soak it in water for about 12 hours and blend away.
If you'd like more details on soaking quinoa for baking, please click through. But the general idea is to place about 1 cup (by volume, if you like) raw quinoa in a bowl or jar, and add enough tap water to cover by about in inch.
Cover the quinoa and water mixture, and allow it to soak in the refrigerator overnight, or for up to 24 hours. Drain the soaked quinoa in a fine mesh sieve or nut milk bag, measure the soaked and drained quinoa by weight in place of the cooked quinoa, and proceed with the recipe as written below.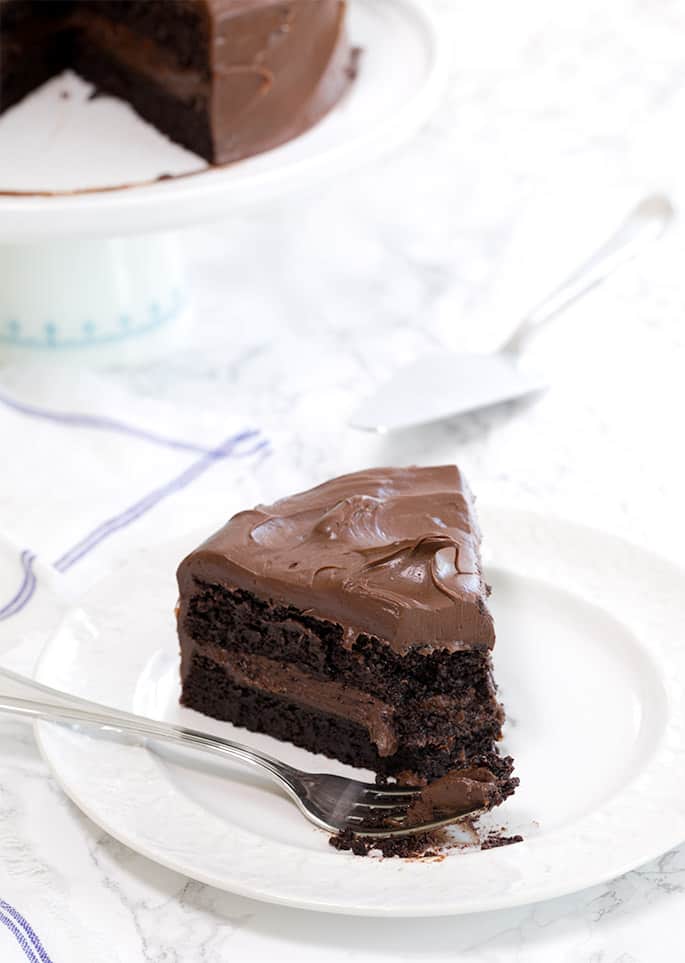 More choc quinoa cake ingredients notes
Eggs – The eggs are really important in this recipe, helping to bind everything together and give the cake lift.
Oil – A neutral oil, like grapeseed or vegetable oil, is perfect for making a rich chocolate cake when combined with cocoa powder.
Vanilla extract – A flavor enhancer that also helps overwhelm any taste of quinoa.
Sugar – Not just a sweetener, but a tenderizer, sugar is an important part of this rich chocolate cake
Cocoa powder – Cocoa powder not only gives the cake a deep chocolate flavor, but its aroma covers any remaining quinoa bitterness.
Baking powder and baking soda – Make sure your chemical leaveners are fresh, and they'll never fail to add the proper lift to your cake.
Salt – Balances the sweetness and brings out the flavor of the chocolate
Making gluten free chocolate quinoa cake — quick tips
Use a blender for the best quinoa cake
Even though we soften the quinoa by cooking (or soaking) it before using it in the cake batter, we need to blend it with the oil and some other wet ingredients so it doesn't add any unwanted texture to the cake.
You don't need a  high speed blender for this task, but even a lower powered blender will make a smoother batter that holds everything together better than a food processor. If you don't have a blender, you can use a food processor, but your cake may be a little more fragile, and may even have a bit of texture.
Choosing the right baking pans
As written, this recipe makes a single 8-inch round cake, but you can make it easily in an 8-inch square cake pan without any modifications. If you'd like to use a 9-inch pan, just reduce the baking time as it will be ready faster.
I always recommend baking in light-colored cast aluminum baking pans for even baking without burning. To make a layer cake, just double the batter, divide it evenly among 2 prepared cake pans, and bake as directed, rotating the pans halfway through to ensure they bake evenly.
I don't recommend using a bundt pan, since this cake is not sturdy enough to hold together reliably in that quantity, and in that sort of pan.
Use parchment paper for easy removal
Most of my round cake pans are not nonstick, so I'm always sure to grease them well with cooking oil spray, and lining them with a round of parchment paper.
To remove the cake from the pan, allow it to cool until it's no longer hot to the touch, place an upside down wire rack on top, invert the pan and rack, and remove the pan by lifting it up and off the cake.
A simple frosting for chocolate quinoa cake
My favorite frosting for this simple chocolate quinoa cake is a rich whipped chocolate ganache. You'll find the recipe below. I only add the (optional) confectioners' sugar to the whipped ganache if I plan to travel with the cake and need the frosting to be firmer.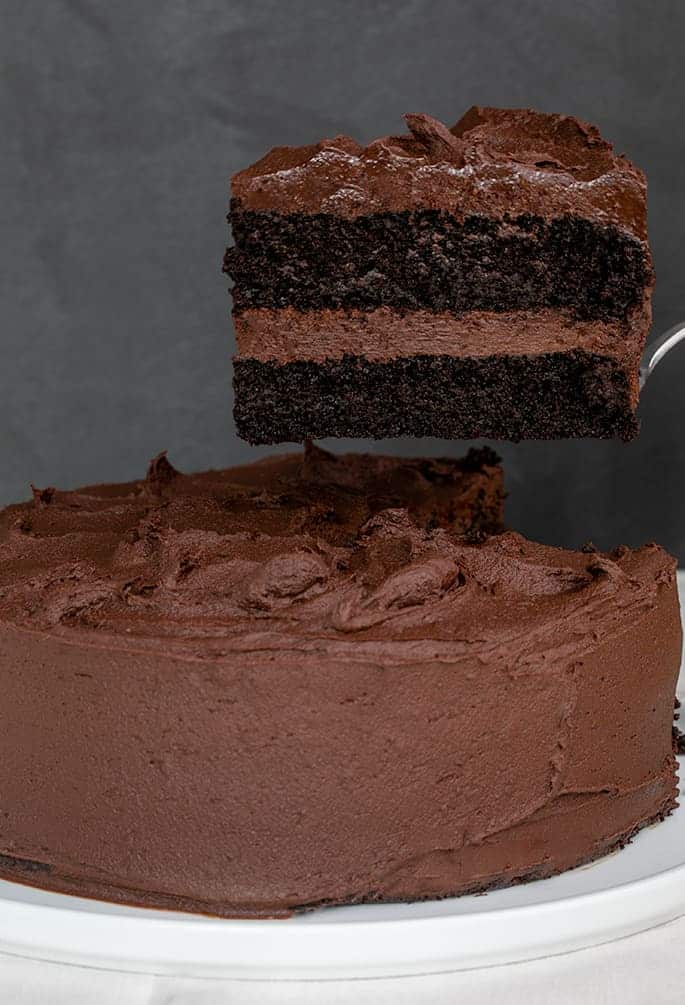 How to store chocolate quinoa cake so it stays fresh
This chocolate quinoa cake is super moist, so it doesn't dry out easily. However, when it's plain and not covered in frosting, it can be somewhat fragile so be sure to keep it wrapped tightly or on a stable base like a serving platter before you serve it.
Quinoa gluten free chocolate cake: Ingredients and substitutions
Dairy free quinoa chocolate cake
This cake is already dairy-free by nature, since it's made with oil instead of butter. To make the chocolate ganache dairy-free, make sure you're using dairy free chocolate, and replace the heavy whipping cream with chilled coconut cream from the can (liquid set aside or discarded).

Can you make quinoa chocolate cake without eggs?

That is a tough one. There are two eggs in this cake, and you can try a "chia egg" (1 tablespoon ground chia seeds + 1 tablespoon lukewarm water, mixed and allowed to gel), but the eggs are very important in this cake.
Quinoa/teff
I haven't tried this recipe with any other cooked seed or grain, but I suspect that it would work with anything that cooks in water like a porridge. Feel free to experiment!
Try to steer clear of anything that has a very strong flavor and that doesn't pair well with chocolate. Teff and chocolate are very compatible. Or just make one of our other gluten free chocolate cakes, if you can't have teff or quinoa.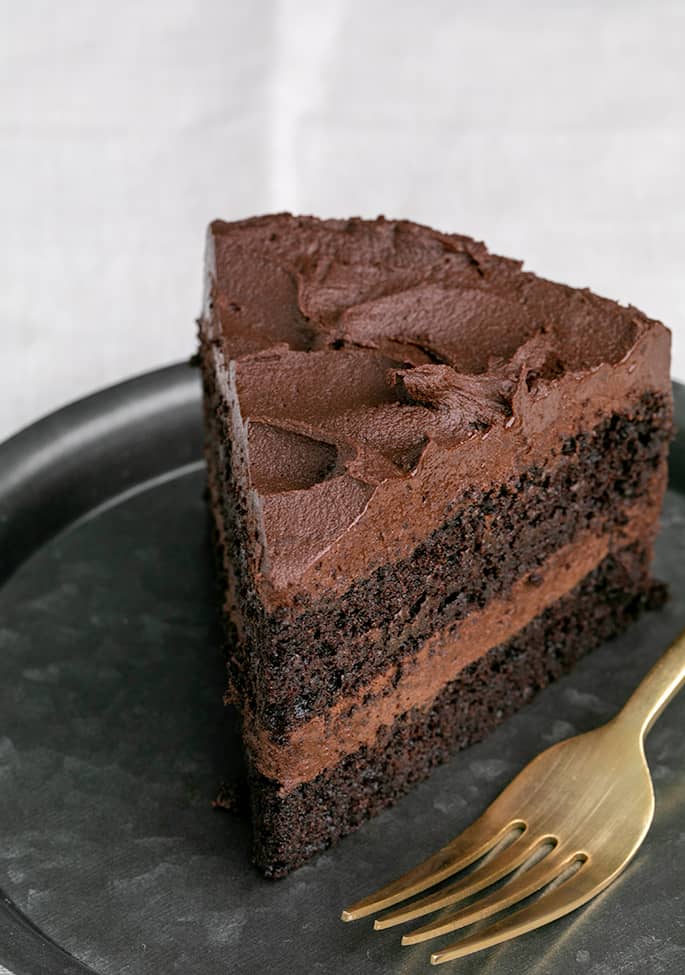 FAQs
Does quinoa have gluten?
No! Quinoa is a gluten free grain. As long as it doesn't come into contact with gluten-containing grains or other ingredients at any point before you eat it, it's safe for anyone on a gluten free diet.
What grain color should I choose when baking with quinoa?
I recommend baking with white quinoa, since it disappears most readily into the cake after being blended. We don't need to remind you of cooked grains when you're eating chocolate cake. :)
Can I use quinoa flour for this moist gluten free chocolate cake recipe?
No, you can't use quinoa flour to make this cake. It calls for cooked (or soaked) quinoa, and is balanced in favor of the extra moisture and tenderness of the cooked grain.
Can I adjust this quinoa cake recipe to make a white or yellow cake?
No, I haven't had any luck making a yellow cake with quinoa as a base instead of flour. The slightly bitter flavor of quinoa simply must be masked with another strong flavor, like cocoa powder.
Can I use this gluten free chocolate cake recipe to make quinoa cupcakes?
You can! I have all the details in our quinoa chocolate cupcakes post. I use the same ingredients in different proportions, though, and prepared a bit differently, so click on over. 
Can I make this quinoa dessert in advance?
Yes! The cake freezes so well and defrosts really quickly. You can even keep it in the refrigerator for a day or so if it's wrapped tightly.
Does this quinoa gluten free cake need to stay refrigerated?
Any cake made with perishable ingredients shouldn't stay at room temperature for too long. But this cake, especially if it's unfrosted, will stay fresh on the counter for about 2 days if it's under a cake dome.
Can I freeze this quinoa cake?
Yes! I would recommend freezing the cake unfrosted. Just wrap it very tightly in freezer-safe wrap, place it in a flat surface, and then in the freezer. Once it's frozen, you can remove the flat surface.
How to make quinoa chocolate cake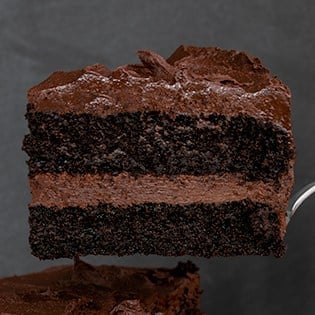 Print
Is Quinoa Gluten Free? Chocolate Cake Recipe + Guide
This incredibly rich, delicious quinoa chocolate cake is naturally gluten free, made with cooked quinoa or cooked teff instead of flour. All you taste is the most tender chocolate cake you've ever had!
Keyword
naturally gluten free chocolate cake, quinoa chocolate cake, quinoa gluten free chocolate cake
Chilling time for ganache
2
hours
Servings
1
8-inch single layer cake
Equipment
Blender

Handheld mixer (for making whipped frosting)
Ingredients
For the cake.
2

eggs

at room temperature

6

tablespoons

neutral oil

(like sunflower, grapeseed, canola or vegetable oil), at room temperature

1

cup

cooked and cooled quinoa or whole grain teff

cooked in water according to package directions (See Recipe Notes), at room temperature

1

teaspoon

pure vanilla extract

¾

cup

granulated sugar

⅝

cup

unsweetened natural cocoa powder

¾

teaspoon

baking powder

¼

teaspoon

baking soda

¼

teaspoon

kosher salt
For the frosting.
⅜

cup

heavy whipping cream

5

ounces

dark chocolate

roughly chopped

½

cup

confectioners' sugar

(optional)
Instructions
Make the cake.
To make a layer cake, multiply every ingredient by two and bake the batter in two separate 8-inch round cake pans.

Preheat your oven to 350°F. Grease an 8-inch round cake pan, and line the bottom with a round of parchment paper. Set the pan aside.

In a blender or food processor, place the eggs, oil, cooked quinoa or teff and vanilla, and blend or process until smooth. The mixture should become lighter in color.

You will still see flecks of the cooked quinoa or teff, but process until it's as smooth as possible.

In a large bowl, whisk together the sugar, cocoa, baking powder, baking soda, and salt.

Add the eggs and oil mixture, and mix until well-combined. The mixture will be thick.

Transfer the batter to the prepared cake pan, and smooth into an even layer with a wet knife or offset spatula.

Place in the center of the preheated oven and bake until the cake is set in the center and springs back when pressed very gently in the center (about 28 minutes).

A toothpick shouldn't come out wet, but it won't be completely clean.

Remove the cake from the oven and allow to cool in the pan for about 10 minutes before turning out onto a wire rack to cool completely.

The cake will sink a bit as it cools, particularly when made with quinoa, not teff, but it should mostly maintain its shape.

Frost as desired and serve.

The finished and cooled cake can be wrapped tightly in plastic wrap and frozen for storage of up to 2 months. Allow to thaw at room temperature before serving.
Make the frosting.
In a small, heavy-bottom saucepan, heat the heavy whipping cream until it just begins to simmer.

Place the chopped chocolate in a medium-size bowl, and pour the hot cream over the chocolate.

Allow the cream to sit on the chocolate for about a minute, until the chocolate begins to melt. Mix until the chocolate is melted, and the mixture is smooth and glossy.

Allow the ganache to cool at room temperature until no longer hot to the touch.

Cover and place in the refrigerator until firm enough to scoop with a spoon, about 2 hours.

Transfer the cooled ganache to a large bowl and beat with a handheld mixer or stand mixer fitted with the whisk attachment until thickened and fluffy. The ganache will also lighten in color as it whips.

Add the confectioners' sugar and whip to combine, if you'd like your frosting a bit sweeter, and a bit more firm.

Frost the cake as desired, and serve.
Notes
How to prepare the raw quinoa

. 
To make 1 cup cooked quinoa or whole grain teff, you'll need about 1/2 cup raw quinoa or teff. Note that teff will require more moisture to cook than quinoa; follow instructions on the package. Do not use grains that have been cooked in anything other than plain water.
You can also soak the quinoa, rather than cooking it, for use in this recipe. Place about 1 cup, by volume, raw white quinoa in a bowl or jar, and add enough tap water to cover by about an inch.
Cover the quinoa and water mixture with a lid or plastic wrap, and place it in the refrigerator. Allow the mixture to soak in the refrigerator, or for up to 24 hours. Drain the soaked quinoa in a fine mesh sieve or nut milk bag.
Measure the soaked and drained quinoa by weight in place of the cooked quinoa, and proceed with the recipe as written.
Adapted from
Mel's Kitchen Cafe. Originally published on the blog in 2017. In 2022, more resources added to the text, frosting recipe added to the recipe, and more photos added.
The post Is Quinoa Gluten Free? Chocolate Cake Recipe + Guide appeared first on Gluten Free on a Shoestring.