We're here to guide you through the coronavirus lockdown. Sign up to the Life newsletter for daily tips, advice, how-tos and escapism.
Keeping kids entertained is a struggle at the best of times, but with the juggling act between work, video calls, child care, and homeschooling during coronavirus lockdown can be tiresome. It's no wonder willpower is starting to fray. 
With so much time cooped up indoors, what better time than now to teach children the joys of cooking? Learn something new about food, where it comes from, and get stuck into fun, messy recipes together.
Three cookbook authors share their easy recipes that you can cook with the little ones that'll keep them occupied and the grown-ups sane.
Banana Semolina Cake(Nga Pyaw Thee Sanwinmakin)
Serves: 12-16 pieces | Prep time: 10 mins | Cooking time: 30 mins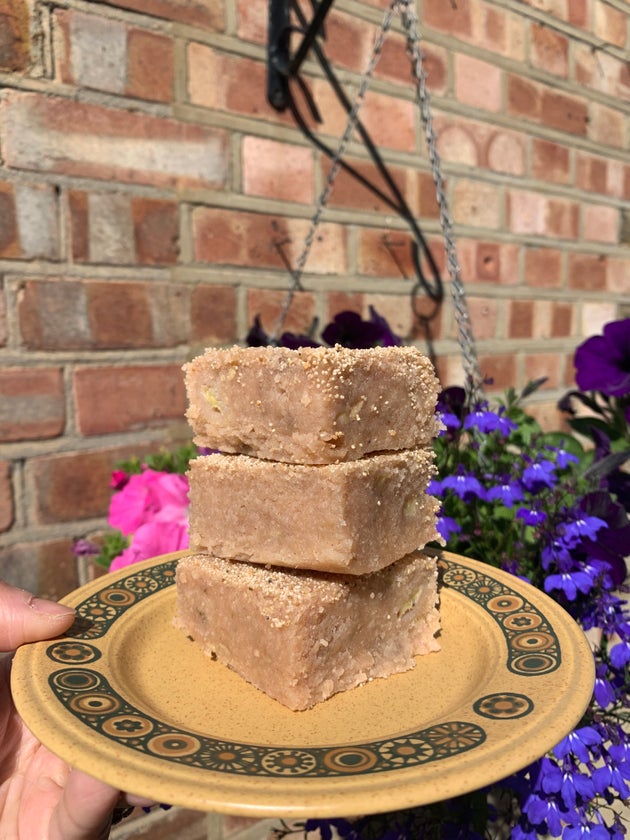 Slabs of red/purple-hued banana cake are a popular sweet snack in Myanmar. This is a recipe you can make with your kids and they will be wowed by the bright colour. No mixer, special equipment or techniques required and no eggs! The seed topping adds a good crunch and you can also add a couple of handfuls of raisins if you fancy it (raisins seem to be addictive to most kids)!
Ingredients: 
4 ripe bananas
150g butter, melted
150g semolina (As coarse as you can find)
150g plain flour
200g caster sugar
400g can coconut milk
1/2 teaspoon salt
Decent splodge red food colouring (not essential but adds to the visual)
25g White poppy seeds or sesame seeds
Method
1. Preheat the oven to 180C and grease and line a square 8 x 8 inch baking tin.
2. Toast the semolina in a dry pan for about 5 minutes, take off the heat as it starts to colour.
3. Get the kids to peel and mash the bananas into a large bowl. Then combine with the semolina and remaining ingredients (they can weigh them out!) except for the poppy seeds. Mix well.
4. Decant the mix into the prepared baking tin. Sprinkle the seeds all over the top.
5. Bake for 25-30 minutes by which time it should be firm to the touch. Allow to cool in the tin for 10 minutes then cool on a rack. Can be eaten warm straight away or cold!

Recipe from The Rangoon Sisters: Recipes from our Burmese family kitchen by Amy and Emily Chung, published by Ebury Publishing in Hardback at £20 is out 30 July 2020.
Tandoori Chicken Pizza
Serves: 4 | Prep time: 10 mins | Cooking time: 30 mins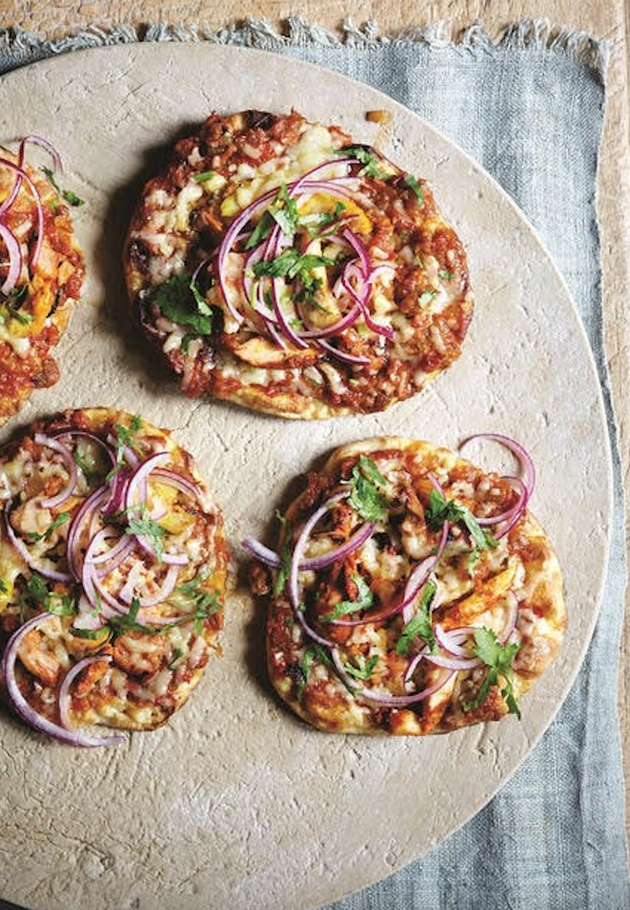 For years I've served small paneer cheese pizzas on naan bread, called naanza, as canapés in our restaurants, but there is no reason why they have to be vegetarian. This version with tandoori chicken and chillis works well, and so does a variation with cooking pancetta. For a veggie version, use grilled mushrooms, sweetcorn or paneer cheese instead of the meat. It is a great kid-friendly fresh Friday night dinner.
Ingredients
2 tbsp vegetable oil, ghee or butter
1/2 tsp cumin seeds 
2 garlic cloves, chopped
1 onion, finely chopped
1 tsp chilli flakes
half a red pepper, finely diced
half a yellow pepper, finely diced 
half a green pepper, finely diced 
3 tomatoes, blended to puree 
1, 1/2 tsp salt 
2 green chillies, finely chopped 
2 tbsp single cream
1 tbsp chopped coriander 
juice of 1 lemon 
4 naan breads 
1/2 quantity of tandoori-style chicken tikka, sliced or chopped or cook the pancetta as per packet instructions 
50g cheddar or parmesan cheese, grated 
Method
1. Heat the oil, ghee or butter in a heavy-based frying pan over a medium heat. Add the cumin seeds and when they start to crackle, add the garlic and sauce for 1 minute until golden.
2. Add the onion and sauce for 3-4 minutes until it starts changing colour. Add the chilli flakes, salt and diced peppers and sauce for 5 minutes until they start turning soft. 
3. Now add the tomatoes and cook for another 5-6minutes. Add the salt, green chillies and cream and mix well. Sprinkle with coriander and lemon juice. Leave to cool. 
4. Preheat the grill to medium. Once the mixture has cooled down, spread the mixture on the naan breads, sprinkle with chopped tandoori chicken or cooked pancetta, sprinkle with grated cheese and place under the preheated grill. Grill for 5-6 minutes until the edges of the naan become crisp and the cheese melts. Alternatively, preheat the oven 180C/160c fan/Gas Mark 4 and cook the naan for 10-12 mins.  
5. Cut into wedges and serve with a salad of your choice.
Recipe from Spice at Home by Vivek Singh, published by Absolute Press in Hardback at £17.99.
Creamed Corn with Onions (Pyaung-Hpu Kyaw)
Serves: 4 as a side or toast topping | Prep time: 10 mins | Cooking time: 30 mins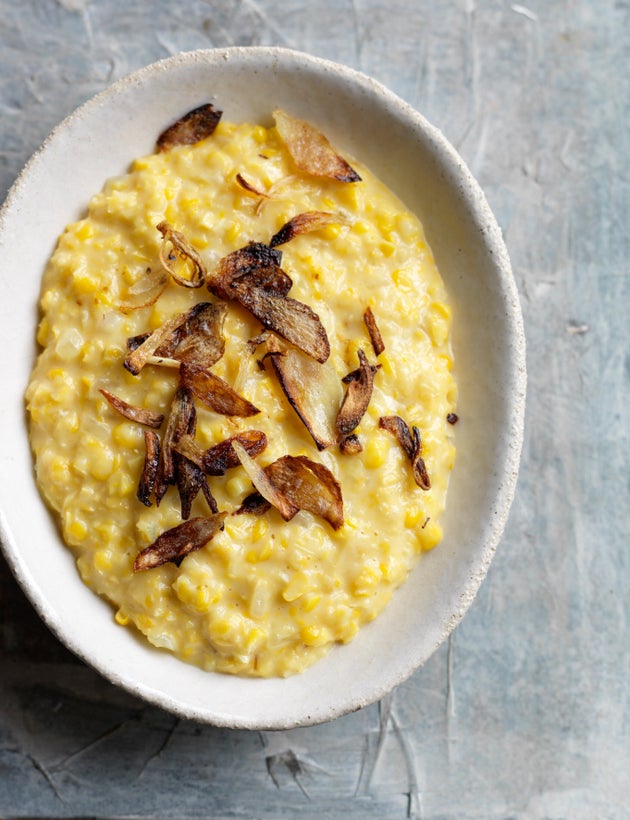 Condensed milk is the secret and perhaps startling ingredient in this recipe for Burmese creamed corn. Although I'm not sweet-toothed, I used to hoover this stuff up as a child and my kids now do the same and hopefully yours will too. Use double cream instead if you really must, but it's worth trying it the way it should be, as pure comfort food (just try not to think about garmonbozia while you're at it). Note that two different types of corn are desirable here to get the texture of Burmese corn (which comes in all sorts of different colours). This dish makes a good accompaniment to most curries or try it as a topping for toast.
Ingredients
2 medium onions (about 140g each), 1 sliced and 1 diced
4 tablespoons groundnut oil or other neutral-tasting oil
250g (or approximate weight) tinned sweetcorn
250g frozen sweetcorn
1 heaped tablespoon tapioca starch or cornflour mixed with 3 tablespoons water to form a paste
1 tablespoon condensed milk or double cream
1 tablespoon fish sauce (optional)
Method
1. Make the fried onion garnish. Use clean hands and stand over a sink to squeeze the sliced onion as hard as possible to get rid of any onion juice (I find microwaving the onion slices for a minute makes this job much easier).
2. Heat 2 tablespoons of oil in a frying pan over a medium heat and fry the sliced onion for 15 minutes, occasionally stirring with a wooden spoon or spatula, and then turn the heat up to high and fry for another 5 minutes, until the onions brown and begin to crisp up a little. Transfer the onions to a small bowl and set to one side. Do not wash up the pan.
3. Briefly blitz all the sweetcorn (including the liquid from the tinned sweetcorn) in a blender or food processor until most but not all of the kernels break down into a mush.
4. Heat the remaining 2 tablespoons of oil in the same pan you used for the sliced onion over a medium heat. Fry the diced onion for 10 minutes until translucent. Add the blitzed sweetcorn, the tapioca /cornflour paste, the condensed milk and the fish sauce if using, stir thoroughly and fry for another 10 minutes. 
5. Serve warm, topped with the fried onions. You may find you make more fried onions than needed for this dish, but they make a tasty all-round garnish – try them sprinkled on top of noodles and salads and over rice and mashed potato.
Recipe from Mandalayby MiMi Aye, published by Bloomsbury Absolute in Hardback at £18.52.