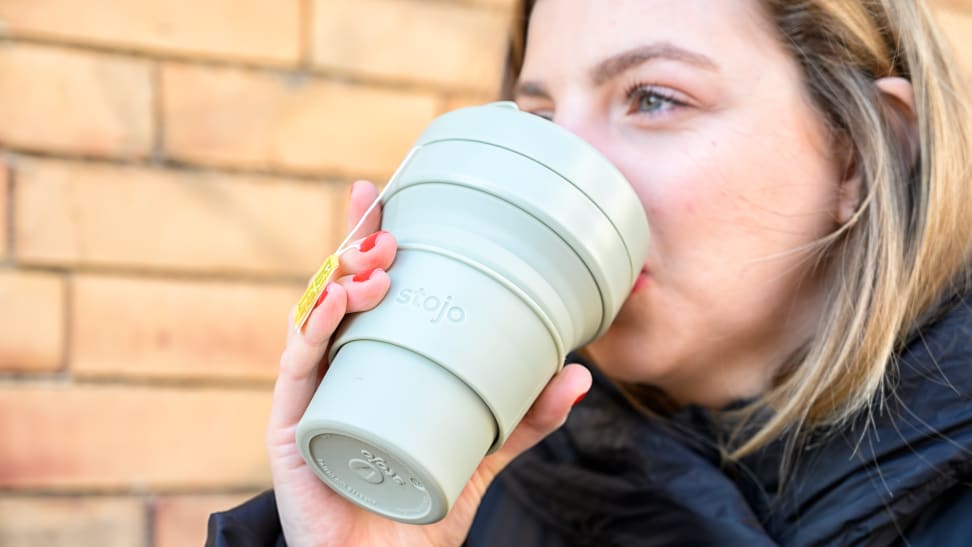 — Recommendations are independently chosen by Reviewed's editors. Purchases you make through our links may earn us a commission.
We at Reviewed are just as curious about those flashy products we see in our Instagram feeds as you are. For our 'As Seen On IG' series, our writers put them through their paces to find out if they're actually as good as they look online—or too good to be true. Spot one that we've missed? Email us at AsSeenOn@reviewed.com.
I am a sucker for cutesy things. Who isn't? But I almost shed a tear of joy when I saw Stojo, an adorable, collapsible to-go cup pop up on my Instagram feed. I needed it. So, I convinced my editors to let me write about it—although, it didn't take much convincing when they saw how passionate I was about testing this petite travel companion.
What is the Stojo Cup all about?
Like many trendy companies that advertise on Instagram, Stojo is focused on sustainability. "The future of our planet depends on more than doing without. It depends on optimism and tuning into the simple pleasures of the people and environment around us," states the company. "That's why at Stojo, we're committed to designing earth-conscious products that bring more to life than what they take away."
What exactly does this look like? For Stojo, or rather the three on-the-go New Yorkers behind the brand, it means that they've designed this clever cup to be ultra-portable, leakproof, and reusable. The goal: "Never again would someone have to choose between doing what's easy and doing what's important (at least when it comes to coffee)."
What claims does the Stojo Cup make?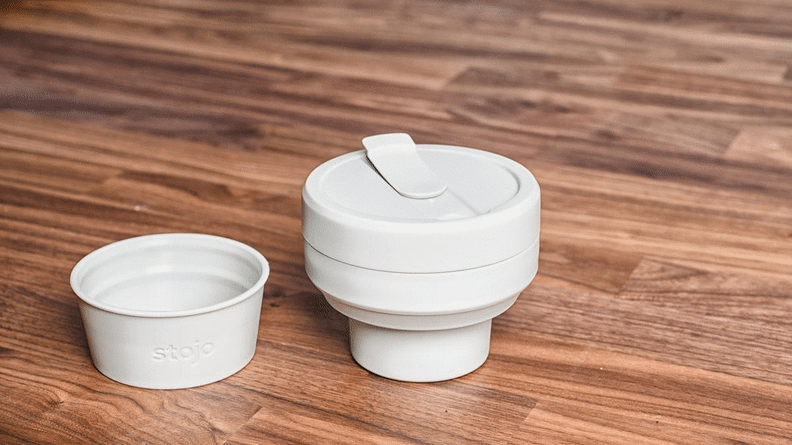 Oh, you want more of a description than just "the cutest liquid-carrying container I've ever seen?" The cup, which comes in 8-, 12-, 16-, and 20-ounce sizes and a variety of colors, is dishwasher-safe and fits in standard car cup holders. A 16- or 24-ounce cup includes a silicone straw, a mouth tab that seals the drinking hole, and a heat sleeve that give the cup structure and, of course, keep your hands protected against any hot liquid inside. The 8- and 12-ounce cups include the same accessories, minus the straw.
The cups, mouth tabs, and straws are made with LFGB-certified silicone. This means it meets a European safety standard that's considered more comprehensive than the FDA standard when it comes to food-grade silicone (though it's not thought there are any issues with the FDA protocols). The lid and heat sleeves are made with BPA-free polypropylene that's recyclable, if you choose to eventually toss your Stojo, though it's expected to last "many years" with daily use.
Plenty of travel mugs claim to endure years of use and be leakproof, but what's different about the Stojo is that it is also collapsable, making it the ultimate to-go cup. You open the mouth tab to let the air out, remove the heat sleeve, and push the top of the cup down, so it collapses into itself in stages, accordion-style, resulting in its portable size only as tall as the cup's lid and rim. You then pop the heat sleeve onto the bottom of the collapsed cup and stick the straw, which folds easily, inside the cup, to complete the transformation.
What's it like to use the Stojo Cup?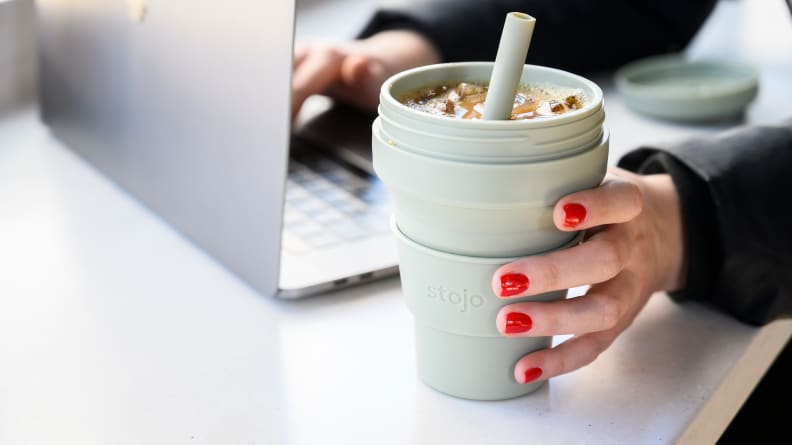 I was smitten before Stojo arrived, and eager to see how easy it was to collapse and expand, and how enjoyable it is to use. This meant taking notes on how beverages tasted in the cup, how easy it was to wash, and my overall thoughts and experience using the cup in my daily life.
My testing consisted of going to Starbucks (where I go too often, even when I'm not testing a coffee cup) to get an iced coffee, and making hot herbal tea after I'd had my caffeine fix. On day one, I went to hand my Stojo to Kerry, the Starbucks barista, with the lid already taken off of it and he knocked over the empty cup as he reached for it. As I waited for my grande iced coffee (I tested the 16-ounce Stojo—the same size as a grande), I noted this, writing, "Is the cup too flimsy? We'll find out." Then, when I had the lid off of my coffee to put milk in it, I bumped the Stojo myself. While the cup was stable enough with liquid to not tip over, coffee sloshed over the rim because the silicone base gripped the counter and prevented the cup from scooting with the impact instead. Based on these two incidents, I'd say the cup does take some getting used to. You want to be careful not to bump it—or squeeze the supple silicone sides too hard when you're carrying or picking it up.
Later that morning, as I sipped on my brew, I reported in my notes that my coffee had a slight plastic-y or maybe soapy taste. (I realize those things taste different, but bear with me.) Paranoid that I hadn't rinsed the soap from the straw well enough, I headed to the sink with it, but the taste was still present after another rinse.
The Stojo Cup eliminates the excuse of not wanting to bring a reusable cup because of space.
On my second day of testing, I noticed the cup leaking a bit from the rim, but I chalked it up to my not reassembling the cup perfectly after taking it apart to wash it. I didn't want to dump my coffee into something else to re- reassemble it, and the leaking wasn't bothersome when the cup was just sitting on my desk, so I carefully sucked down my drink through the straw until the liquid fell below the rim where it was leaking from.
On the third day, I went back to Starbucks and Ariel, another barista, called my cup "really cool." Feeling my ego inflate, I turned to the milk station and almost bumped into Kerry, who looked at me, down at my cup, then back at me and said, "Hey, how are you?" I couldn't help but wonder: Did he remember me or did he remember the Stojo Cup?
I mostly drink iced coffee, but I tried the cup with hot tea and coffee and felt no differently toward it. It was equally comfortable to drink beverages of any temperature from the lid and through the straw. The cup doesn't retain heat or ice very well, though it doesn't claim to and I didn't expect that.
How easy is it to clean the Stojo Cup?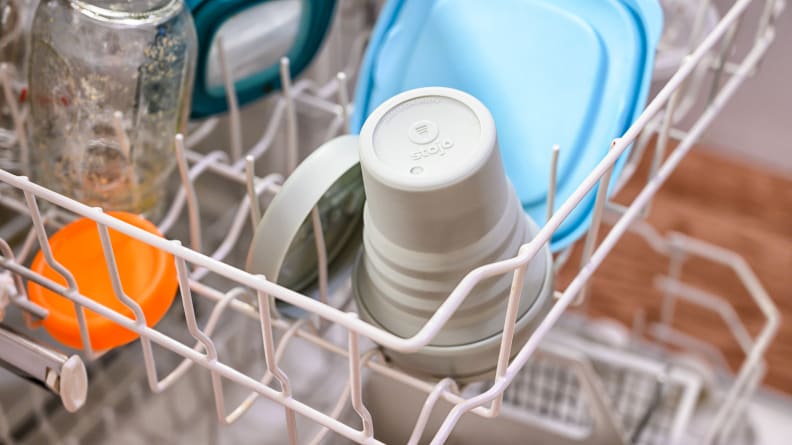 Completely disassembled, the Stojo has six parts: the silicone cup itself, the straw, mouth tab, rim, lid, and heat sleeve. Though it sounds like a lot, disassembling most of the cup is intuitive, but if you have trouble removing the rim from the silicone cup, Stojo has a helpful video that instructs you to hold the rim in one hand and squeeze the cup into a "C" with the other, then pull apart. You can either hand-wash the individual parts with soap and water or put the pieces on the top rack of the dishwasher.
Does the Stojo Cup do what it claims?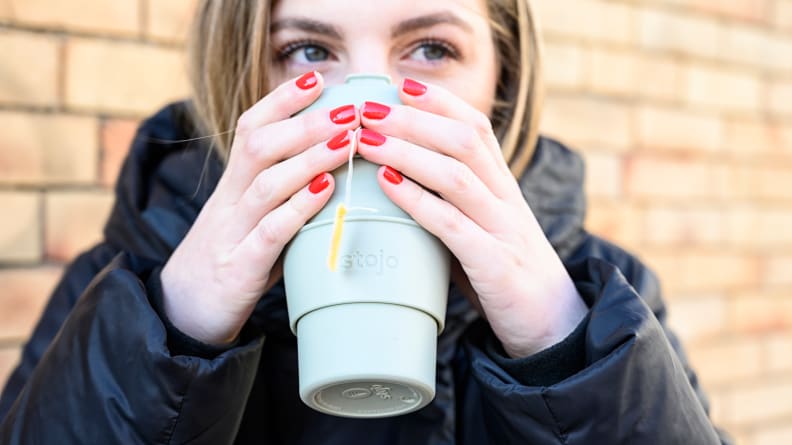 This cup gets an 'A' for portability. The collapsed form, which is two inches tall by four inches in diameter, fits in my backpack, small crossbody purse, and even my coat pocket. It eliminates the excuse of not wanting to bring a reusable cup because of space. And, really, that's what the Stojo Cup claims to do: make it easier for you to create a little less waste in your daily life.
Is the Stojo Cup worth it?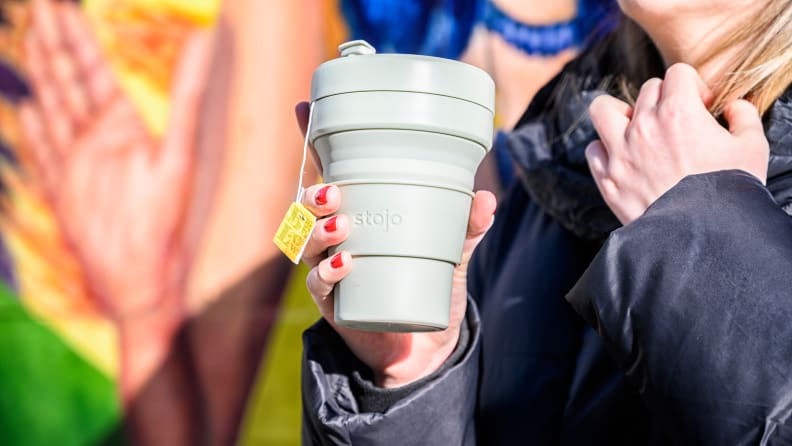 The Stojo isn't perfect. You can't snuggle it in your elbow while you're juggling your wallet, phone, and keys at the door because even gentle squeezing may make it overflow. It's not totally leakproof at the rim if you reassemble it lazily or too quickly (as I found out).
Nevertheless, I love it. It fills a hole I had in my food-storage collection—namely, a reusable beverage vessel that's truly portable—and it motivates me to avoid plastic cups and straws when I'm hitting up my favorite coffee shop. I'd recommend it to anyone who finds themselves opting for a disposable cup because their current reusable is too clunky—or to anyone who spotted the same Instagram ad I did and grew heart eyes. Apparently, you and I share the same weakness for simplistic, practical, inanimate objects.
The product experts at Reviewed have all your shopping needs covered. Follow Reviewed on Facebook, Twitter, and Instagram for the latest deals, product reviews, and more.
Prices were accurate at the time this article was published but may change over time.