The impossibly light, moist and tender crumb of this cake makes it (yes, really) the very best gluten free vanilla cake you've ever had.
This cake is so light and airy, it proves, once and for all, that gluten free baked goods can be just as good, if not better, than conventional gluten cakes.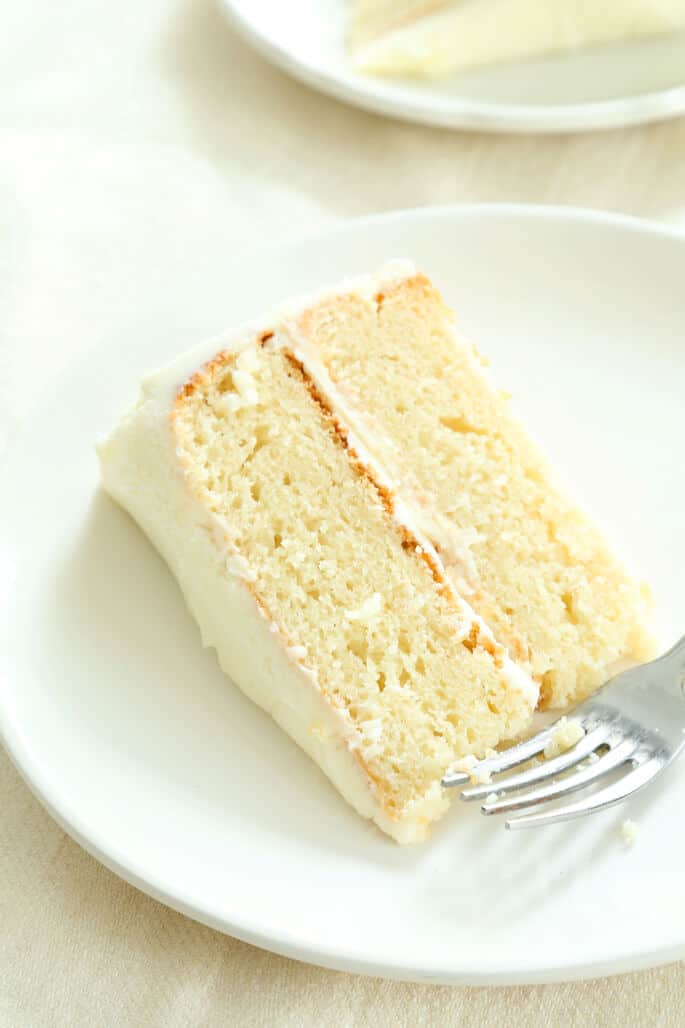 What makes this the best gluten free vanilla cake recipe?
It may be bold, but this cake isn't just the best gluten free vanilla cake. It's the cake that you serve to people who can eat as much gluten as they want, and they ask if they can make it at home with their conventional flour.
I tell them that they can have the recipe, since it's right here on the blog. But they can't make this cake without our gluten free all purpose flour. They have their recipes; leave us ours.
The secret to gluten free cake success
The secret to the very best vanilla cake recipe, gluten free, is in the balance of ingredients at the proper temperature—and in the method. Read the recipe through carefully first, follow it closely, and you'll know you can make a vanilla cake, gluten free, with an open crumb and tons of delicate flavor any time.
The most important parts of the method are using one of my recommended gf flour blends, sifting it well, and beating the butter and sugar together until they're light and fluffy. And your ingredients must be at room temperature before you begin, or they won't combine properly no matter what you do.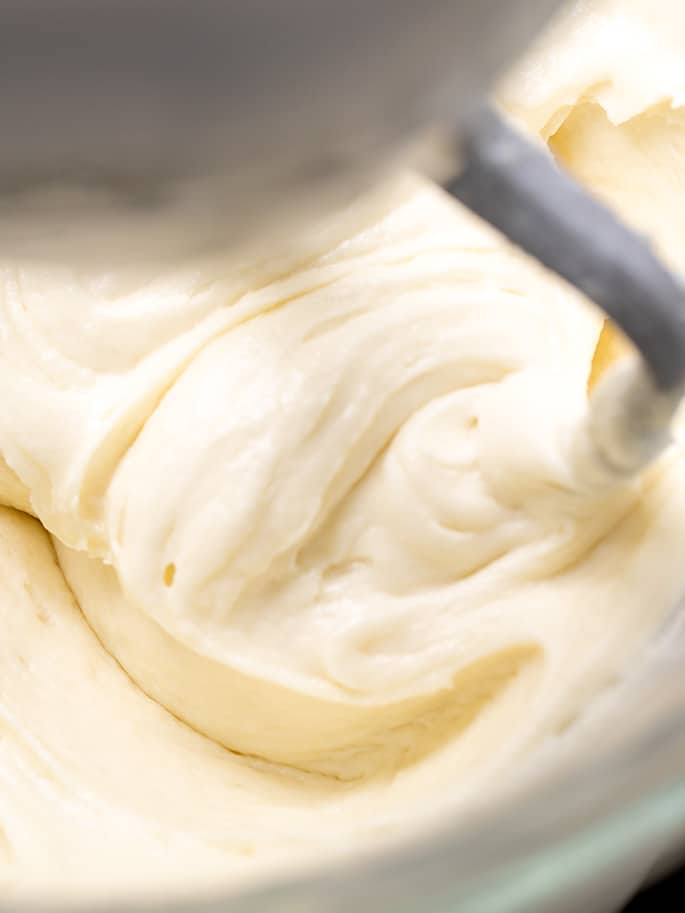 Simple pantry ingredients for a yummy gluten free cake
This cake doesn't call for super specialized ingredients. It's made with basic vanilla cake ingredients like butter, sugar, eggs, vanilla, and buttermilk.
Unlike our one bowl gluten free chocolate cake, to get the best vanilla cake you're going to have sift the dry ingredients. Yes, you really do have to if you want that super tender, non-grainy crumb.
Then, beat the heck out of the butter and sugar before you even think about adding anything else. A stand mixer is great, but a handheld mixer works just as well provided you're willing to stand there, beating and beating for at least 3 minutes.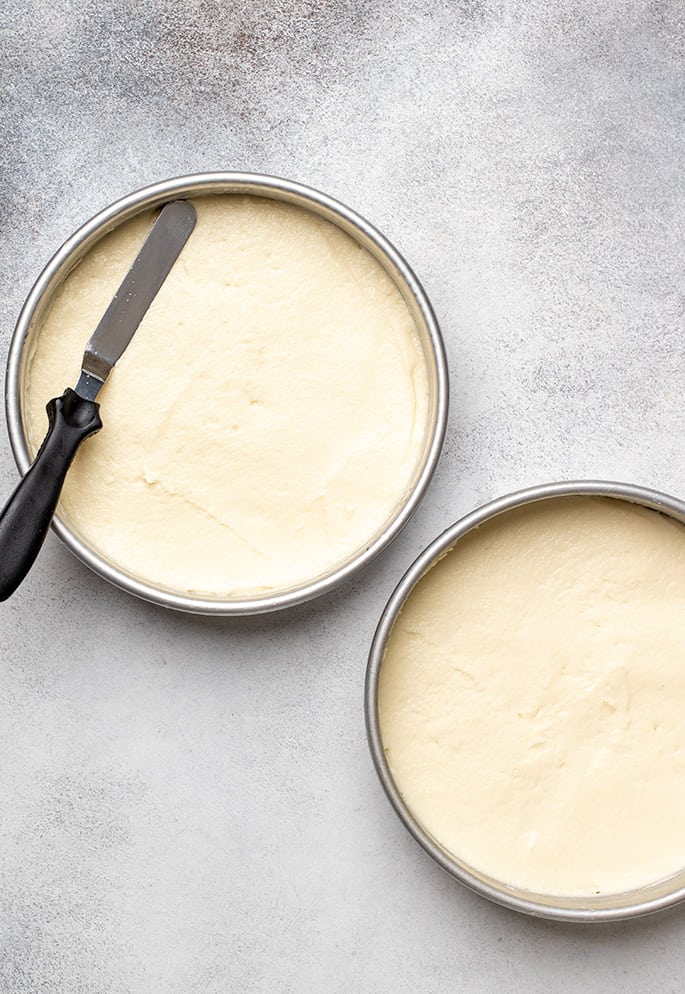 Choosing cake pans for this easy gluten free vanilla cake
I like to bake these cakes in 2 aluminum 8-inch round cake pans. They bake evenly in about 30 minutes at 350°F, and never dome even if my oven has some hot spots (which all ovens do).
If you'd rather bake the cake in 9-inch cake pans, just reduce the baking time accordingly. You'll have to watch it carefully after the initial 20 minutes.
Don't bake in a dark colored pan or in a glass pan. They attract and conduct too much heat, so your cake may burn on the bottom or the edges before it's baked all the way through to the center.
If you'd like, you can also use 8-inch square pans. The baking time should be the same as with 8-inch round cake pans.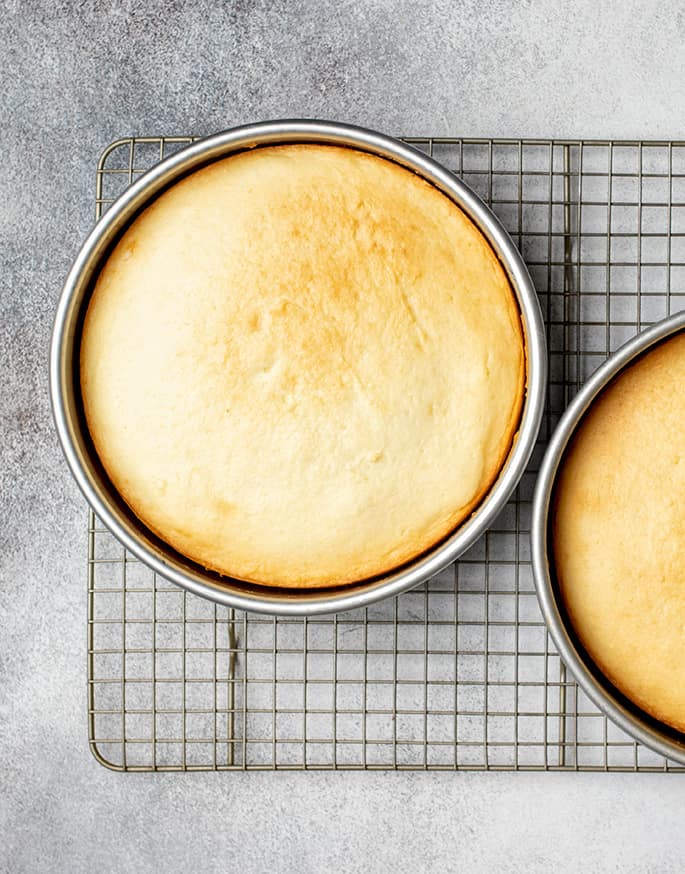 Choosing the right gluten free flour blend for a perfect vanilla cake
I'm partial to Better Batter gluten free flour's original blend for nearly all of my gluten free recipes. If you can't buy it online, you can always use my mock Better Batter blend recipe to make your own.
If you are using a higher starch all purpose gluten free flour blend like Cup4Cup (or my mock Cup4Cup), replace the cornstarch in this recipe with an additional 54 grams of your flour blend.
Do not try to make this recipe using one of the lower-quality flour blends that use gritty, poor quality rice flour. Bob's Red Mill is a particularly bad one, and your cake ingredients won't combine properly—and your cake will taste gritty.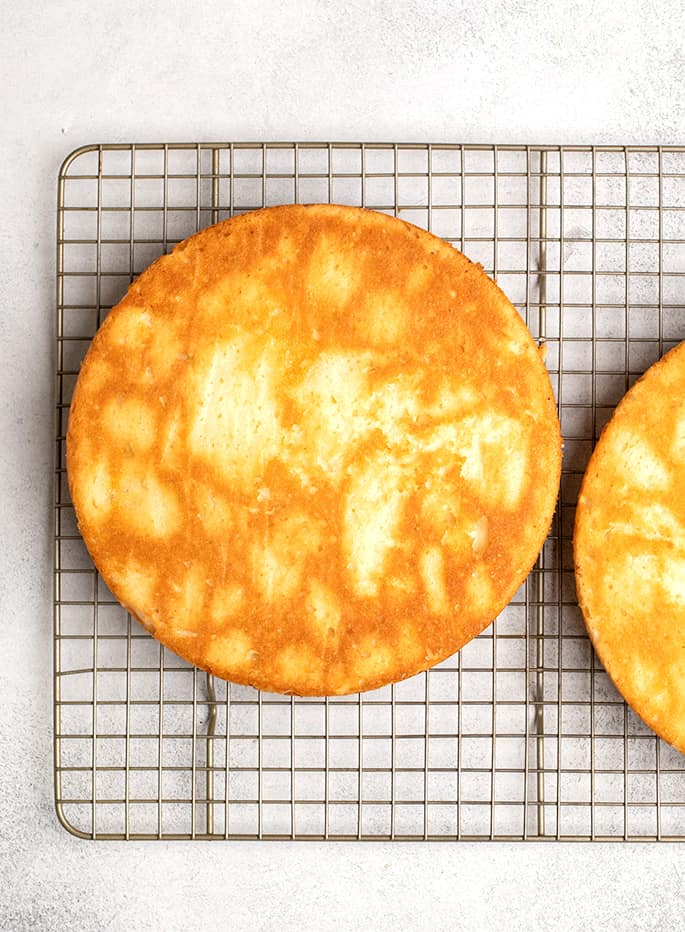 Deciding on a frosting for your gluten free vanilla cake
I usually frost this cake with a stiff vanilla buttercream frosting. It holds its shape really well and protects the cake from drying out like a softer frosting but without wilting.
Just beat 10 to 12 tablespoons (140 to 168 grams) unsalted butter, at room temperature, until light and fluffy. Add vanilla extract and/or the seeds from the inside of a vanilla bean, and begin with 2 cups (230 grams) confectioners' sugar.
Beat until well-combined. Add more confectioners' sugar as necessary to make the frosting as stiff as you'd like it.
Test the consistency by running your finger through it, but only after beating the frosting really well. If it's stiff enough, it won't stick to your fingers very much.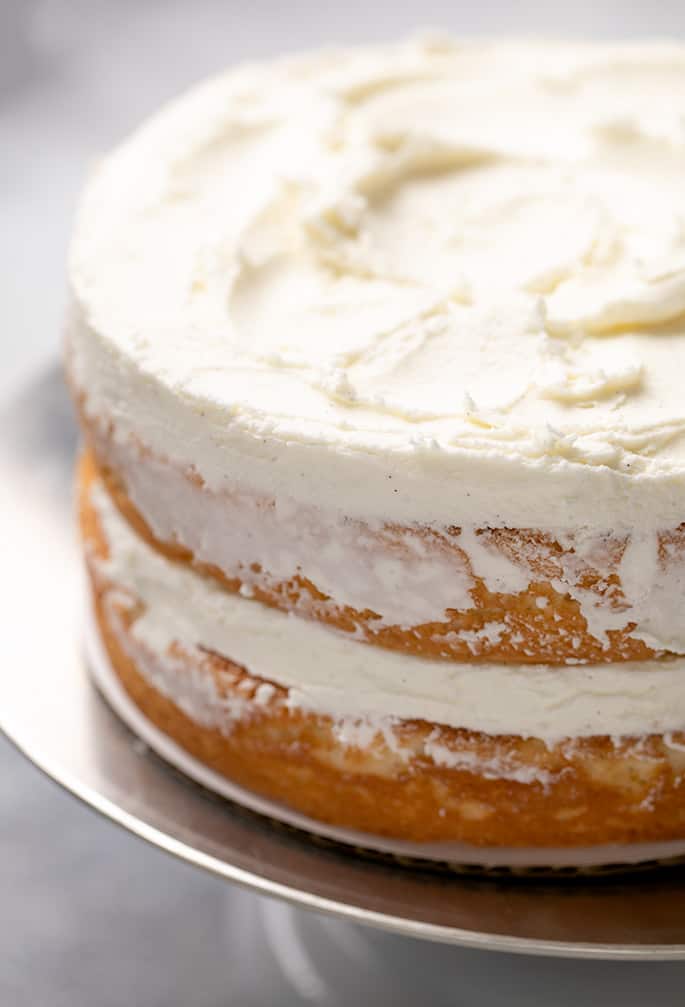 Storing your gluten free vanilla cake
I like the look of a "naked cake," which just means that it's frosted fully in between the layers and on top. The sides have a very thin crumb coat, and that's enough to keep in the moisture.
If you'd like to serve a few slices of this perfect vanilla cake and then store it at room temperature for a few hours, just after taking a slice, use leftover frosting to cover the missing area, extending the cake's life in the fridge.
Tips for making the best gluten free vanilla cake
Beat the room temp butter and sugar well for an airy crumb in your gf cake
The buttermilk in this recipe tenderizes the crumb so it has a tender mouthfeel. But the airy, open tenderness you can see clearly in the photos and the video comes from air being incorporated into the batter at the start.
Make sure your gluten free vanilla cake is cool before frosting
When you first remove them from the oven, let the cakes cool in the pan for 15 minutes. This allows them to firm up enough that they won't fall apart when you move them.
After 15 minutes, turn the cakes over onto a wire rack to cool 100% before you handle or frost them at all. If your cake has any residual heat at all, your frosting will melt.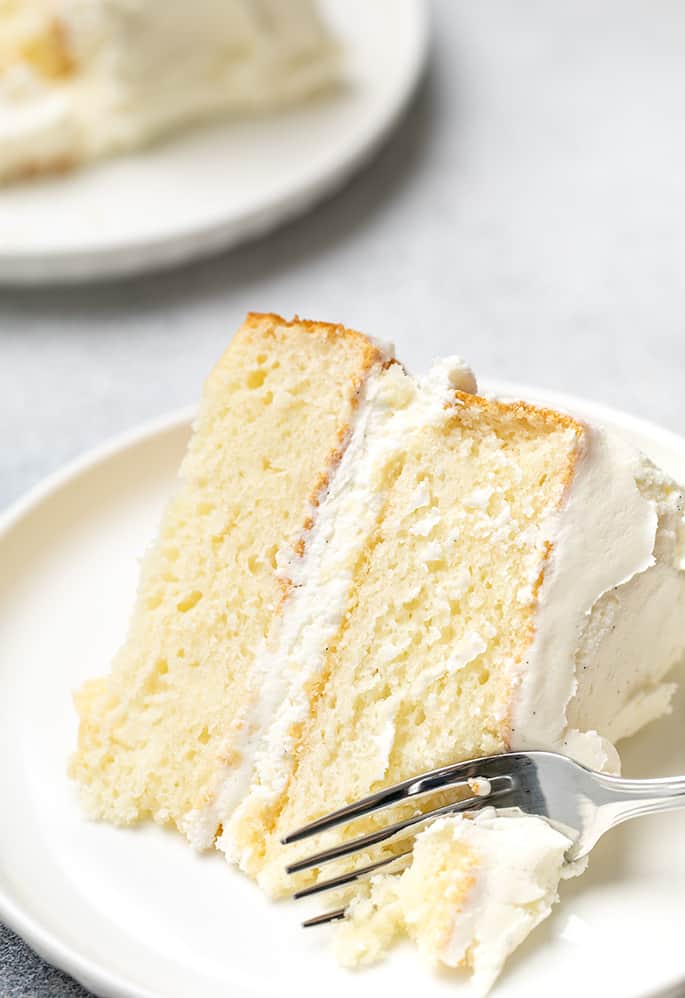 FAQs
Is vanilla extract gluten free?
Yes, pure vanilla extract is gluten free because distilled alcohol is gluten free. See: Gluten Free Living Magazine.
Why did my gluten free rake recipe sink?
If your cake baked and appeared done, but sunk as it cooled, it wasn't baked properly all the way in the center. That is usually due to a too-hot oven that bakes the outside of the cake until well done before the inside is done.
Can I use this gf vanilla cake recipe to make cupcakes?
I don't recommend using this cake recipe to make cupcakes, since it's easier to make cupcake batter than it is cake batter. Use my recipe for the perfect gluten free vanilla cupcakes, which don't require any sifting, instead!
Can I use this easy gluten free vanilla cake recipe to make a sheet cake?
No, I don't recommend using this recipe to make a vanilla sheet cake. A sheet cake is a larger, rectangular cake that tends to burn on the bottom center.
Use our recipe for gluten free vanilla sheet cake instead. It's easy to make, easy to frost, and always makes for a great celebration!
Does this gluten free cake recipe need xanthan gum?
Yes, you must use xanthan gum or an all purpose gluten free flour blend that contains xanthan gum, to make this cake. Without any xanthan gum, the cake won't hold together properly, and it will go stale much more quickly, too.
Can you freeze this gluten free cake?
Yes! To freeze the cake whole, wrap it very tightly and defrost at room temperature before slicing and serving. To freeze slices, wrap them tightly and freeze individually, then defrost at room temperature.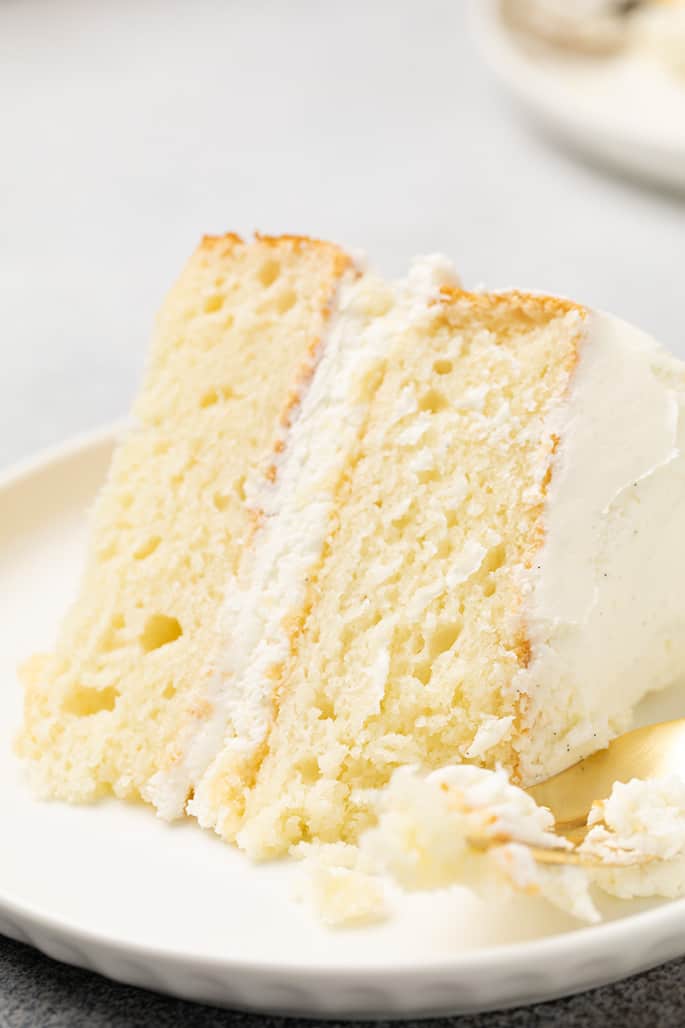 Gluten free vanilla cake ingredient substitutions
I've tried this cake every which way, and this is truly the best. If you need to modify the ingredients, of course the cake will be different.
How to make this a gluten free dairy free vanilla cake
For dairy-free, I recommend vegan butter like Miyoko's Kitchen or Melt brands in place of butter. Try 1:1 by weight. You can also try Spectrum brand nonhydrogenated butter-flavored vegetable shortening.
You'll need a buttermilk substitute. Try half unsweetened almond milk by volume and half nondairy plain yogurt in place of the buttermilk.
I really don't like a simple milk + acid like lemon juice or vinegar as a buttermilk replacement. That only replaces the acid, but not the thickness of buttermilk. The half milk half yogurt swap is the best.
Maybe you'd like to make a white cake, instead of this yellow cake. My recipe for gluten free white cake is perfect for adding food coloring for a special occasion.
If you'd like to turn this cake into a two-layer homemade Funfetti cake, we have a gluten free birthday cake recipe. That recipe also has recipes for chocolate sour cream frosting for the center of the cake, and chocolate icing for on top. *chefskiss*
Can you make this an egg free gluten free vanilla cake?
I have not tried this cake with an egg substitute. But I'm afraid I just can't see working out very well since this cake is very egg-dependent.
My typical egg replacement suggestion is a "chia egg" (1 tablespoon ground white chia seeds + 1 tablespoon lukewarm water, mixed and allowed to gel). But this cake calls for mostly egg whites, and a chia egg is not an egg white substitute.
If you're feeling adventuresome, you can try replacing the whole egg with a chia egg and the egg whites with slightly whipped aquafaba. Aquafaba is simply the brine from a can of chickpeas.
I'm working on a true vegan gluten free vanilla cake recipe because I really prefer a cake that is designed to be made egg-free, rather than one with an egg replacer. But, in the meantime, here we are.
How to make this a corn free gluten free vanilla cake
In place of cornstarch, try arrowroot or even potato starch. Either should work fine. We're really using cornstarch to make our all purpose gluten free flour blend into more of a gluten free cake flour.
If you are using a higher starch all purpose gluten free flour blend like Cup4Cup (or my mock Cup4Cup), replace the cornstarch in this recipe with an additional 54 grams of your flour blend.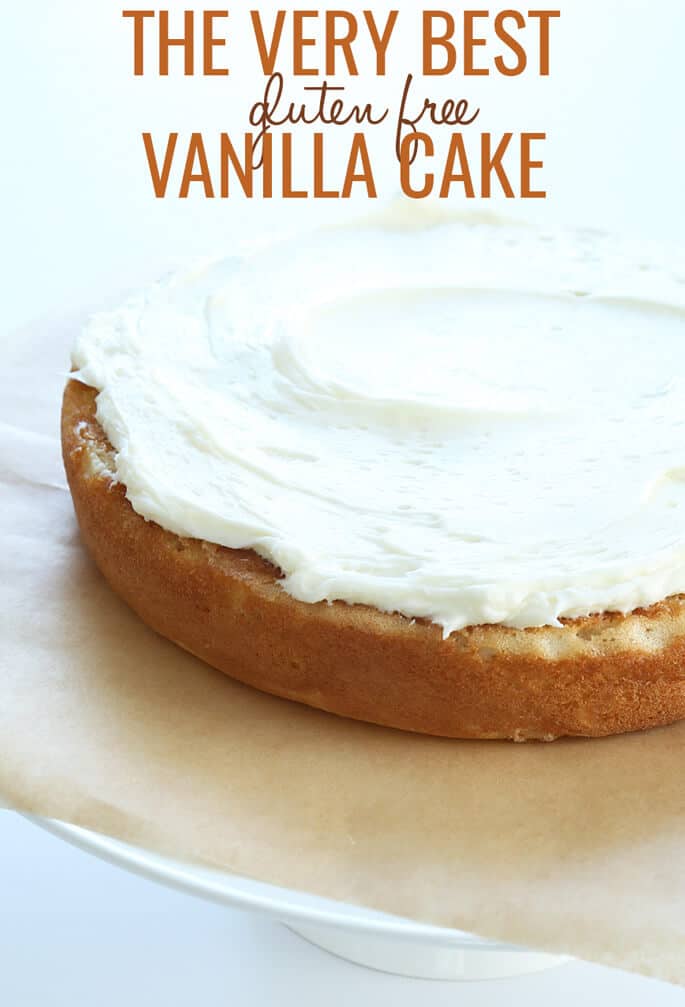 The Very Best Gluten Free Vanilla Cake Recipe
Print
The Very Best Gluten Free Vanilla Cake Recipe
Celebrate birthdays, special occasions, and everyday moments with this light and airy gluten free vanilla cake recipe. No one will guess this is a gluten free cake!
Keyword
gluten free cake, gluten free vanilla cake
Equipment
Stand mixer or hand mixer
Ingredients
2

cups

all purpose gluten free flour blend

(I used Better Batter)

1

teaspoon

xanthan gum

omit if your blend already contains it

6

tablespoons

cornstarch

½

teaspoon

baking soda

2

teaspoons

baking powder

½

teaspoon

kosher salt

4

egg whites

at room temperature

1

egg

at room temperature

1 ⅓

cups

buttermilk

at room temperature

2

teaspoons

pure vanilla extract

10

tablespoons

unsalted butter

at room temperature

1 ½

cups

granulated sugar
Instructions
Preheat your oven to 350°F. Grease 2 8-inch round cake pans and line the bottom of each with a round of parchment paper (trace the perimeter of the cake pan on the parchment, then cut out the circle). Set the pans aside.

Into a medium-size bowl, sift (yes, you have to sift!) the gluten free flour blend, xanthan gum, and cornstarch. Add the baking soda, baking powder, and salt, and whisk to combine well. Set the dry ingredients aside.

In a large measuring cup or medium-size bowl, place the egg whites and egg, buttermilk, and vanilla. Whisk to combine very well. Set the wet ingredients aside.

In the bowl of a stand mixer fitted with the paddle attachment or a large bowl with a handheld mixer, beat the butter and sugar on medium-high speed for at least 3 minutes, stopping at least once to scrape the entire mixture off the sides and bottom of the bowl, or until very light and fluffy.

To the large bowl with the butter and sugar mixture, add the dry ingredients in 4 equal portions, alternating with the buttermilk and egg mixture in 3 parts, beginning and ending with the dry ingredients and mixing to combine in between additions.

The batter will sometimes look a bit curdled. That's normal and not a problem at all.

Once all the ingredients have been added, beat for another minute on medium speed to ensure that everything is combined, then turn over the batter a few times by hand.

The batter should be fluffy and relatively smooth, although a few lumps are fine. Do not overmix the batter in an attempt to make it too smooth.

Divide the batter evenly between the two prepared baking pans and smooth each into an even layer with an offset spatula. Bang the bottoms of the pans flat on the counter a few times to break any large air bubbles.

Place the baking pans in the center of the preheated oven and bake for 20 minutes. Rotate the pans, and continue to bake until the cakes are lightly golden brown all over, have begun to pull away from the sides of the pan and do not jiggle in the center at all (about another 10 minutes). These tests for doneness are more useful than the toothpick test.

Remove the cakes from the oven and allow to cool in the pans for 15 minutes before turning out onto a wire rack (and removing the parchment paper liners) to cool completely before frosting and serving.
Notes
Originally published on the blog in 2016. Recipe unchanged; much of the text, most photos, and video are new.
The post The Very Best Gluten Free Vanilla Cake Recipe appeared first on Great gluten free recipes for every occasion..