A review of dynamic IKEA designs France
For IKEA customers looking to add a little je ne sais quois to their IKEA project, they can definitely get inspiration from our friends in France.
In fact, for the IKD design team, this holds true especially for IKEA kitchens as well as IKEA laundry rooms. That's why for the next installation of "Our Favorite International IKEA Designs" we'd like to share some recent dynamic IKEA designs from France. This includes a modern, clean kitchen for IKD customer Francoise and his wife from Lyon, France that features IKEA's METOD cabinetry framework and IKEA VOXTORP in glossy white; a new construction kitchen for IKD customer Charlotte from Paris, France; an IKEA laundry room for IKD customer Sarah from Nice, France that features IKEA high gloss RINGHULT cabinets and ample storage options; and a new construction IKEA laundry room for IKD customer Erwan from Marseille, France which features IKEA VOXTORP cabinets in matte white and a warm, natural feel.
Notably, these results can all be accomplished for any size project — and any size budget. (Remember: We've been referenced by Martha Stewart Living as experts on how to reduce kitchen renovation costs as). Therefore, IKEA customers who've researched examples of IKEA kitchen and laundry room designs on Web sites like HOUZZ and Pinterest will certainly appreciate learning how to incorporate these design themes into their own projects.
Let's take a look!
Modern and Clean IKEA Kitchen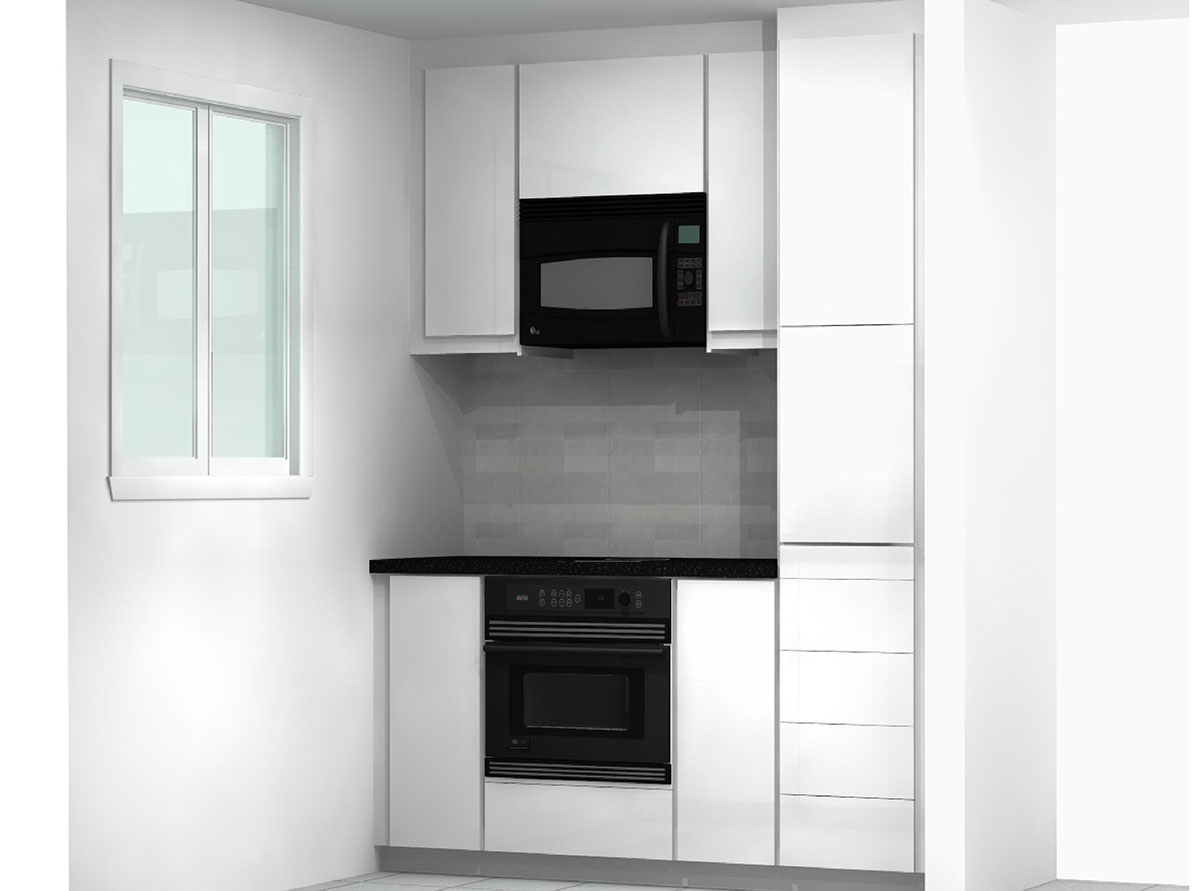 For IKD customer Francoise (and his wife) from Lyon, France, the success of his tiny IKEA kitchen came from learning on the job.
"We were not familiar with IKEA product lines [so we chose IKD to] guide us to the best selections," he explains. "This was crucial because my wife wanted a modern, clean [design theme]."
Specifically, the couple had an extensive wish list which included a request for cabinets that went all the way to the ceiling; push open and close drawers and cabinet doors with no handles; ample storage; and a variety of appliances, including an induction electric stove top with an oven; a microwave unit; a stove top hood; a dishwasher and a single basin sink.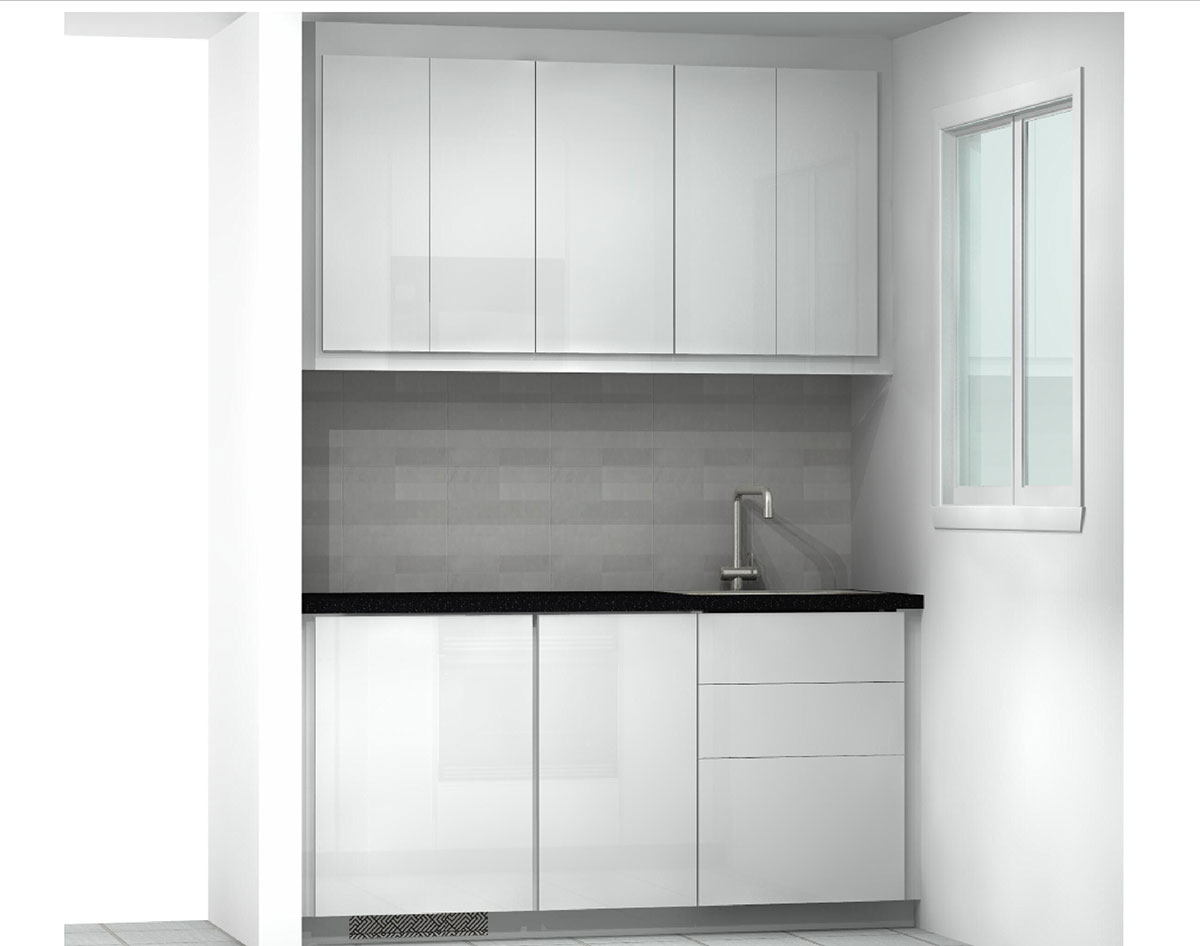 To that end, the cozy kitchen features IKEA METOD cabinetry framework along with glossy white IKEA VOXTORP cabinets for the tall and base cabinets, along with IKEA MAXIMERA drawers for ample storage options around the black FINSMAKARE forced air oven with pyro/steam function and black IKEA MATTRADITION microwave oven. The look is complemented with an IKEA SÄLJAN countertop; IKEA HUTTRA integrated fridge with freezer compartment in white; an IKEA MEDELSTOR built-in dishwasher in gray, and an IKEA HALLVIKEN sink — and still leaving enough room for an IKEA BOSJÖN single lever mixer, and all of this was accomplished for €3,355!
"We are thrilled with the results of our kitchen and are amazed at how well everything fit. The look is exactly what we wanted and there is a tremendous amount of storage space. We love it!" Francois concludes.
Sleek IKEA Kitchen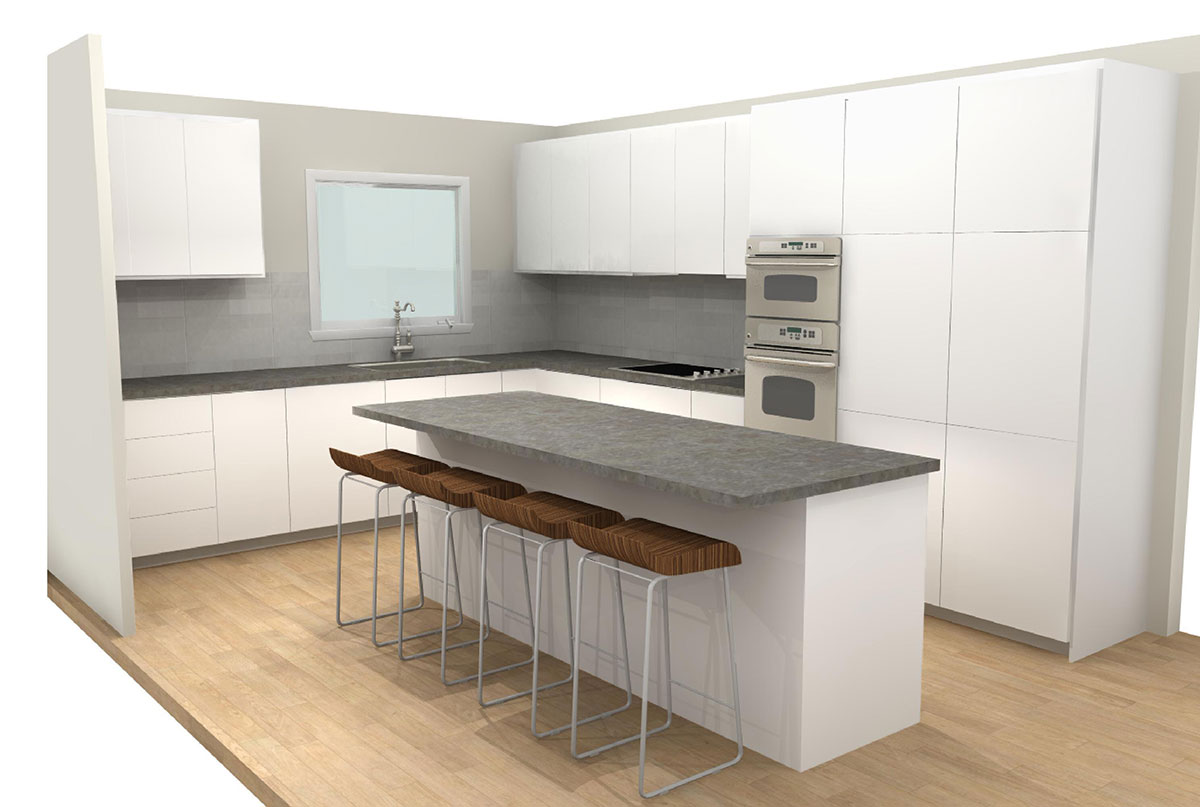 Proving that you can have a minimalistic design theme without the space seeming sterile, look no further than this IKEA kitchen for IKD customer Charlotte from Paris, France.
"This was a new house we were building, so we were quite flexible in terms of layout; but we wanted something simple, modern and crisp," she explains.
Specifically, the space needed to provide a "family living space," for the young family with two young children. Within that, she preferred an eating counter; an island or peninsula; as well as a pantry with pull-out drawers and a microwave in a base cabinet. "You also have to go through the kitchen to get to the dining/living area so space was needed to go through," she adds.
To accomplish this, the uniquely shaped open space features an abundance of matte white IKEA VOXTORP cabinets with IKEA MAXIMERA drawers on the base cabinets from around the microwave to the bank of tall cabinets on the adjacent side of the kitchen and around the stainless steel IKEA UNDERVERK integrated extractor hood. These cabinets provide several storage options to accommodate pots, pans and dishes as well as food items; making meal prep much more efficient for the family. Indeed, ample counter space is featured along the perimeter of the kitchen as well as on the center island eating area — which also provides bar seating for multiple people. And impressively, all of this was accomplished for only €5,060.
"Our IKEA kitchen really suits our family's needs and the VOXTORP cabinets provide the exact style we were looking for," she concludes.
French IKEA Laundry Room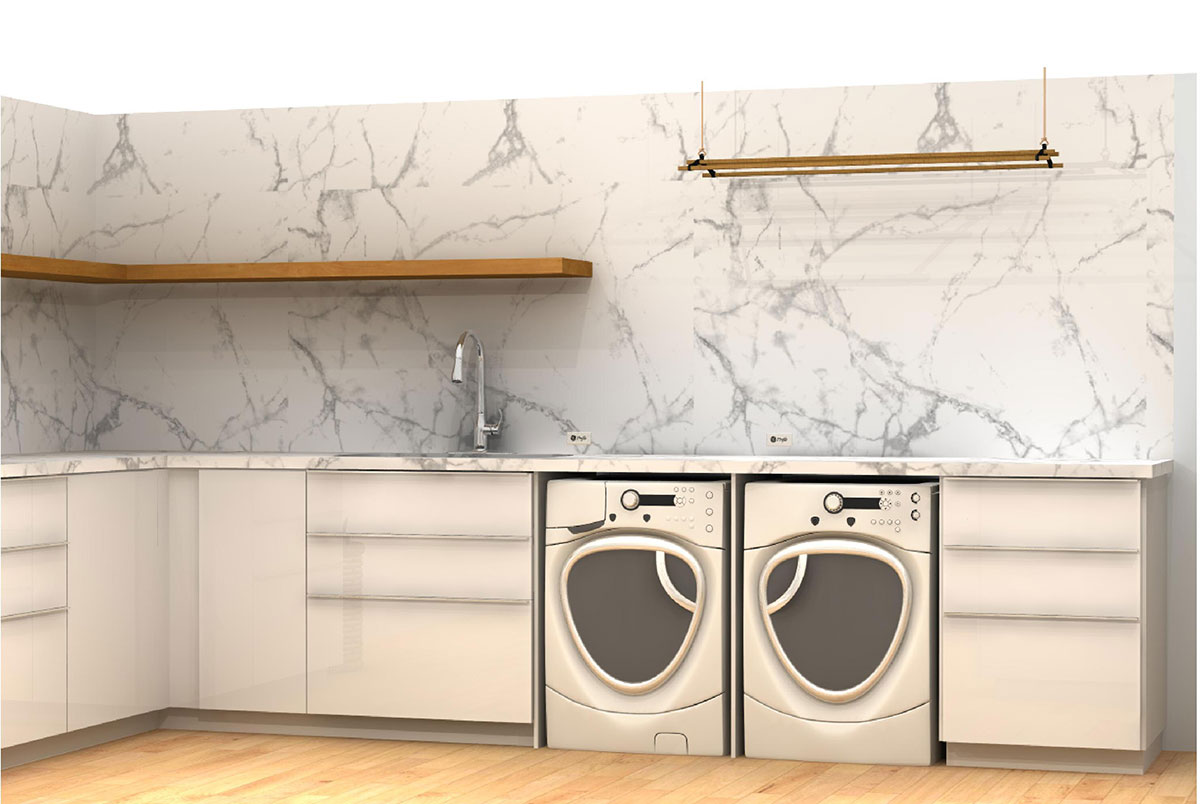 Not to be outdone, IKEA laundry rooms can provide a lot in a little space. Just ask IKD customer Sarah from Nice, France.
"I wanted space for hanging clothing that would be ironed. We also wanted to maximize storage space for both household cleaning products and kitchenware that is not frequently used," she explains.
With IKD's guidance, Sarah chose IKEA RINGHULT high gloss white cabinets for the upper and base cabinets with MAXIMERA drawers; a stainless steel IKEA NORRSJÖN sink; a corner cabinet with pull-out; a pull-out rack for cleaning supplies and a tall pantry cabinet with roll-out drawers and ample space for a hanging rod.
"The open shelving is very convenient for our ironed clothing and we really enjoy the large amount of counter space and storage options!" she says.
Stylish Storage Solutions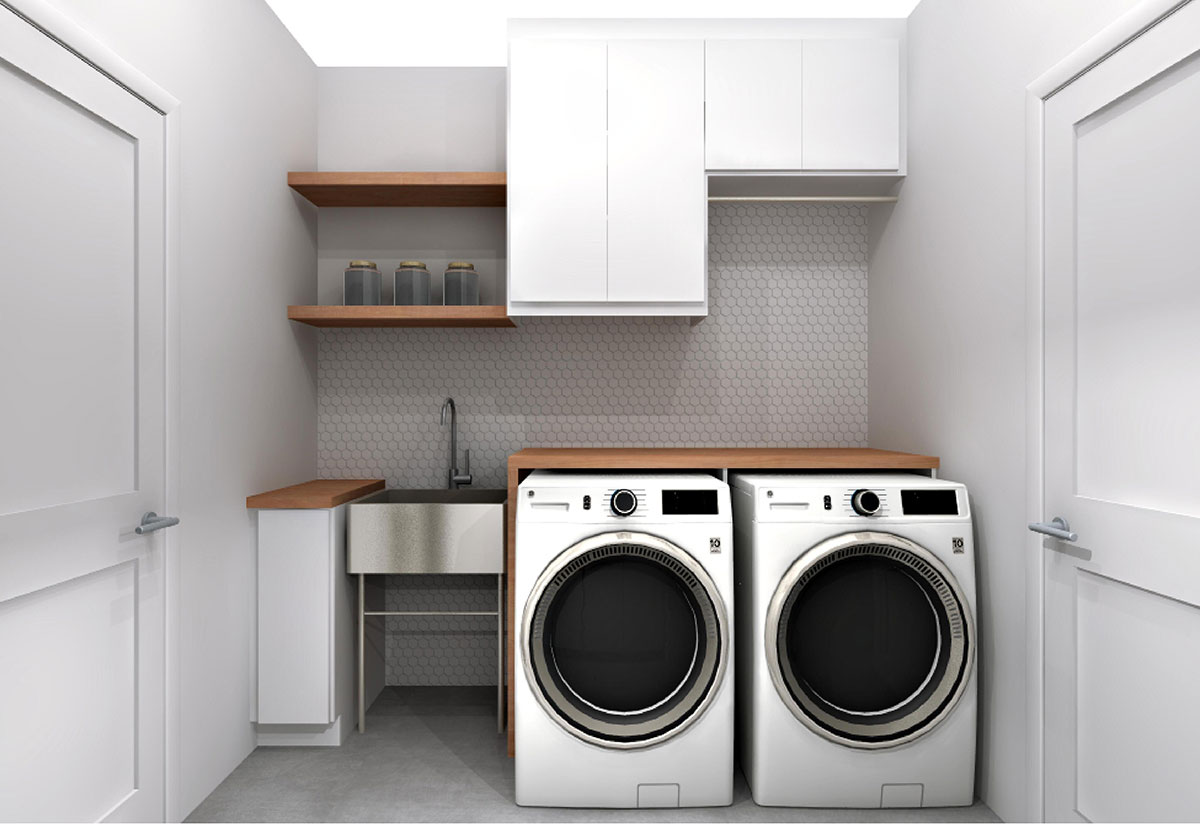 For another successful French IKEA laundry room, consider the one done for IKD customer Erwan from Marseille, France.
"It was a new construction and I wanted plenty of storage space and a natural feel for the design theme," Erwan says. He also wanted an apron front utility sink and space for a hanging rod for his clothes.
To accomplish this, he selected IKEA VOXTORP matte white upper and base cabinets matched with MAXIMERA drawers and ash effect IKEA EKBACKEN laminate countertops. This created a very efficient workflow with plenty of counter space next to the washer and dryer along with open shelving to house detergents and other supplies. Notably, this was all done for only €1,405! "Our laundry room has so much storage. The cabinets look great and work so well with the countertops; it really is a stylish laundry room," he concludes.
As you can see, maximizing space without compromising style is a hallmark of these designs. We hope that these projects inspire you with your design wish list. Remember, our team is here to assist you in your design and product selection process and we look forward to making your IKEA projects come to life!
Learn more about how we can design your IKEA kitchen, bath and closet at https://inspiredkitchendesign.com.