Learn about some of the top IKEA friendly internal organizers as suggested by IKD
It's really hard to enjoy your IKEA kitchen unless it's functional, right? We agree. We've designed a lot of IKEA kitchens and we know that internal organizers are essential to making sure that happens. And even if you've spent a fair amount of time researching examples of internal organizers on HOUZZ or Pinterest, you may be glad to hear there are many available options that complement IKEA's SEKTION cabinetry framework.
For instance, there's SEKTION's Signature Drawer-In-Drawer feature; as well as pullout organizers; the Rev-A-Shelf Filler Pullout Organizer; and wire baskets, among others.Incorporating these ideas will add a custom feel to your design and make your space unique while accommodating your family's specific needs.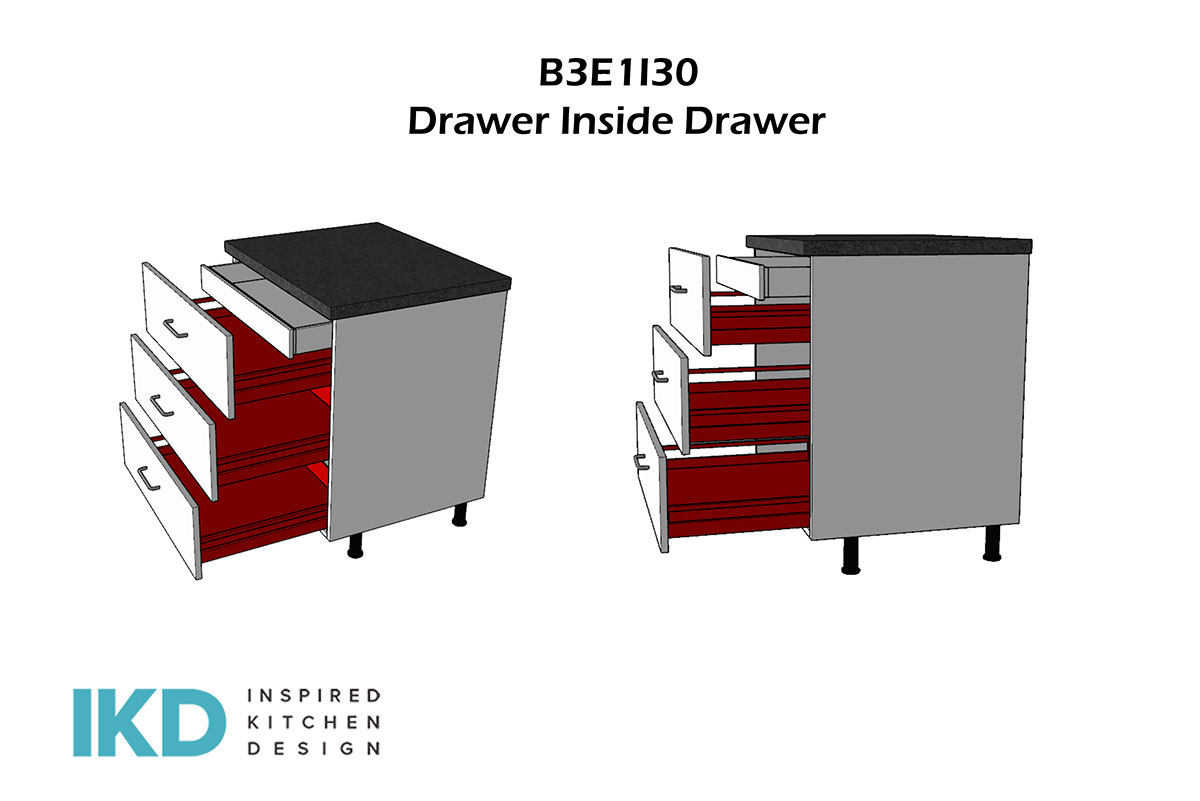 These are really crucial because you want your kitchen to work with you, not just for you. You want to know where your favorite spices are when cooking; be able to cleverly conceal the trash container;not have to dig through an endless sea of pots and pans to find the one you want, and really just establish a more orderly and organized space.
Therefore, IKEA customers interested in maximizing storage space in their IKEA kitchen will be interested in some of the current must-have internal organizers available.
Let's take a look!
SEKTION's Signature Drawer In Drawer
IKEA's SEKTION cabinetry framework is a modular system that offers a signature feature: The Drawer Inside Drawer design element.
If you're unfamiliar with the SEKTION concept, basically on the outside you see one cabinet drawer — and it's built as one drawer — but there's another drawer inside. The drawer-inside-drawer option really maximizes your storage because you can have all of your cooking items at your fingertips.
So, when we're talking about custom organization it can be used to great effect. This will really benefit serious cooks or those that need an efficient work flow while entertaining guests. Overall, the drawer-in-drawer feature has made kitchen storage and organization go hand in hand. One can't exist without the other in an IKEA kitchen.
Pullout Internal Organizers
One of the other great features from SEKTION is pullout organizers.
Pullout accessories, for example, are great to stay organized and to review the contents of a cabinet quickly without a significant effort.This not only keeps your kitchen efficient, but safe as well. They could come in the form of a pullout spice rack or an appliance pullout, or be used as part of an IKEA hack.
The corner pullout is another favorite. Why's that? Well, if you can relate to losing cooking items in the back of a corner cabinet and having to literally crawl inside the cabinet to reach things, then you know why. The IKEA UTRUSTA corner base cabinet pull-out fitting is one option here, making the contents of the cabinet easy to access and see while maximizing storage.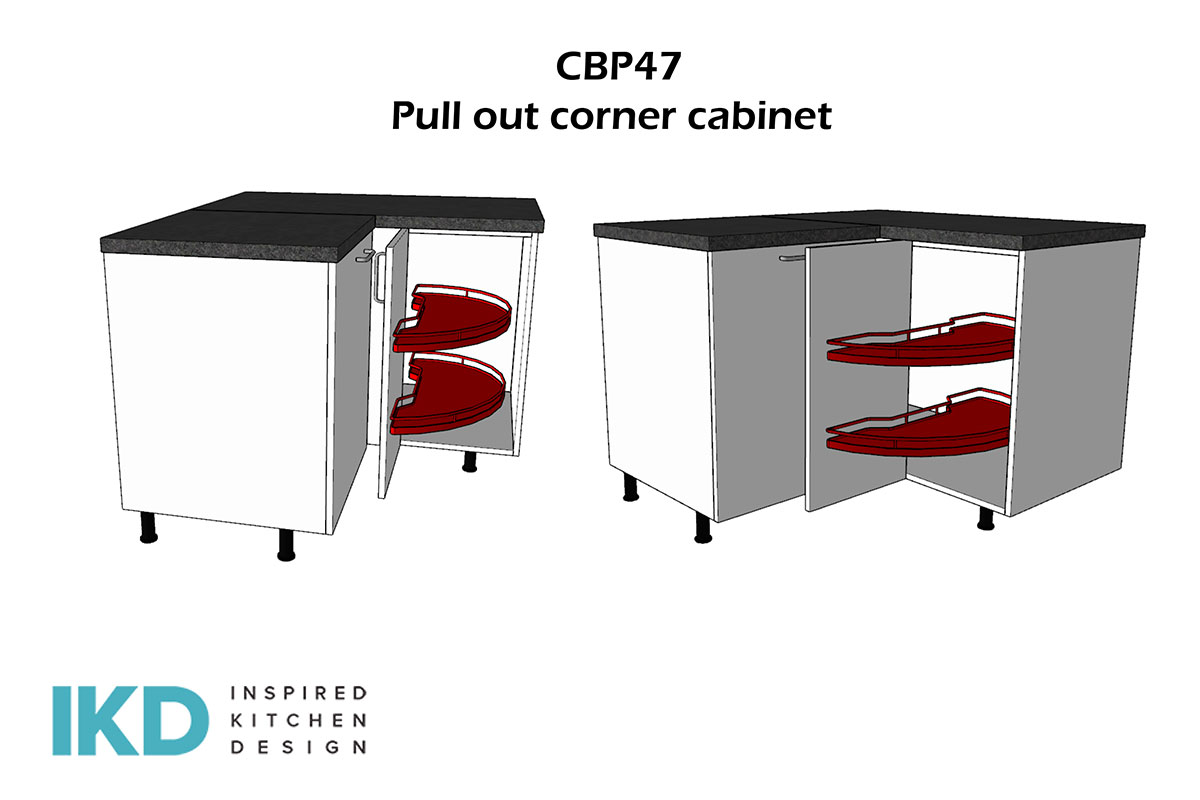 Rev-A-Shelf Filler Pullout Organizers
Along these lines is the Rev-A-Shelf Filler Pullout Organizer with Ball Bearing Soft-Close Sink & Base Accessories. It is available for 3", 6" and 9" base cabinet applications, and comes fully assembled. According to the company, the fillers are intended to be installed in new kitchen cabinet construction and will not work in existing cabinets.However, there is the slow-close feature (for the 3" and 6" only) and they are a great custom option to maximize those wide fillers.
Trash Pullout
For trash collection, IKEA basically has two options for trash bin cabinets in the kitchen.
The first is to turn any IKEA base cabinet with a door into a trash cabinet. Or, you could use IKEA's base cabinets designed especially for trash.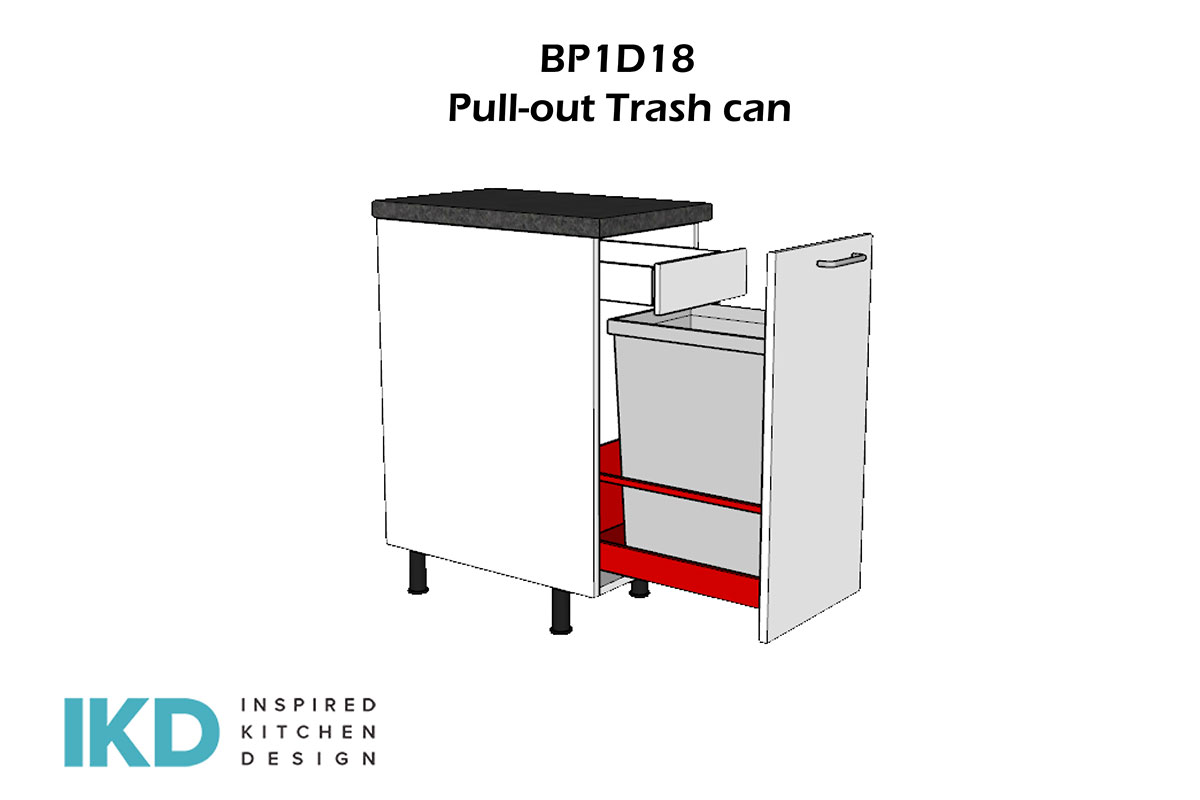 In the kitchen we designed for IKD customers Ami and Jinesh, we took option one and incorporated a pullout with the base cabinetry under the sink.If you decide to use IKEA's special cabinets for trash bins, remember that IKEA has under sink kitchen cabinets just for trash and recycling bins, such as the IKEA HALLBAR pullout frame for recycling, or the IKEA FILUR bin with lid.
Wire Baskets
Lastly, SEKTION base cabinets with wire baskets are available in 15″, 24″, and 30″ widths. They're installed in either full-height door base cabinets or below the drawer in door and drawer combination base cabinets.Ideally, these work best to store larger, frequently used items, such as pots and pans, or serving dishes. (Pro tip: Use these to also store bulky groceries that don't require refrigeration, such as bags of rice, or create a "lunch box station" to store kids' fruit, cookies and bread.
The 15"x24" IKEA UTRUSTA wire basket with pullout stop is one example of this, as it allows you to easily see what's inside the cabinets. Overall, by choosing IKEA's moveable wire baskets with your full-height base cabinets, it will eliminate the worry about overlooking items you own — useful when a meal you're cooking depends on them!
Keep in mind though, the key is to not just increase storage in your kitchen, you want to improve it as well. These internal organizers are a great way to accomplish that and provide a customized feel and a lot of flexibility to your space.
Learn more about how we can design your IKEA kitchen, bath, laundry room and other rooms at https://inspiredkitchendesign.com/.