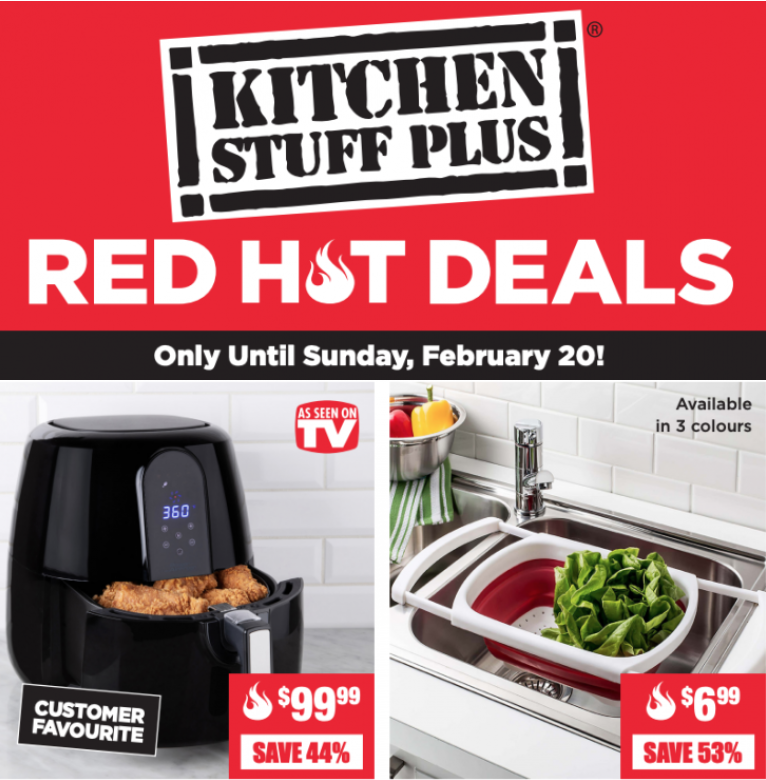 Kitchen Stuff Plus Canada has released its new weekly Red

 Hot Deals and they are super indeed! This week the deals include:
Save 53% on Stretch Silicone Over The Sink Colander, for $6.99.
Save 48% on Kaffa Coffee Press – 1 L, for $7.79.
Save 44% on As Seen On TV Elite Power Digital Low Fat Air Fryer, for $99.99.
Save 42% on 3 Pc. Harman Combo Cotton Kitchen Towel Set, for $9.99.
Save 40% on Trek Shopping Trolley, for $14.99.
Save 37% on Hamilton Beach Wave Crusher Blender – 950 ML, for $49.99.
Save 35% on 5 Pc. Tab Poly Cutting Set, for $19.49.
Save 30% on Spin Spice Rack, for $17.49.
and more
Kitchen Stuff Plus Canada offers FREE shipping on all online orders of $75 or more.
Click here to view Kitchen Stuff Plus Canada's latest flyers deals.
The post Kitchen Stuff Plus Canada Red Hot Deals: Save 44% on Elite Power Digital Low Fat Air Fryer appeared first on Canadian Freebies, Coupons, Deals, Bargains, Flyers, Contests Canada.