Out of every room in the house, the kitchen may be the most difficult to keep clean. Even people who hardly ever use their kitchen need to clean it regularly, but doing that can be quite time-consuming. 
This isn't just about washing the dishes either. This is about keeping your kitchen clean by keeping it organized. There are many ways to do this and we will go over all of them today as well as offer products that can help you do it. 
Tips To Kitchen Counter Organization 
Now we are going to start with some general kitchen counter organization tips that will keep your kitchen counters clean and organized. Because the kitchen counters are the messiest part of having a kitchen. 
Keep Clutter To A Minimum
This is the first rule of minimalism and organization. Keep clutter to a minimum as much as possible. This means try not owning a bunch of knickknacks and things you won't use to display on your countertop.
The more stuff gathered on your countertop the harder it is to keep clean. Not only does grease and dust gather on it, but it also looks messy. So if you want a good kitchen counter organization then declutter your counters. 
Get Magnets
Magnets can be wonderful. Refrain from hanging a ton of magnets on your fridge as that can look cluttered but invest in some hanging magnets to help keep you organized. Such as a knife or utensil magnet.
If you do like fridge magnets, then you can hang a few but focus on calendars, to-do lists, and other similar magnets that help keep you organized instead of becoming counter-productive. There is too much of a good thing. 
Use Vertical Space
A lot of people completely forget about the vertical space of their rooms, especially in the kitchen due to the cabinets being in the way. But there are still a lot of ways that you can use vertical space in the kitchen.
Keep your counters organized by hanging racks above them, setting racks on the counters, and using as much of that wall space as you can. With the expectation of cluttering the walls instead of just the counters. 
Draw Eyes Away
Draw eyes away from the cluttered counters by offering some eye-catching pieces. Feature pieces can transform any room. The feature piece can be wall art, a ceramic figure, or even a gorgeous backsplash.
Though be careful when adding feature pieces on or near the countertops as this also can draw the eye to that messy counter. The point is to control the eyes of those who are entering the kitchen. That's the magic of design. 
Store Everything Out Of Sight 
Do you have a lot of stuff you want to keep around but you don't necessarily want to keep out? That's great! Store everything you possibly can out of sight. This means don't leave everything out on the counter.
If you do have pots that you find attractive, don't leave them on the counter, leave them on the stovetop or a hanging rack. Similar to the first rule, don't leave a bunch of junk out on the counter. It's the basic step of organization. 
Clean As You Go
Whenever you cook or use your kitchen, clean as you go. This is one of the best ways to stay organized. Don't leave that spoon on the counter and don't let that orange juice splash stay there for more than a minute. 
Ask any tidy person and they will agree that this is one of the best tips for staying clean and organized. It's not about being a good cleaner or organizer, it's about keeping at it even when you feel like you don't have time. 
Hang Hooks
We mentioned hooks before but they definitely deserve their own line. Hooks can really make a huge difference in a kitchen. You can get large ones for tubs or small ones for utensils. As long as it keeps the items off the counters.
Countertops are easy to clutter because it is easy to place everything on them. But both shelving and hooks can prevent this from happening. The counters don't need to be bare, but sparingly adding stuff is key. 
Utilize The Island
Get an island and use it. There's nothing wrong with islands without storage but if you struggle with kitchen counter organization, then an island can be key. Don't over-clutter the counter of the island though.
Reserve that for the kitchen island storage. Many islands come with drawers, cabinets, and shelves. So take your pick and work with it. Just don't forget to scale the island to the size of your counters and kitchen. 
Cabinet Door Storage
Hardly anyone thinks about this one and few of those people utilize it. But did you know that you can get magnets and hooks that go on the back of your cabinet doors? Yes, some are made for your cabinets.
They usually adhere to the cabinet door, hang over the door, or suction on. It depends on how heavy the items you want to store are. If you don't know what to store, consider a cabinet door spice organizer. 
Put Sets Together
If you have sets of dishes or kitchen decor, then group them together when decorating. This will make your kitchen counters look less cluttered and more organized. Imagine it looks like an art gallery instead of a flea market. 
You can also get by with only displaying part of the set. For example, if you have a sixteen-piece set of dishes, only display one of each item. A cup, saucer, plate, and bowl instead of all sixteen pieces. 
Close In The Pantry
Try not to get a pantry that is fully visible in the kitchen. If you don't have a door for your pantry, either get one or use a curtain to hang over it. Hiding the pantry is one of the best things you can do for your kitchen.
After you do hide it, then you can store all of that stuff that was on your countertops in it. Pantries are usually fairly roomy and can store both food and other items, so work with your contractor to build a nice one. 
Get A Pot Rack
Pot racks are still in and you can even build your very own. We have built very nice wooden pot racks that are absolutely stunning. But you can also buy a pot rack from most furniture or home improvement stores. 
If you have an island then this is the perfect place to hang one. But if you don't, you can still hang one in the center, just be careful because you may end up hitting your head! Take this into account when choosing a height. 
Use Flat Spaces
If you have cake platters or butcher blocks, you can use them to store a few things. Your countertop isn't the only place to display what you have. There are plenty of other places you may be overlooking.
The top of the fridge for one. The top of the fridge is a wonderful place to store things that you don't necessarily want to display but things that have nowhere else to go. Most people won't notice what is up there. 
Products For Kitchen Counter Organization
If you are struggling with organizing with the setup you currently have, then maybe you should consider investing in a few kitchen counter organization tools. Check out these items available on Amazon! 
Now, this is one useful tool to have around. Not only does it work as a drying rack but you can also store your dishes there when they aren't in use and it will look tidy because it is also a drying rack.
It looks amazing even if there aren't any dishes on it too. The main purpose is to clear up some counter space and this rack does that well. If you only get one item then this is a good choice, especially if you don't have a dishwasher.
This multi-purpose basket has more uses than you can imagine. You can use it for fruit, bread, or some other fruit. Or, you can get creative and use it for non-food items like mail or something else.
But one use that frees up a lot of counter space is the stray item basket. The way this works is that when someone finds something that they can't put away or something that belongs to someone else, they place it in the basket. 
This corner counter shelf is adorable and flexible. This shelf is made to go in the corner but it can also twist to be placed longways as well. It is made of bamboo, affordable, and versatile for any room.
But it really shines in the kitchen as a coffee station or general storage. The best part is that it can match any design style at all. Isn't it just adorable? Who couldn't use a second layer for shelving on the counter? 
This free-standing fruit rack can be used for almost anything, despite being made for fruit. There are two baskets, adding two more spots to organize stuff. It can hold twice the amount of stuff as a standard fruit bowl.
Because it is black, metal and lightweight, it can also match almost any style. Even if you usually use lighter shades, the basket works fairly well along with them because it is thin and isn't at all flashy. 
Need a great spice rack at a good price? This thing can be placed in the cabinet, for sure, but it looks so good it will be hard not to place it right on the countertop. Or of course, on the wall! Yep, it can be wall-mounted.
Though the spice rack doesn't come with the added spice jars, you can purchase any set of spice jars and they will look amazing in this rack. The rack can also be re-purposed to work for any purpose in the house.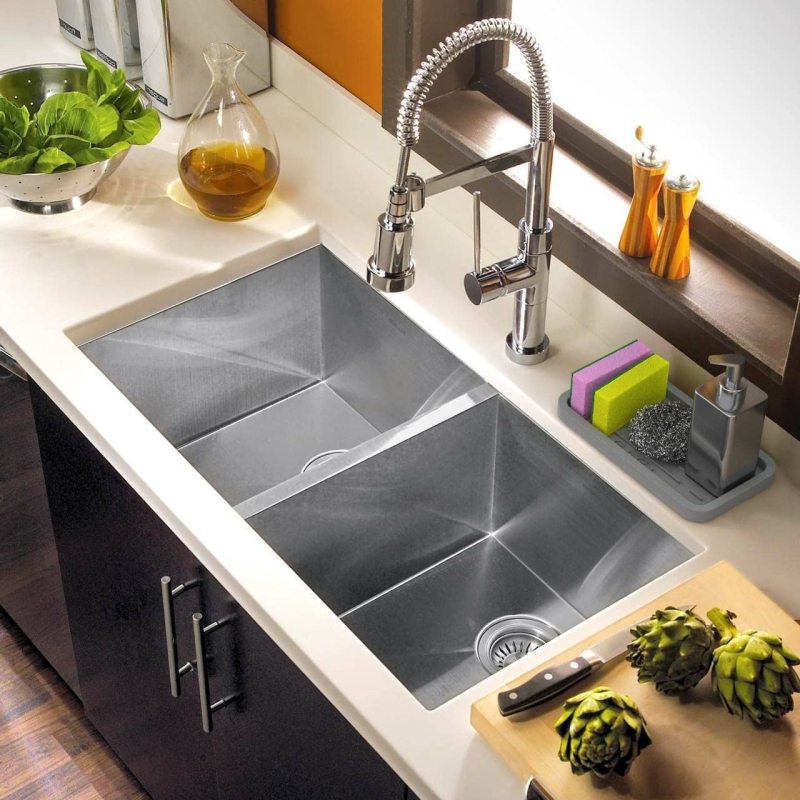 Finally, something not so fun but still very practical. Not everyone thinks about the practical side of decorating or organizing, but it is just as important as the fun and exciting side of things. Take a look at this.
It's a kitchen soap and sponge holder! This may sound boring but you are probably just as tired of dealing with soap scum on the countertops as everyone else. So take care of that problem with something like this.
The post Kitchen Counter Organization Tips And Products appeared first on Home Decorating Trends - Homedit.