As design experts, we find that the one area often overlooked is the laundry room, mainly because people think of it as a utilitarian space.
But it can be much more than that. Especially with the right IKD design.
Think of it this way: A well-done laundry room (or any space for a wardrobe) is like the perfect pair of earrings or cuff links to complete an outfit. It completes the design theme you've chosen – and ideally – complements your lifestyle.
The available styles in IKEA cabinetry are as unique as our customers and might ultimately reflect the design theme of your home, or specific rooms like your kitchen, office or closets – even wine storage!
Keep in mind: most of these areas can use the same IKEA SEKTION cabinetry framework you are using for your kitchen. Bathroom wardrobe areas can also use the IKEA GODMORGON cabinetry framework.
Our Design Process for IKEA Laundry Rooms
Making the process simpler for you, of course, is IKD.
We apply the same expertise to laundry rooms that we do with kitchen design.
Our design process includes an online questionnaire for you to fill out and provide examples of spaces you love from HOUZZ, Pinterest, and the IKD past design projects, etc. so that we know what you want from IKEA and your laundry room design.
Then we ask you to scribble your room measurements and upload photos of your space for us to review.
Once we've received these, we will then provide a draft and give you an opportunity to modify the Concept Design.
Finally, we provide a design package with full-color renderings, elevation views, and an IKEA materials list with pricing, including extra items that are needed and options for custom cabinet doors, if desired.
We'll even consider space in your laundry room for your furry family members if needed – including a sleeping area and washing and grooming area. Pets need to look their best too!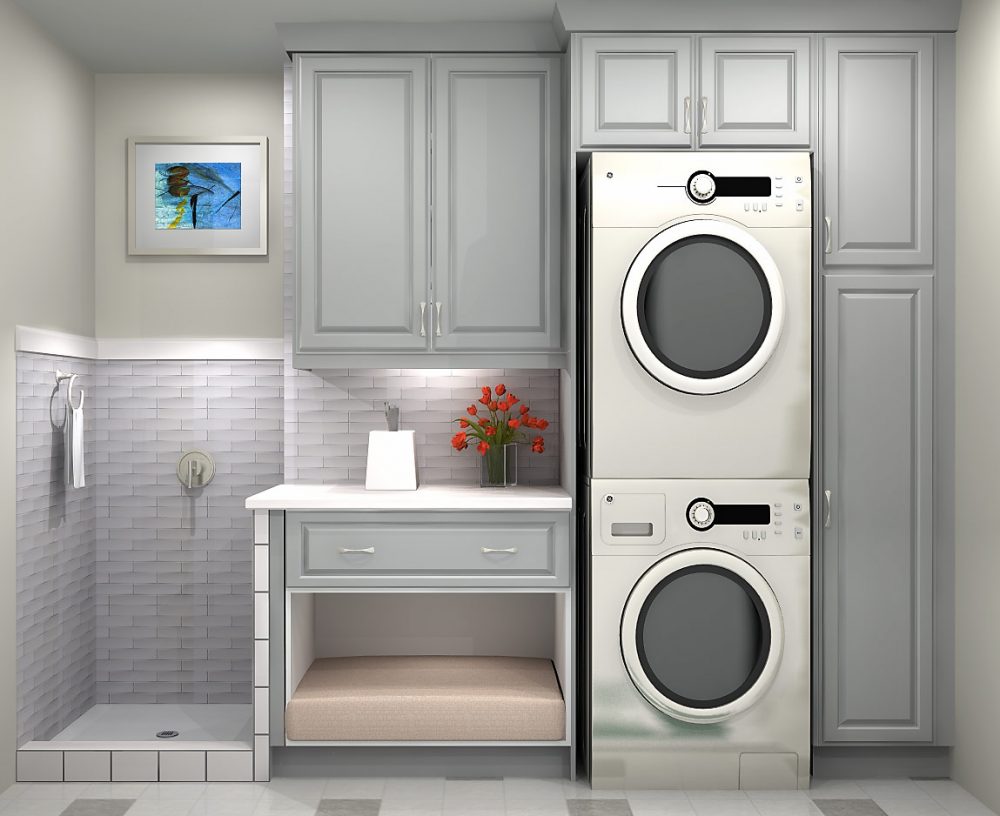 So let's take a look at how the right laundry design, in the right hands, and with the right IKEA cabinetry, can make all the difference for you.
We'll Design Your Ideal IKEA Laundry Room Easily, Affordably, and Online
Our IKEA Laundry Room Design Package is everything you need to complete your new laundry room with confidence.
GET STARTED TODAY
Maximizing Storage With IKEA Laundry Cupboards
The amount of laundry you have to do in a given week depends on the size of your household.
Regardless of the number of family members you have living under your roof however, one thing is certain – you're going to need storage.
A well-designed laundry room with IKEA cabinetry will make your life easier and your home sparkle.
Between blankets, towels, extra linen, pillowcases, pillows and other miscellaneous sheets, there are a lot of things that need to be put away out of sight when they're not covering beds and sofas.
IKEA laundry cupboards are ideal solutions for keeping your laundry room organized and tidy while also preventing clutter.
IKD can design your laundry room and, style-wise, there really are countless options.
So if you have a sleek-looking washer and dryer combo – and traditional design sensibilities – consider the black-brown IKEA LILLANGEN high cabinet. Not only can you have its door mounted to open from the left or the right, but it will provide ample storage for towels, soaps and detergents.
Or try a color-coordinated laundry room look using IKEA SEKTION cabinets. These include a pull-out for trash or a corner cabinet with carousel to maximize space and storage.
To create a unique two-toned color scheme, consider using black stained IKEA LERHYTTAN base cabinets with the off white IKEA GRIMSLOV door style for the upper cabinetry.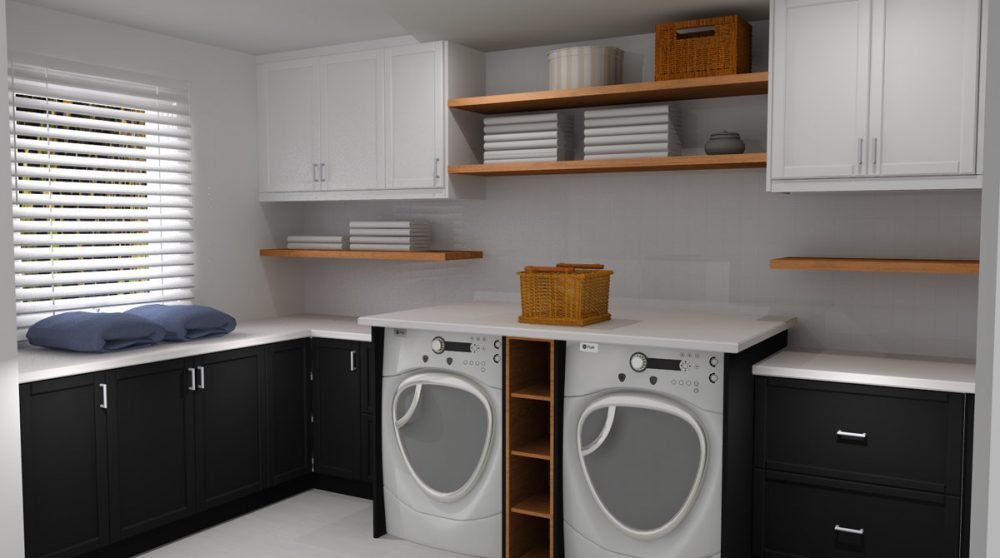 Or perhaps your design calls for a custom look. Then the super matte shaker light gray door style from Semihandmade is another option to bump up the style in your laundry room.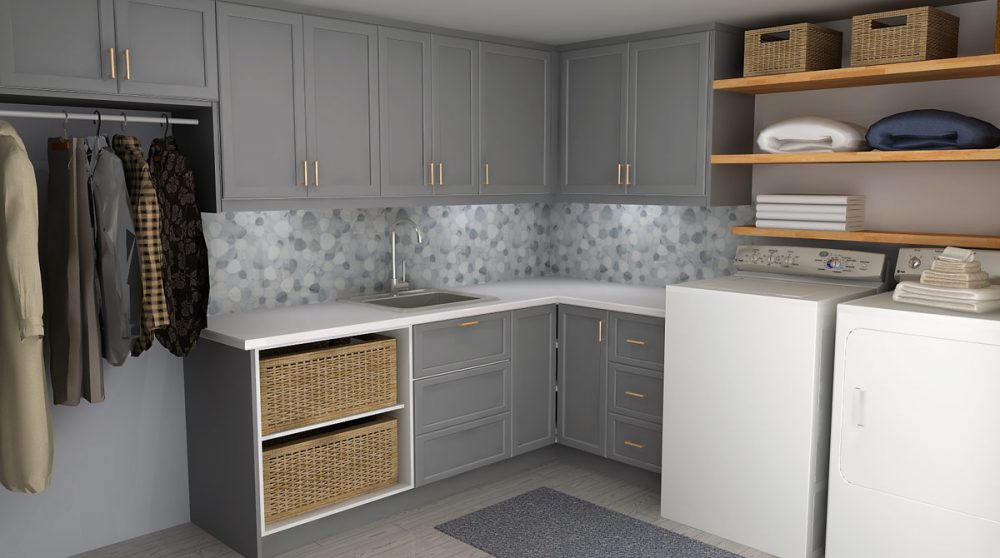 For practical solutions, try the IKEA GRUNDTAL drying rack to hang towels and shirts. It's a great option since the width of the GRUNDTAL drying rack can be adjusted to better suit your space.
Keep Things Tidy with Shelves and IKEA Laundry Room Accessories
Of course, just like with other rooms in the home, size matters.
So for larger laundry spaces, consider the black-brown IKEA PAX or the white IKEA BYGSTAD wardrobe units to store out-of-season clothing.
For smaller spaces, keeping things tidy and maximizing counter space is imperative. Think of the SEKTION pull-outs, corner cabinets and high cabinets to provide storage for detergent, laundry, etc.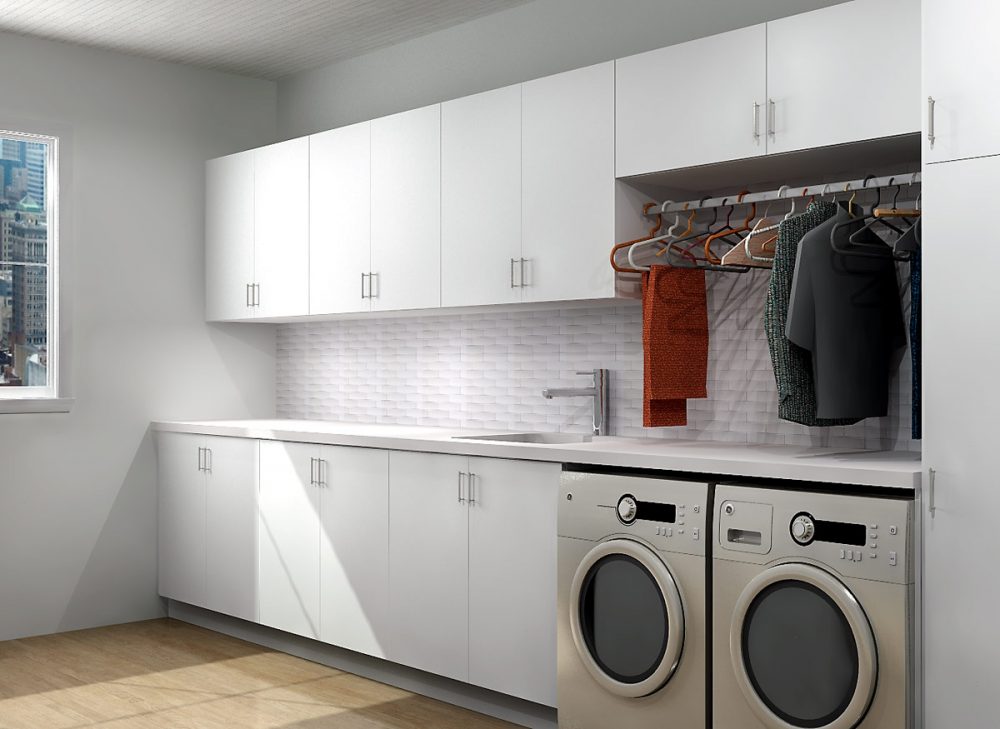 Try complementing that with an IKEA MULIG clothes bar over your countertops to hang clothes while you fold or the IKEA ALGOT wall upright/shelves/drying rack system for convenient and flexible accessory options.
You can find plenty of IKEA accessories to put the finishing touches on the laundry room, such as the IKEA BRANAS laundry basket, the IKEA PLUGGIS recycling bin, and the IKEA DANKA ironing board.
And of course don't forget lighting. The IKEA OSTANA wall lamp will illuminate shelving or a nearby utility sink in the laundry room to make every task lighter, and brighter!
Remember, whether you need your IKEA laundry room to be serviceable, or to make a statement, the options are really endless. And if you need inspiration, it helps to take a look at other IKEA laundry room designs.
Our last recommendation is to begin your IKD design now so that you can take advantage when the next IKEA sales event is announced!
Get a Professional IKEA Laundry Room Design – All Online
Work with our certified designers to get a personalized laundry room designed around your needs and vision. If you're interested in learning more about our service, make sure to check out our IKEA Laundry Room Design Services.