Food buildup inside this countertop appliance can be a potential fire hazard
By Keydra Manns
You might toast a few slices of sourdough or throw a frozen pizza on your toaster oven's tray without a second thought. But when's the last time you gave your toaster oven a cleaning? Just like cleaning your oven regularly, you should clean this small appliance routinely to avoid any food buildup.
"People use their toaster ovens for everything from roasting meats to baking casseroles and other items," says Laurie M. Klein, a home economist for Hamilton Beach, which makes toaster ovens and other small appliances. "So the inside of a toaster oven could have a buildup of grease and various food splatters, which could ignite with high temperatures."
Here's how to get the job done in five simple steps, without using harsh chemicals.
Step 1: Unplug It
First things first: Always unplug your toaster oven before you begin cleaning it, says Cindy Fisher, Consumer Reports' lead test engineer for countertop appliances. Disconnect the appliance from the power source, and make sure the oven is cool before you proceed to step two.
Step 2: Remove and Clean Elements
Put the toaster oven on a piece of newspaper to catch the crumbs, then take out the metal tray, rack, and lower crumb tray and place them in the sink. Use dish soap and water to wash these parts. To combat any stubborn stains on these removable pieces, Fisher recommends leaving them in the sink to soak overnight. Let them dry completely while you clean the rest of the appliance.
Step 3: Use a Homemade Cleaner
Create your own cleaning solution for the interior of the toaster oven by combining vinegar, warm water, and a little dish soap. "Apply that to the interior with a damp sponge," Fisher says, "but try not to get any of the liquid on the heating elements."
Step 4: Apply Elbow Grease
Some toaster ovens have a porcelain enamel or a nonstick interior that makes them slightly easier to clean. But it can be damaged by metal scouring pads and abrasive cleaners. Instead, use a sponge, a cloth, or an old rag when wiping down the insides of your toaster oven. "For stubborn stains, use a plastic scouring pad," Klein says.
Step 5: Repeat If Necessary
For food debris that's hard to remove, our engineer recommends tackling the chore after using your toaster oven. "Try cleaning the oven while it's still a little warm," Fisher says. "But again—be sure to unplug it first."
She advises wiping down the exterior of your toaster oven and cleaning the interior after every use.
If you've neglected yours for too long and find that the coating is damaged or the oven isn't performing as well as it used to, it may be time to consider a newer model.
Shopping for a Toaster Oven?
In Consumer Reports' toaster oven tests, we rate models on ease of cleaning in addition to how they bake, broil, and make toast. Many of the toaster ovens earned a rating of Excellent or Very Good on our cleaning test. That means that the crumb tray slid out easily and that there were few nooks and crannies to trap crumbs and food splatters. Many toaster ovens have a nonstick finish, which you'll appreciate when you're wiping one down after using it to make a messy meal.
Below, members can see ratings and reviews of the toaster ovens in CR's tests that are the easiest to clean, listed here in alphabetical order. For even more choices, see our full toaster oven ratings and recommendations.
Black+Decker 8-Slice Digital Extra WideTO3290XSD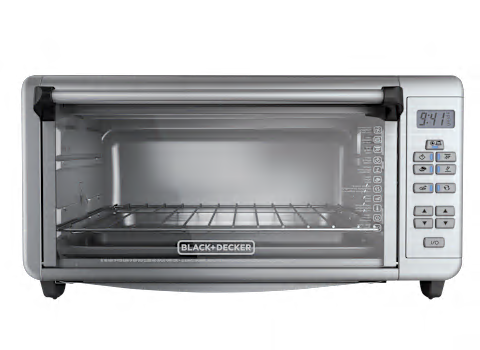 CR's take: This large toaster oven aced our cleaning test and earned an Excellent rating for toasting a full rack of eight slices of bread, although it was slower at it than a number of other models in our tests. It also does a nice job baking cookies and reheating cold leftovers. As its name implies, the Black+Decker Extra Wide TO3290XSD was one of the widest toaster ovens in our tests, so you'll need to reserve more counter space. CR members give Black+Decker toaster ovens only a middling score for predicted reliability in our latest survey.
Breville BOV650XL Oven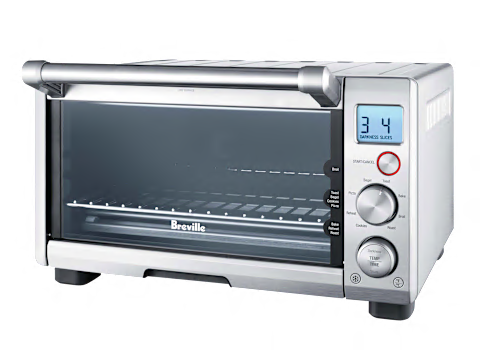 CR's take: Of the toaster ovens that Consumer Reports recommends, Breville is the brand that nabs the most top spots. Compared with its sister models, the Breville BOV650XL is the most affordable, and one of the easiest to clean. It toasts admirably and does a good job on baking, but it lagged behind in our reheating test, scoring only a Fair. Breville toaster ovens have earned exceptionally high marks for both predicted reliability and owner satisfaction in CR's most recent member survey.
Breville BOV860BSS1BUS1 Smart Oven Air Fryer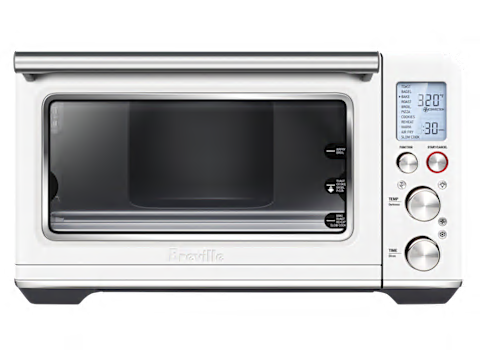 CR's take: The 1,800-watt Breville Smart Oven Air Fryer is super-easy to clean and use, making it a good option if you value a model that's low effort and low maintenance. It also rates Very Good at reheating cold leftovers and toasting a single piece of toast but isn't quite as strong when it comes to baking or when toasting its full capacity of six slices. It has a temperature range of 120°F to 450°F and an air fryer mode that works well, and it comes with a pizza pan.
Finding the Perfect Toaster
Do you like for your toast to be a perfect golden brown? On the "Consumer 101" TV show, host Jack Rico gets tips from Consumer Reports on what to look for when shopping for a new toaster.
Consumer Reports is an independent, nonprofit organization that works side by side with consumers to create a fairer, safer, and healthier world. CR does not endorse products or services, and does not accept advertising. Copyright © 2022, Consumer Reports, Inc.