Theres nothing cuter than stuff that isnt normally heart shaped that IS heart shaped, which is why youre going to want to read this entire post, then hop over to Amazon to order one of these heart shaped silicone molds if you dont already have one. Ill show you more about it below, but its multi-functional!
Im about to convince you to make chili with cute little cornbread hearts for your Valentines dinner. By the end of this post, Ill re-post the link to the silicone mold, because youll be so convinced youll need to have the mold Amazon Prime shipped to you. Lets get started on the convincing!
Chili is a cozy wintertime food, and February is supposed to be a much colder month that its actually turning out to be in South Carolina. Its currently in the 70s (and raining) but chili can be an anytime food, one that shouldnt just be relegated to cold months and never seen again. The anytime-ness, the coziness, ease of preparation, and these cute cornbread hearts are the perfect thing to make for Valentines Day, which again, should be a chillier holiday, but if it isnt, we can at least make it a chili-er holiday. I know youre thinking that chili isnt a very romantic food option, but we can help ease your concerns. Ive got tricks.
Soak Your Beans
The trick to chili that wont make your Valentines Day bloated and gassy is to plan ahead. Dont use canned beans, and dont just throw dry beans in the Instant Pot. You HAVE to soak your dry beans ahead of time. I usually like to soak them overnight the day before I make them.
It doesnt end there though. Once you soak your beans for many hours (8 is ideal), put them in a colander and rinse them in the sink. Use the tap or use your sink sprayer, but wash the liquid thats coating the beans thoroughly. Shake the beans in the colander, so you get every bit of leftover old liquid off. Shake them again, and rinse once more. What youre rinsing off is the complex sugars that make beans harder to digest. Harder digestion causes stomach problems, which leads to unpleasant moments. So soak, rinse, rinse, rinse, then cook your chili however you want, but know that any gastrointestinal issues will not be because of those beans.
Cornbread Makes Everything Better
There seem to be two types of people in the world people who want their chili with rice, and people who want cornbread to crumble into their chili. I actually enjoy both, but tonight were going full cornbread because we want a buttery taste and cute heart shaped cornbread with our chili. Because its Valentines Day, and this shows that youre willing to go the extra mile to make the meal special. The best part is, aside from ordering the mold, this recipe is extremely easy, and can be made right before the meal so the whole house smells like the intoxicating mix of hot butter and hot corn.
Even if youre team rice, try out cornbread for tonight and you may find yourself becoming a convert. I use Congaree Milling Companys coarse cornmeal white or yellow both taste the same to me and it turns out fantastically every time. If you arent local to the Midlands, you can order some online, or use another high quality milled cornmeal, not some mass produced junky junk. You want this to be GOOD. And on that note, use high quality butter too, as the two main flavors in this are corn and butter. So go big on taste for your special someone!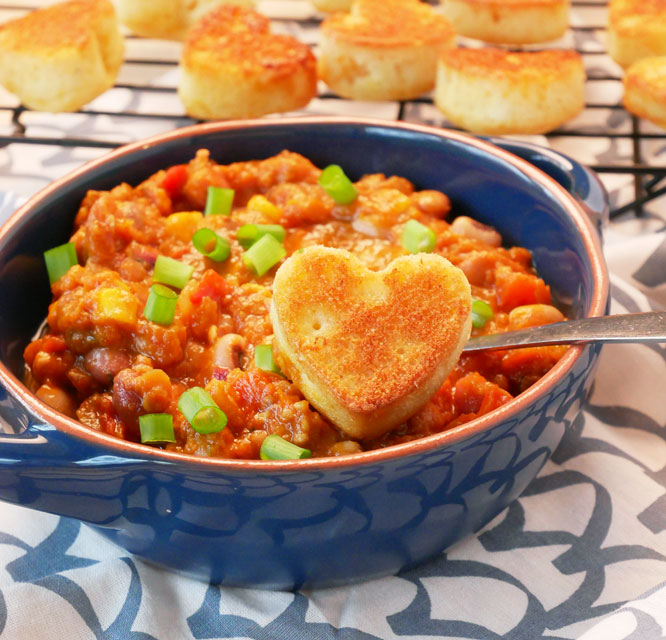 Heart Shaped Cornbread
3/4 cup cornmeal
1/4 cup all purpose flour
1/2 tsp sugar
1/2 tsp salt
1 tsp baking powder
1/4 tsp baking soda
2 tbsp unsalted butter (melted)
1 egg
3/4 cup buttermilk, OR 3/4 milk and scant 1 tbsp lemon juice mixed
spray cooking oil
Preheat the oven to 425 degrees F.

Mix all ingredients together with a rubber spatula until thoroughly combined.

Spray cooking oil into each heart shaped cavity of the silicone mold and set the mold on a cookie sheet.

Use a tablespoon to spoon a level amount of batter into each cavity in the mold. Do not overfill.

Bake for 20 minutes. Let cool on a wire rack for 15 minutes and press on the back of each heart to pop the cornbreads out.

Serve with your favorite chili.
One of my favorite things is catching one of the dogs creepin on my recipe photography sessions. Its usually Radar, and I got a really good pic of her this time! She really wanted a cornbread, and I did end up giving each dog one. After all, hush puppies are just fried cornbread! She didnt hush afterwards, she just kept creepin for more, but thats her usual MO!
So did I convince you to make this for Valentines Day? Or did I convince you to adopt a cute doggo to make your life way better?
If you need the link to the heart shaped silicone mold again, its right here for your convenience. The best part to me is that this recipe perfectly fits the heart shaped cavities in the mold. As you can see, you want to have each cavity just slightly underfilled to 3/4 of the way filled. Do not overfill, itll just make things worse.
Use it for making gummies, for heart shaped ice, for fun-shaped petit fours, to preserve frozen herbs, and probably a ton of other ways. Its worth the purchase!
Looking for more loving recipes? Try baked pimento cheese dip, blood orange pound cake, and rose chocolate ice cream.
The post Heart Shaped Cornbread appeared first on The April Blake.