It is a truth universally acknowledged that a bathroom can never have enough storage space. There are the stacks of towels and wash clothes that need a shelf. There are bottles of shampoo and bars of soap. Boxes of Q-tips spill over and bags of cotton balls are stuffed into the empty spaces. And let's not get started on the feminine necessities for health and beauty. Every bathroom needs a good set of shelves to store all these fundamentals, but you don't have to empty your piggy bank for them. Try your hand at one of these DIY bathroom shelves that will increase the storage space in your bathroom.
Add Storage with These DIY Bathroom Shelves
1. Simple Wooden Floating Shelves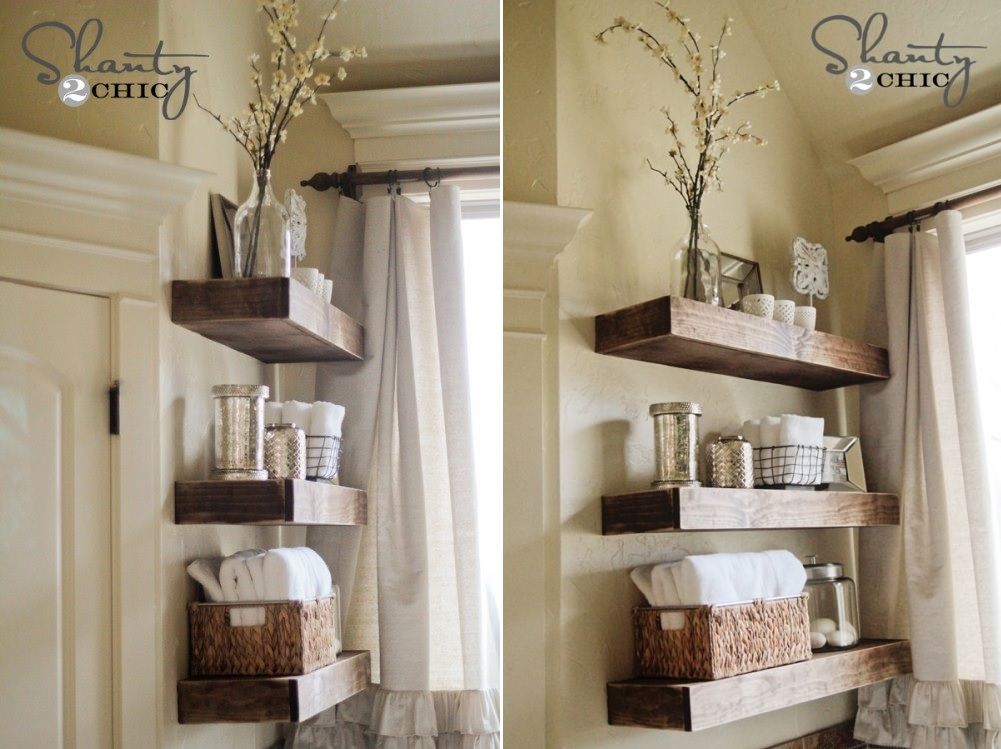 Simple wooden floating shelves are possibly the easiest DIY solution for bathroom storage. You can build them however long you need them to be, and they will match with a myriad of decorating styles. (via Shanty 2 Chic)
2. Photo Ledge Bathroom Shelves
We've seen photo ledges used as shelving before and here they are again. They make a really great option for tiny bathrooms that need storage without the bulk. Make sure you get the pretty shampoo bottles to display. (via 4 Men 1 Lady)
3. DIY Bathroom Pallet Shelves
Pallets are a dime a dozen. You might even have one or two sitting in your garage. You could repurpose them into vertical shelves that will give your bathroom storage wherever you might need it.
4. Rolling Barn Door Bathroom Shelves
Everybody wants a rolling barn door nowadays. If you've been pining over a lack of funds, create yourself a miniature version for your bathroom! It's a great way to hide bathroom necessities like toilet paper and feminine products. (via Shanty 2 Chic)
5. Bathroom Box Shelves
Thinking you need a storage solution that's modern and simple? You found it right here. Straightforward boxes on the wall create a clean aesthetic that will flow with the rest of your modern home. (via Bob Villa)
6. Spice Rack Shelves for the Bathroom
Sometimes, a DIY project can be as simple as using an object for a purpose other than what it was created for. Namely, the IKEA spice racks. They make a great set of shelves to hold bottles and boxes in the bathroom. (via Your House and Garden)
7. DIY Bathroom Mirror Cabinet
Who ever complained about having an extra mirror in the bathroom? Especially when you live with girls. DIY this mirror cabinet that will also serve as a hidden storage space. (via Shanty 2 Chic)
8. Industrial Pipe Bathroom Shelves
Pipe is an obvious choice for any DIY when you're going for an industrial look. Keep it going even in the bathroom with these black pipe shelves. They'll give your bathroom storage a sleek pop. (via 7th House On The Left)
9. Bathroom Apothecary Shelves
One bonus of rustic decor is that you can get away with leaving a piece paint chipped and a little discolored. Like using an old window as a door for shelving in your bathroom. The perfect place to display all your apothecary jars. (via Liz Marie Blog)
10. DIY Bathroom Sink Shelves
Perhaps you're on the market for a piece that will hide the unsightly bathroom fundamentals. Craft this clever shelf that will hide behind the sink and keep all your unmentionables within reach.
11. Bathroom Plywood Pegboard
One of the best ways to find some extra storage space in the bathroom is to go vertical, and this plywood pegboard DIY is a great way to add some storage above your bathtub for houseplants, toiletries like shampoo and body wash, or any other bathroom rickrack that would otherwise end up scattered across the bathroom counter. Leaving the wood unfinished gives this pegboard a crafty Scandinavian vibe. Add a variety of houseplants with different textures and colors to give the pegboard a more eclectic look. (via Most Lovely Things)
12. Basket Shelf
If you want to add a natural element to your bathroom decor, adding elements like wood and stone is the way to go. These DIY basket shelves add a wooden element to your bathroom's interior design without making it look too bulky or rustic. Even though this is a lightweight design, it's still sturdy enough to hold bathroom items like hand towels and extra toiletries like shampoo and conditioner. The angled design makes it easy to look in and see what you need to pull out, even if you're sitting on the toilet.  (via Snap Society)
13. Simple Above-The-Door Bathroom Storage Shelf
Getting the most out of your bathroom storage involves looking at some off-the-wall (or in this case, on-the-wall) ideas. This simple above-the-door bathroom storage shelf uses a vertical space in the bathroom that isn't often taken advantage of and transforms it into a useful bathroom shelf. This short shelf is perfect for storing supplies like backup bath rags, bars of soap, or toilet rolls. It's a smart way to store extra toilet paper in the open without making it the focal point of your bathroom's interior design. (via Homeedit)
14. Rustic Wall Storage Bins
Sometimes one of the biggest challenges with finding extra storage space in the bathroom is how short some of the wall spaces are in this home area are due to the bathtub, bathroom counters, and toilet. This narrow shelf of wall storage bins gives the bathroom some farmhouse charm while also providing a space to store some of your bathroom items off the counter. Proper storage can give the whole bathroom a more streamlined feel. (via Remodelaholic)
15. Antique Egg Basket Bathroom Shelf
For another take on the farmhouse vibe for bathroom storage, this antique egg basket bathroom shelf is a good way to store bathroom toiletries that you need to be able to see at a glance. Nobody wants to dig through their bathroom cabinets to find basic toiletries like hairbrushes and cotton balls, but this wire basket shelving puts them right out in the open where they're easy to find. An organized bathroom can save you time when you're trying to get ready in the morning or you're wrapping up for bed at night. (via Hello Hayley)
16. DIY Storage Ladder
Storage ladders are a good choice for bathroom storage because they feature a bunch of different shelf sizes in one unit. This lets you organize your bathroom items more easily since you'll have shelves small enough and big enough for a wide variety of toiletries. Storing small objects on the smaller shelves and larger objects on the larger shelves at the bottom of the ladder keeps the storage ladder looking balanced and uncluttered. (via HGTV)
17. DIY Bathtub Spa Shelf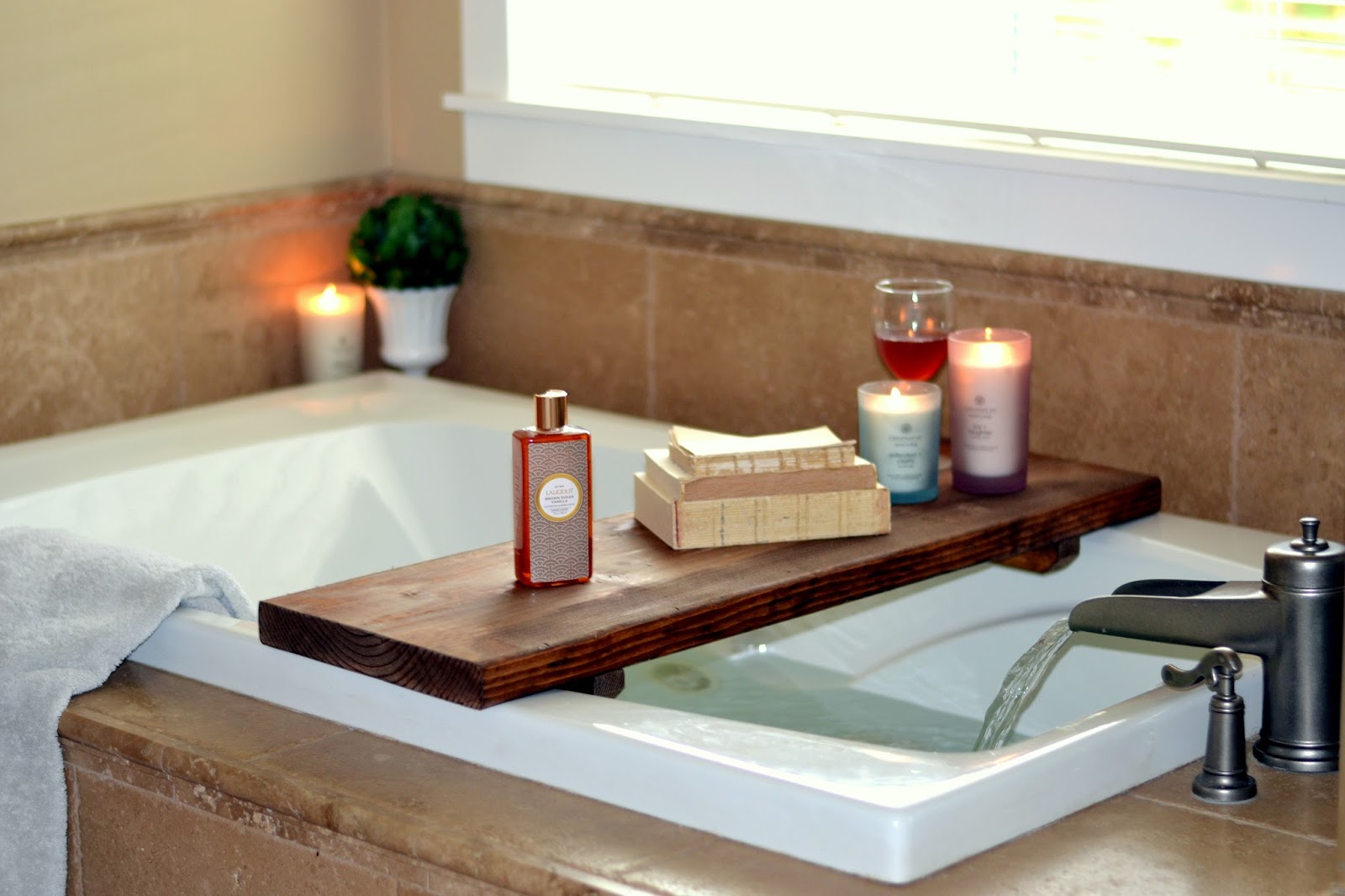 This bathtub spa shelf may not carry much, but it's the perfect size to hold your books, a candle, and a glass of your favorite wine. This bathroom storage project is the perfect way to enhance the luxurious feel of your next home spa day, and doesn't require that much crafting ability to pull off. You can also stain this spa shelf in whatever color is best suited to the palette of your bathroom's decor.  (via Rachel Teodoro)
18. Easy Rustic Bathroom Shelf
One of the coolest things about DIY projects is that you can create new items by upcycling old materials. This rustic bathroom shelf at Remodelaholic uses an old piece of fencing to create a distressed wooden storage unit, but you could also use new fencing or paint it to create a more modern-looking shelf. This shelf also fits well over the toilet so you can maximize your wall storage space in the bathroom. (via Remodelaholic)
19. DIY Leather Hanging Shelves
Hanging shelves may not be able to hold as much weight as shelves with a solid base, but they definitely add style and class to any indoor space. These shelves use strong leather straps to hold them up and are a good match for storing lighter toiletries in the bathroom, such as toilet paper rolls and cosmetics. These hanging shelves can be created out of just a few materials and create a sleek minimalist look. (via Collective Gen)
20. DIY Wooden Crate Shelf
This is another DIY project that takes advantage of salvaged materials to create new storage for your bathroom. These wooden crate shelves offer a lot more storage than other bathroom shelves on this list, but they may need more wall space to accommodate them. Group like items together in this open shelving unit to prevent it from looking cluttered. They can be stained or painted to match a wide variety of bathroom designs, and they're tall enough to fit even larger toiletries like large shampoo and conditioner bottles. (via Haute and Healthy Living)
21. Tic Tac Toe Toilet Paper Shelf
If you're looking for a more whimsical look for your bathroom storage, look no further than this Tic Tac Toe shelf from Hallmark. These game-themed shelves can be constructed with simple wooden planks cut down to size with a jigsaw, and the Xs in the design are painted to make them stand out. All you need is a few toilet paper rolls to form the Os, and you'll have the perfect storage for a children's bathroom or anyone else who enjoys a good game of tic tac toe.
(via Hallmark)
22. DIY Toilet Paper Holder Shelf
Nothing is worse than running out of toilet paper when you're already in the bathroom, and this toilet paper holder shelf helps prevent it from happening. This small shelf is also a handy place to store your smartphone well away from any sources of water that might accidentally damage it if you want to keep it nearby while you bathe. Add a piece of high-end hook hardware for a guest towel and some dark stain to give this DIY shelf a sophisticated look. (via DIY Show Off)
23. Shower Stall Shelving
For bathroom storage that doesn't have to be waterproof, check out these shower stall shelves from Wit and Delight. This corner storage is the perfect home for your shampoo, conditioner, and body soaps. Don't let its small size fool you, this shower shelf can hold all of your bath accessories in one convenient place. Keeping your soaps up on a shelf instead of leaving them where they can fall into the floor of the shower can help prevent a slip and fall situation, too. (via Wit and Delight)
24. DIY Bathroom Radiator Shelf
People in older homes have to wrestle with working radiators into their interior design, especially if they own the kind of vintage home where the radiator is in the bathroom. This DIY radiator cover helps integrate your radiator into your bathroom design while also adding a small shelf to your bathroom for more storage. Covering up bare radiator pipes can create a much sleeker look in your bathroom and can also make it appear more modern. (via Shannon Claire Interiors)
25. Hanging Baskets for the Bathroom
Smaller bathrooms can be difficult to fit additional storage into since they're already limited in available space. These mounted storage baskets are useful as a minimalist shelving unit for keeping light toiletries or decorations like small potted plants. Grouping together types of items on the shelf, such as perfume bottles or makeup containers, can help you keep this transparent shelf looking neat and tidy. Adding a wooden insert in the bottom of the shelves can even allow you to store smaller items without having to worry about them slipping through the wire. (via A Beautiful Mess)
Bathrooms might typically be one of the smallest rooms in the house, but they're also a hub of clutter in most homes. From toothbrushes to toilet paper, there's no shortage of things that need to stay in the bathroom full-time to be useful. The fact that most people have their own personalized toiletries that they all keep together in the same bathroom can make things even more chaotic. Without plenty of storage, these items end up sprawled all over the bathroom counter and make it much harder for people in the home to use the space efficiently. Increasing your vertical storage by adding bathroom shelves on bare walls can help make up for the lack of floor space in your bathroom. Making these shelves yourself can also help you add a personalized touch to your space that everyone who visits your bathroom will appreciate.
The post DIY Bathroom Shelves To Increase Your Storage Space appeared first on Home Decorating Trends - Homedit.