Consider third-party cabinet organizers to complete your IKEA kitchen.
Your IKEA kitchen needs to be the most efficient room in your home, especially if you do a lot of cooking.And that means it should support organization while maximizing space.
As design experts in all-things IKEA, we can say there are few options more suitable to making empty spaces between cabinets – or narrow base cabinets – useable than Rev-A-Shelf's Filler Pullout Organizer with Ball Bearing Soft-Close Sink & Base Accessories. We'd like to discuss some of the design advantages of the Pullout Organizer, its features; and how IKD customers can integrate the Filler Pullout Organizer into their IKEA kitchen design.
Rev-A-Shelf's Filler Pullout Organizer — which works seamlessly within IKEA's SEKTION kitchen cabinetry framework — offers a great way to keep your favorite spices accessible with a customizable option in an area of the kitchen (between two base cabinets) that is often overlooked and wasted.

Photo credit: Rev-A-Shelf
IKD designer Merari explains: "I'm an organization freak and like my small, most-used cooking ingredients at-hand in one-place. I cook lots of Asian dishes and there are so many small bottles and spices that I like to incorporate into those meals. I heat the wok, open the Pull-Out organizer and go to work. Nearly everything I need is accessible and nearby, which makes cooking a joy."
So, if you're an avid cook like Merari and have been researching examples of IKEA kitchens on design Web sites like HOUZZ or Pinterest, you'll certainly appreciate the following product information about how the Rev-A-Shelf Pullout Organizer can work for your IKEA kitchen — and make your IKEA kitchen work for you.
Let's take a look!
Rev-A-Shelf's Pullout Organizer Overview
One of the key— but often overlooked — design details in you IKEA kitchen is filling any large empty space in a cabinet run between two walls.
The Rev-A-Shelf Filler Pullout Organizer with Ball Bearing Soft-Close Sink & Base Accessories, which is available for 3", 6" and 9" base cabinet applications, is a great custom option to maximize those wide fillers. (Designer Note: A 3″ pullout requires a minimum 6" base cabinet; a 6" pull out requires a 9" base cabinet).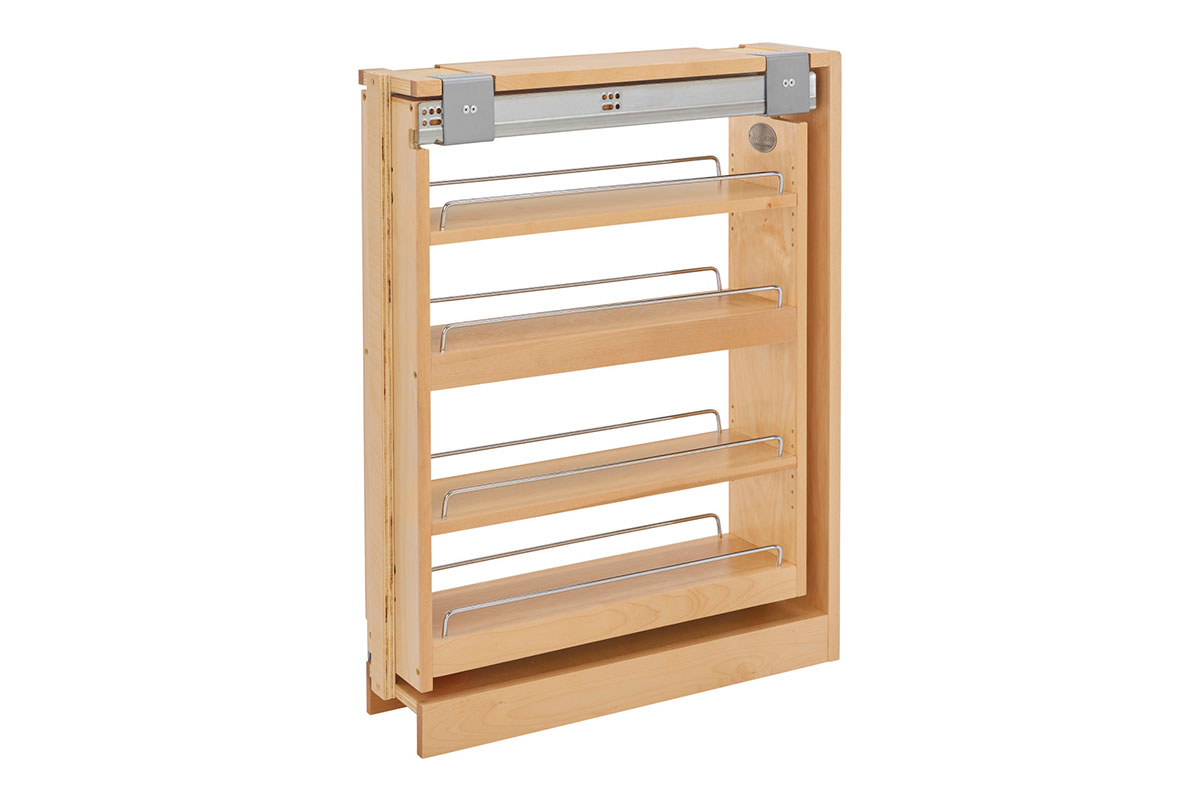 Photo credit: Rev-A-Shelf
From a practical standpoint, it provides a unique storage solution particularly for kitchens where space is at a premium, This is notable especially considering that IKEA doesn't offer a similar internal organizer.
The Pullout Organizer also features full-extension ball-bearing slides with soft close to make your spice rack an integrated and accessible design element. From a design perspective, it will maximize space, enhance the work triangle and improve the overall workflow of your kitchen.So it makes the kitchen more ergonomic, and since it's at the base cabinet level, the young kids in the family can easily grab ingredients while helping mom and dad cook.
IKEA Kitchen Using The Pullout Organizer
One recent IKEA project that stands out using the Pullout Organizer was designed for IKD customers Tracy and Sam from Indianapolis, IN. They loved to spend time cooking organic meals with their children and entertaining friends and family.Since they spend so much time in their kitchen, they really needed their new layout to be efficient with lots of unique storage. "We have very eclectic tastes in our design style and our meals!" Tracy says.
So, with IKD's design guidance, Tracy and Sam combined IKEA'S SEKTION cabinetry framework along with IKEA's off-white IKEA BODBYN cabinets, including the base cabinets that run from the stainless steel refrigerator to the stove, along with Rev-A-Shelf's Filler Pullout Organizer. The base cabinet filler provides storage for spices and utensils and really added a much-needed functional and decorative touch to the space.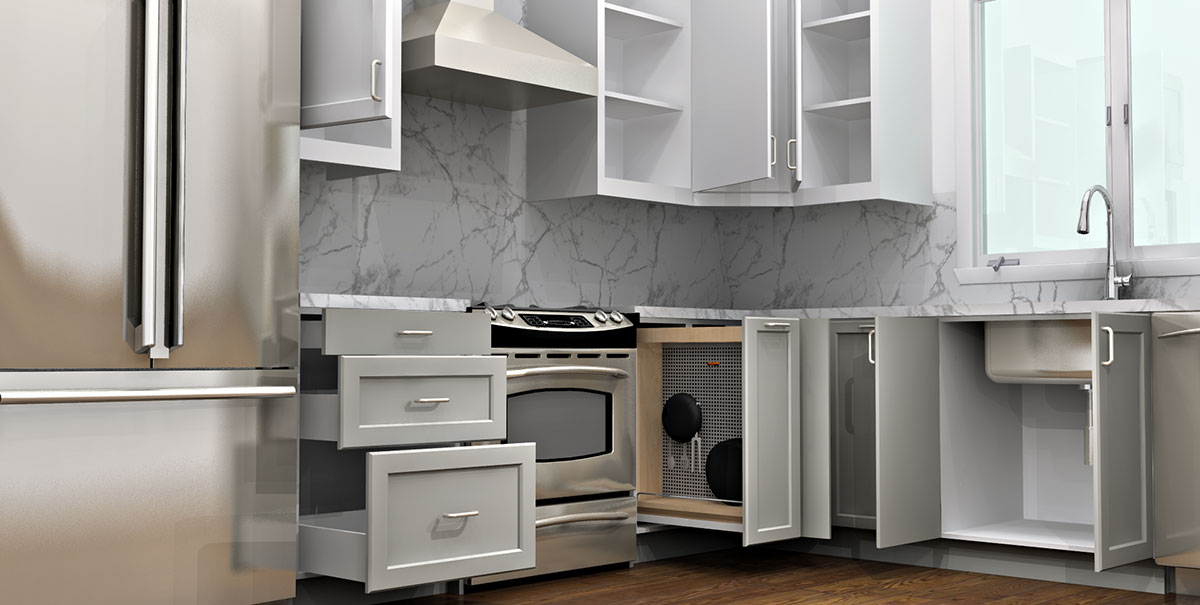 "We wanted a transitional-style kitchen that fit our cooking needs. We cook a lot. The organizer really makes our cooking time easier and more enjoyable because it provides storage options. I like how it's out of sight until we need it and I love the soft close option!" she concludes. [Pro Tip: As a cabinet hack, pullout spice racks can also be used to organize and store cleaning supplies if used in a laundry room, for example.]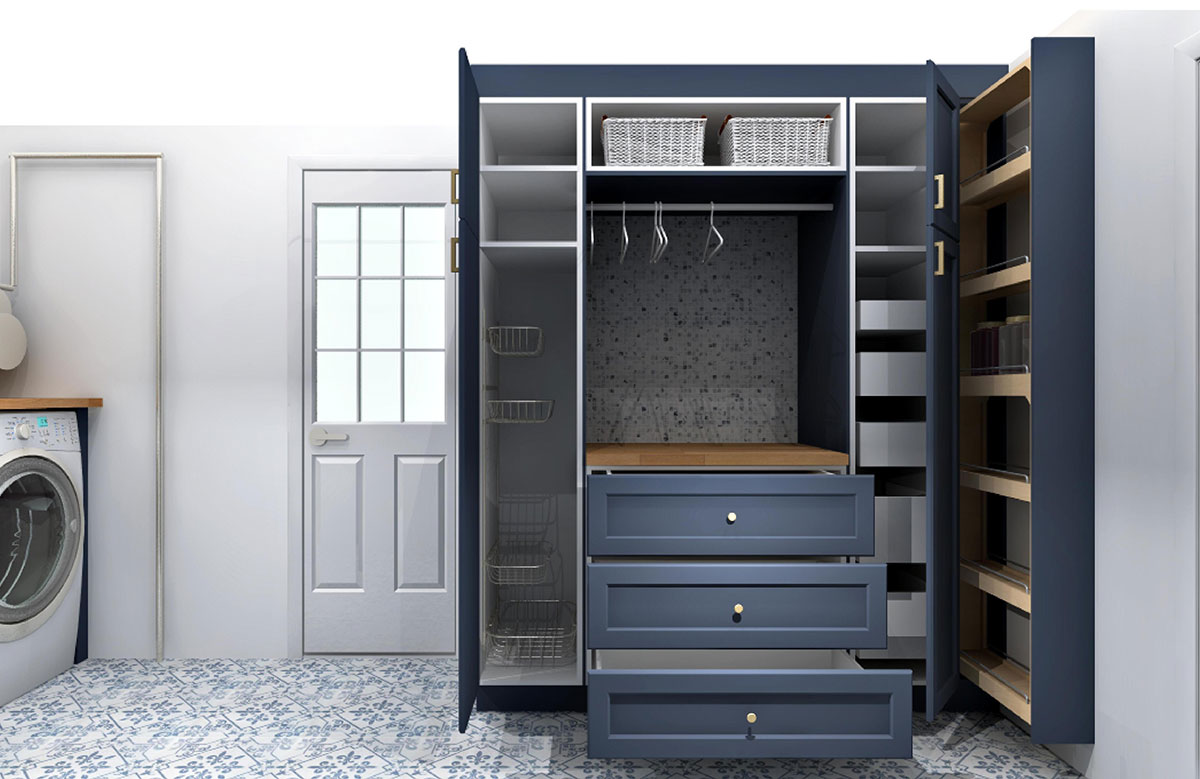 Remember, our design team at IKD is here to guide you through your design and product choices and to make sure your kitchen design is completed with every inch accounted for. The Rev-A-Shelf Pullout Organizer is definitely one way to make sure that happens in your IKEA kitchen!
Learn more about how we can design your IKEA kitchen, bath, laundry room and closet at inspiredkitchendesign.com.