This Crispy Baked Chicken Sandwich will rival anything you can get in a fast food place! Load it up with some garlic tonkatsu sauce, tomato, cucumber and crisp lettuce for perfection, and enjoy with some iced lemon tea. In Japan, we call this Chicken Katsu Sando. 
Servings: 2
Ingredients 
▢ 1 cup panko (Japanese breadcrumbs)
▢ 1 Tbsp extra-virgin olive oil
▢ 1 lb boneless, skinless chicken breast (2 pieces)
▢ kosher salt (Diamond Crystal; use half for table salt)
▢ freshly ground black pepper
▢ 1 large egg (50 g w/o shell)
▢ 1 Tbsp water
▢ ¼ cup all-purpose flour (plain flour)
▢ ½ English cucumber
▢ 2 tomatoes
▢ unsalted butter
▢ 4 toasts (I use Japanese "shokupan")
▢ lettuce leaves
Garlic Tonkatsu Sauce
Japanese Ingredient Substitution: If you want substitutes for Japanese condiments and ingredients, click here.
Instructions 
Gather all the ingredients.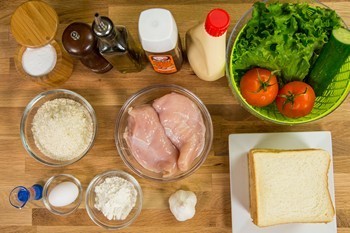 Preheat the oven to 400ºF (200ºC). For a convection oven, reduce cooking temperature by 25ºF (15ºC). Set a rack in the middle position. Start from Garlic Tonkatsu Sauce. Using your fingers, peel away most of the loose outer layers around the head of garlic. Trim about ¼ inch (6 mm) off the top of the head of garlic. Drizzle about 1-2 tsp of olive oil over the exposed surface of the garlic and let the oil sink into the cloves.

Wrap the garlic in aluminum foil and roast in the oven for 40 minutes (depends on the size of your garlic). The garlic is done when a center clove is completely soft when pierced with a paring knife. You can leave it in the oven a little longer for a more caramelized flavor. Roasted garlic can be refrigerated for up to 2 weeks.

Meanwhile, combine 1 cup panko and 1 Tbsp olive oil in a frying pan and toast over medium heat until golden brown. Try not to break the panko pieces with your spatula (I know it's hard) and try shaking the frying pan instead of over mixing.

When panko is nice golden brown, transfer to a bowl (or tray) to let cool.

Butterfly the chicken breast. Butterflying is a really useful technique to create a uniform thickness throughout a piece of meat so that it will cook more quickly and evenly. With the edge of a knife parallel to the cutting board, cut the length of the side of the breast. Carefully slice the breast in half widthwise almost to the other edge. Keep the edge intact and open the breast along the fold. Season the chicken with salt and freshly ground black pepper.

Crack the egg into a medium bowl and add 1 Tbsp water. Whisk well to combine.

Put ¼ cup flour in a bowl (or large tray). Dredge the chicken in flour and shake off excess flour off, and then dip in the egg mixture.

Then dredge the chicken in toasted panko and place it in a rimmed baking sheet lined with parchment paper.

If your garlic is not done yet by this time, move it to a higher rack or place it in an open space inside the oven. Bake the chicken at 400ºF (200ºC) for 30 minutes, or until it's done.

When the garlic is done, let it cool slightly and press on the bottom of a clove to push it out of its paper. You can use a knife to take it out as well. Put all the roasted cloves in a small bowl and mash with a fork.

Add 1-2 Tbsp of tonkatsu sauce and 1-2 Tbsp Japanese mayonnaise and mix all together.

Slice the cucumber with a peeler and cut the tomato into thin slices.

Toast the sandwich bread (optional) and spread the butter. Put the lettuce and the chicken katsu on top. Spread generous amount of Garlic Tonkatsu Sauce on the chicken.

Put the cucumber, tomato slices and another toast on top. Cut the sandwich in half and serve immediately.

To Store
You can store the leftovers in an airtight container and store in the refrigerator for a day.
From: Just One Cookbook