Hey Design Lovers! I'm sharing one of my email interior design consultations that came in from Hawaii a couple of months ago. This homeowner had a question or two about the kitchen and then some decorating questions about the entry and a big blank wall in the living room.
While not that unusual, I could tell in the pictures this homeowner sent me that this home was likely not in a typical suburban builder home.
The wood used for the kitchen cabinets, the fact that the living space and kitchen seemed to be up on a second level, and then when the homeowner signed off her email with "Mahalo", gave me hint at the location. :-)
My blog contains affiliate links. Any purchases, at no additional charge to you, render me a small percentage, are most appreciated and make this blog possible. :-)
Pics of the house in Hawaii….
After confirming that with her, I jumped in to see how I could help answer her questions and get her on the way to some solutions for her dilemmas.
Kitchen Design Advice
What she wanted to do here was work with what she had mostly and add a backsplash. She needed design direction about what type and color. Everything else had to stay, her husband particularly loved the Koa wood cabinets. They were having some electrical work done, getting rid of the track lighting and the pot rack and installing cans and pendants.
Their countertop material was Rainforest Green, truly a perfect choice for Hawaii, no?
I used it years ago in a kitchen remodel on an island, and it was gorgeous. A dark green with rust colored veining.
Here was my advice:
First, address how you would install the backsplash.
I like the rainforest marble with the Koa wood, but I would love to see you make a few changes so that the details all work nicely and the tile doesn't look just sort of patched in.
One thing I would like to propose if you are adding a tile backsplash, is to remove the 4" high slab there and put the tile all the way down to the countertop. That is a more typical installation when you have tile as the backsplash.
Then, since you have that 4" piece, I would have that cut and reworked to use as the sill at the window. You can double the edge so that it has the 1 1/2" lip, but it would make for a nice, neat transition of materials and make it less complicated to add tile there at your backsplash.
I would also remove the Koa wood header above the window. Maybe you could use this strip of wood and cut it up to frame out the window. You can see in the pic of that kitchen I have below, the wood trim comes down the window edge and dies into the top of the stone sill.
Not sure how your sink area is lit, if there is some kind of light at the ceiling or if there is a strip of lighting behind the Koa wood strip. If there is a strip light there, then you'd have to figure out some other form of lighting that space. I like the idea of wall mounted fixtures above the window, if that is possible there.
I definitely like the idea of removing that one strip of wood above the window that is suspended there, no matter what.

Paint the two back walls:
I think that if you are keeping the Koa upper cabinets, then you should consider camouflaging their short height somewhat. The way to do that is to blend them in with the background, the wall there. So, you could do that with paint, by painting the wall a darker color.
Then, you could do the tile backsplash in that color. The wall and backsplash, all on the same plane, would blend together to look more seamless and everything will look less chopped up visually.
I rather like this idea, as it would make for a dramatic kitchen nook area. Right now, you have the darker Koa cabinets on white walls and that just accentuates the void above and the fact that they are short. I really like the idea of blending the backsplash and wall color all together, and not having the white wall behind the fridge that kind of accentuates the vertical gap there.
You could do a forest green tile, something that would work with your countertop. It would also make your Koa wood tone look even richer and those cabinets more intentional in the design.
Here are a few links to some solid green tile, but you'd have to see what would look good with your existing countertops.
Riad Tile, Forest Green Zellige
Daltile, Marrazzi, Remedy, Herbal
Lastly, some African baskets randomly hung above the Koa cabinets will help fill that void and make that space more fun and interesting.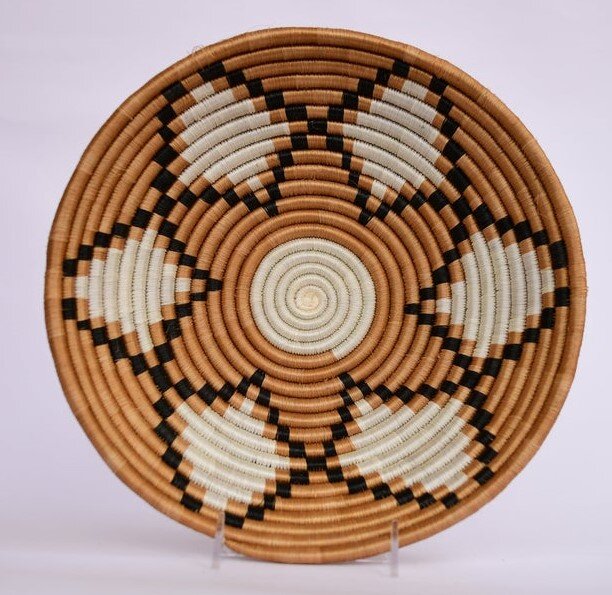 Art for the Big Living Room Wall
She wanted to fill this wall with something. Another chair, to go on the other side of the console. had already been ordered.
A nice big piece of art would likely work best here. If the kitchen will go green, then tying together some of that color with some blues and grays here would be nice. We definitely want to bring some bold color to this wall to balance the color in the kitchen.
This wall decor piece comes in several sizes from Pottery Barn. I think it has the look of a Hawaiian coastline.
Here's another large art option from Crate and Barrel.
Entry Hall Decor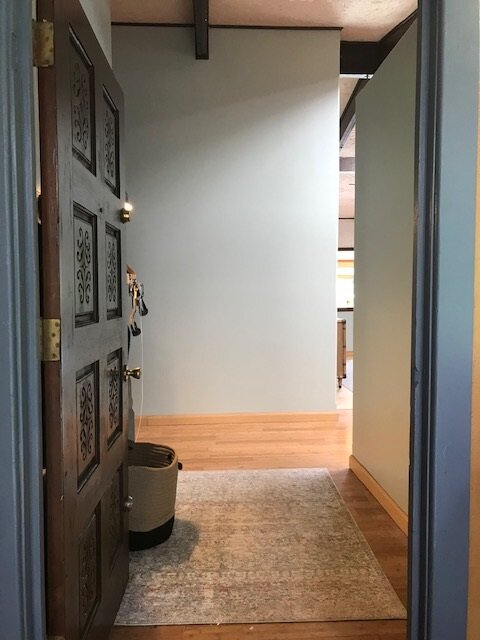 For the entry hall, I'd put a console there with a mirror above. I like the idea of a dark metal finish, since you have light wood floors and your door is a darker wood. I think it would be nice to have the bolder contrast.

This woven mirror adds some texture and is pretty large at 40" diam.
A grouping of vases works on the console on one side. Then you can add some large baskets on the bottom shelf.
---
I really love getting these Designed in a Click™ Q&A's since they come in from literally all over the world! The question about cabinet color in this post was from someone in Italy.
The last home featured in this post on wall decor was in Switzerland!
Even in the US there is much diversity in the type of homes and style. This home in the rocky mountains needed an update for the fireplace wall. The kitchen and family room featured in this post came from Oregon. The views overlook their apple orchards. :-)
This project was just outside of New York City, in a suburban area there. And then this home was located here in Texas, in the hill country, around 3 hours plus away from me.