DIY Organization Ideas, because organizing the most-used spaces in your home can be difficult. You and your family are constantly reaching for things in the bathroom, the kitchen, or in your closets. So organization ideas have to be practical and easy to maintain. Where to start? Here are some of the best tips and DIY Organization Ideas to get your home tidied up once and for all! I couldn't believe how clever these DIY home organization tips are!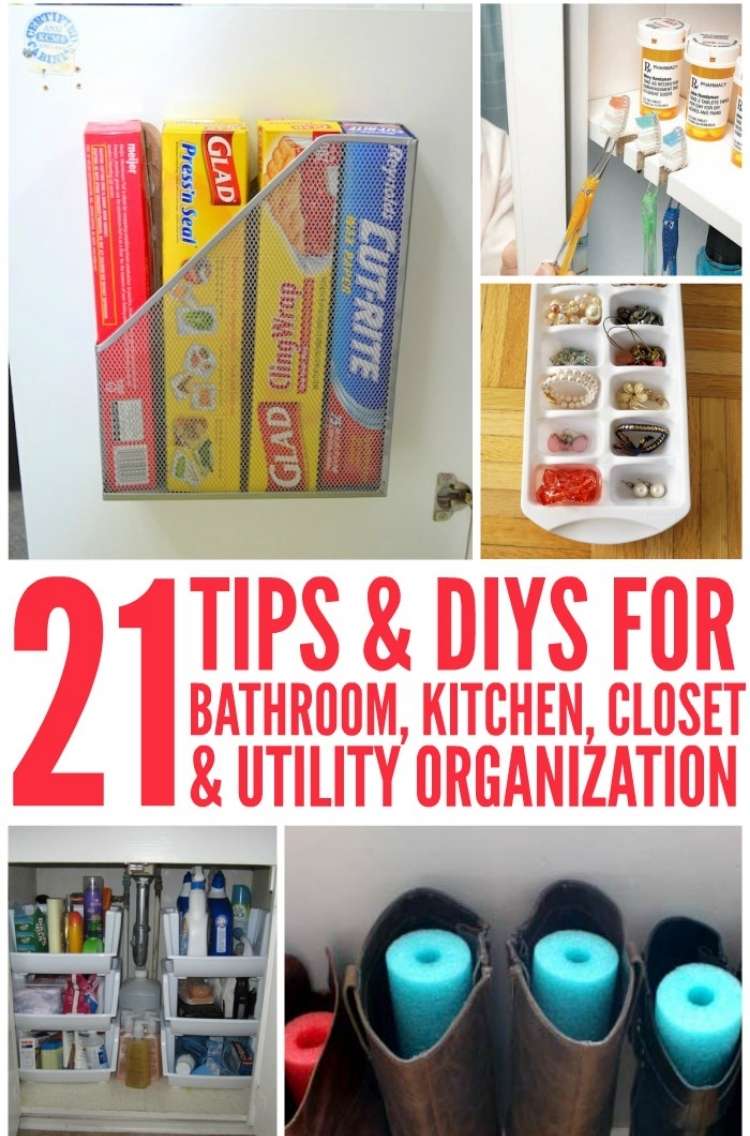 Best Organizing Ideas that Work!
1. DIY Under the bathroom sink Storage idea
Bathroom Storage: It can be hard to organize under the bathroom sink but a trip to the dollar store might help; Try getting stacking containers to organize:
hair tools
travel accessories
shampoos and conditioners
cleaning products
Makeup
Soaps and lotions
You will have to leave a space where the plumbing is, but this area can be used for some of the larger containers that your store under the sink, like large soap refill bottles. Make sure that you don't force any of the plumbing while you are arranging your under-sink areas.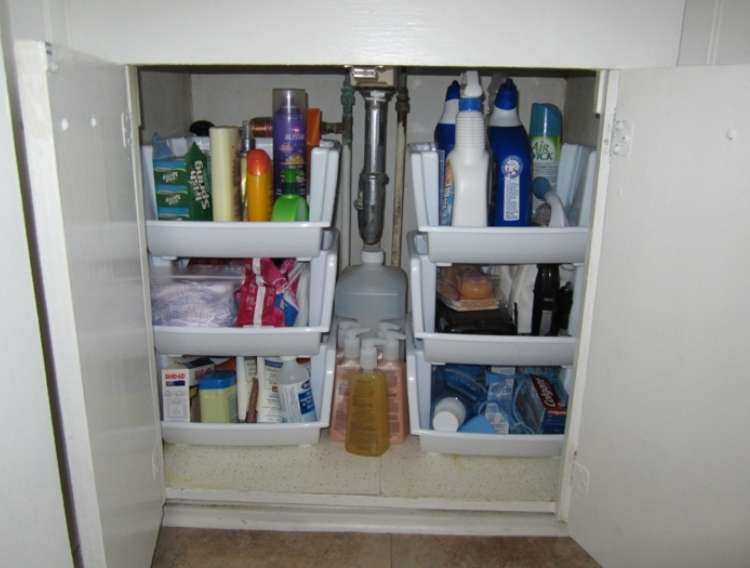 Image courtesy of Waplag
2. Carve out a space for toothbrushes inside your medicine cabinet
Toothbrush holders: Carve out space in your medicine cabinet to hold your toothbrushes so they are out of the way and still protected. I absolutely love this DIY home organization tip! Have you seen how many germs get released into the air every time the toilet is flushed? YUCK! Keep your toothbrushes sanitary with this clever organization hack!
And while we are talking about them, don't forget to organize your medicine cabinets! We LOVE these tips to organize your medicines and label them by the needs they meet. It helps when at 2 am you are hunting for the medication for a specific health concern.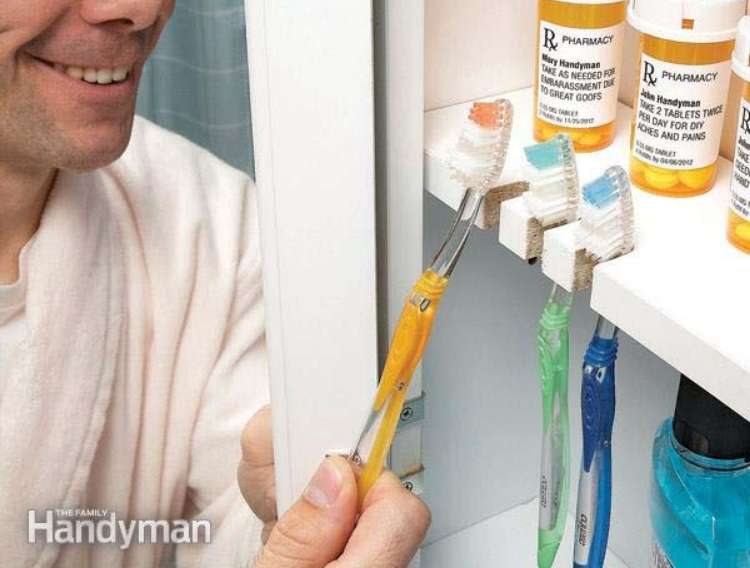 3. DIY Lazy Susan for under the sink storage
Check out how easy it is to make a lazy susan! It would totally transform and organize your under-sink chaos! Promise! This keeps everything that you need from under the sink easily within reach! I love a good hack that makes cleaning time easier for me. Win!
4. DIY jewelry holder made from ice cube tray
Ice Cube Tray Storage: Use an ice cube tray to organize small jewelry items within the drawer such as earrings, rings, bracelets, and necklaces. You can even get stackable ones to take maximum advantage of your shelf space. This will keep everything neat and will make it easy to find what you are looking for when you are rushing to get ready.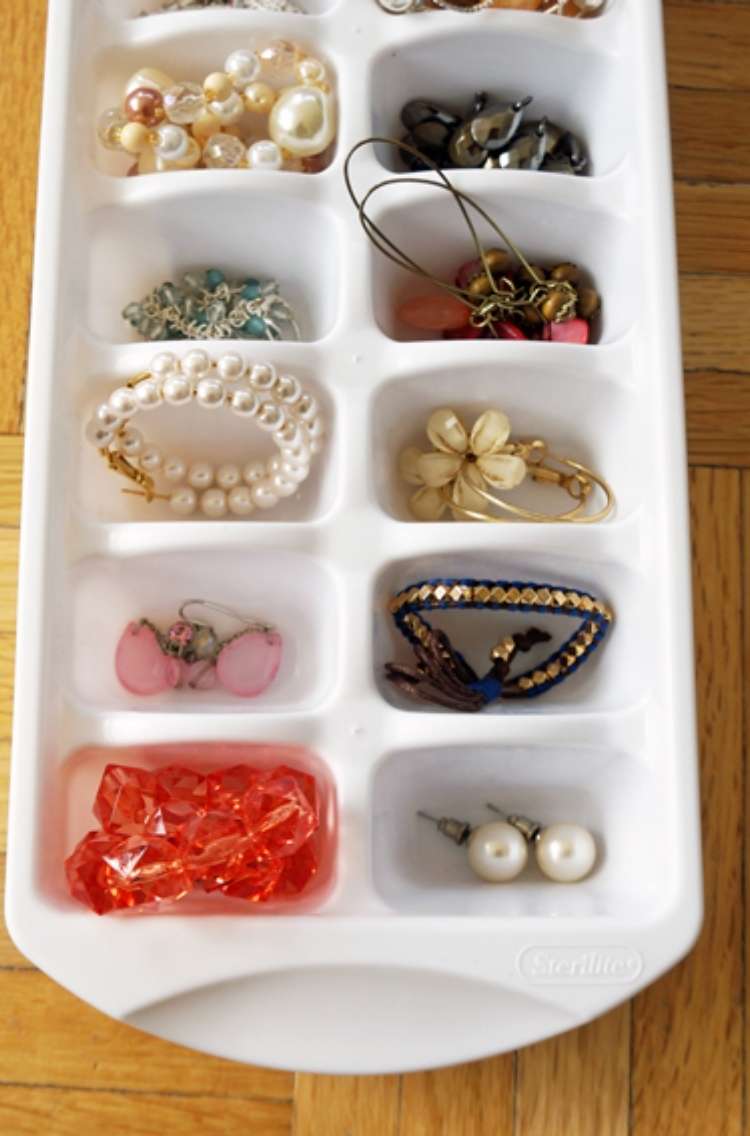 5. DIY Makeup Brush Storage
Sushi Mat Makeup Brush Organizer: Keep your makeup brushes organized with this sushi mat organizer. It's simple to make and can be rolled up and put in a cabinet or suitcase for easy travel. All you need for this ingenious hack is a sushi mat and some elastic to weave through the mat. This organization hack is so practical and cute at home and on the go.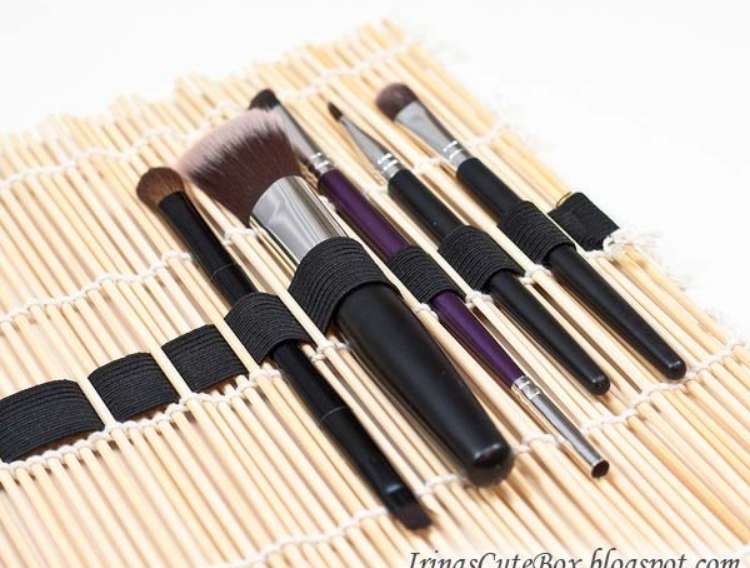 6. Under the bathroom sink hair tool holders
Hair tool Organization: Attach PVC pipe to the back of the bathroom cabinet door for easy reach and cord management. This can also be achieved with a shower caddy hung from the cabinet door. Make sure that you allow your hair styling tools to cool before storing them!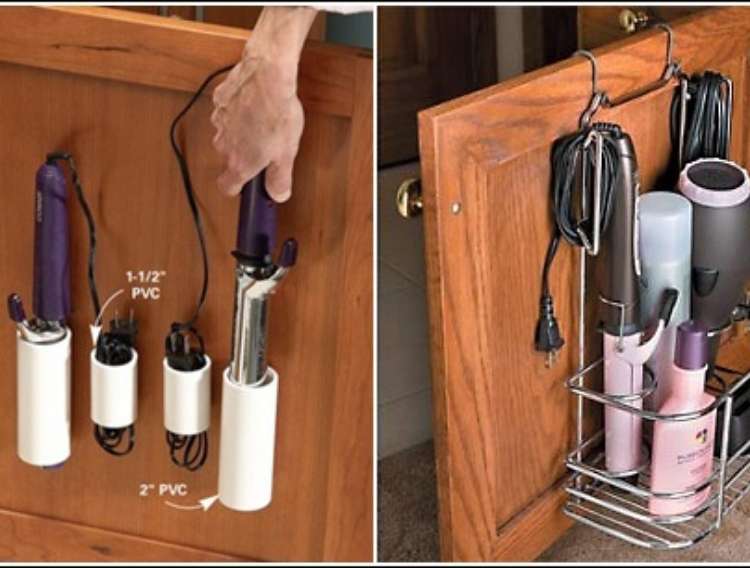 7. Creative DIY Organization Ideas: Above the door shelf for extra bathroom storage
Above-Door Shelf: Put a shelf above the door in the bathroom (or laundry room) to store things that you do not reach often. If you have a utility room, do this with holiday decorations.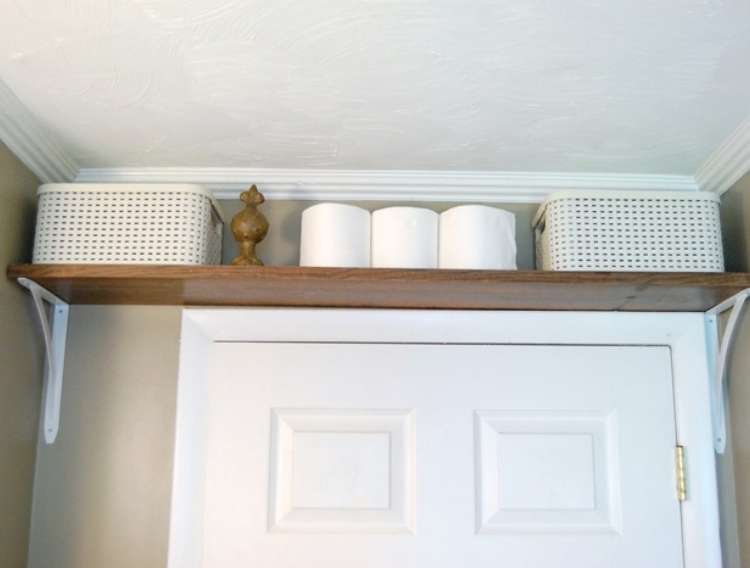 Image courtesy of My So Called Home
8. DIY sink extender for the kids
If you have kids you will love this lovely hack! Create a DIY Sink Extender for the kids – this will totally save your back and help your kiddos be more independent!
9. DIY Kitchen Organization: Pegboard organized drawers
Kitchen Organization: Use a pegboard to keep dishes neat in a drawer. Organize the stacks according to size and put pegs to keep the sizes straight.This will keep the dishes in place and prevent them from moving around or breaking when you open and close the drawers.
10. Save space in your cabinets by making use of the inside of the door
Kitchen Cabinet Back: Use a magazine rack to store foil, wax paper, and the like by screwing it onto the cabinet door. It will always be within reach and make room drawers for other items. This can also be done in the bathroom to hold hair tools or shampoo. This hack can also be achieved with a large cereal box cut into this shape and painted. It will be more delicate than a metal magazine holder, but it's inexpensive and works in a pinch.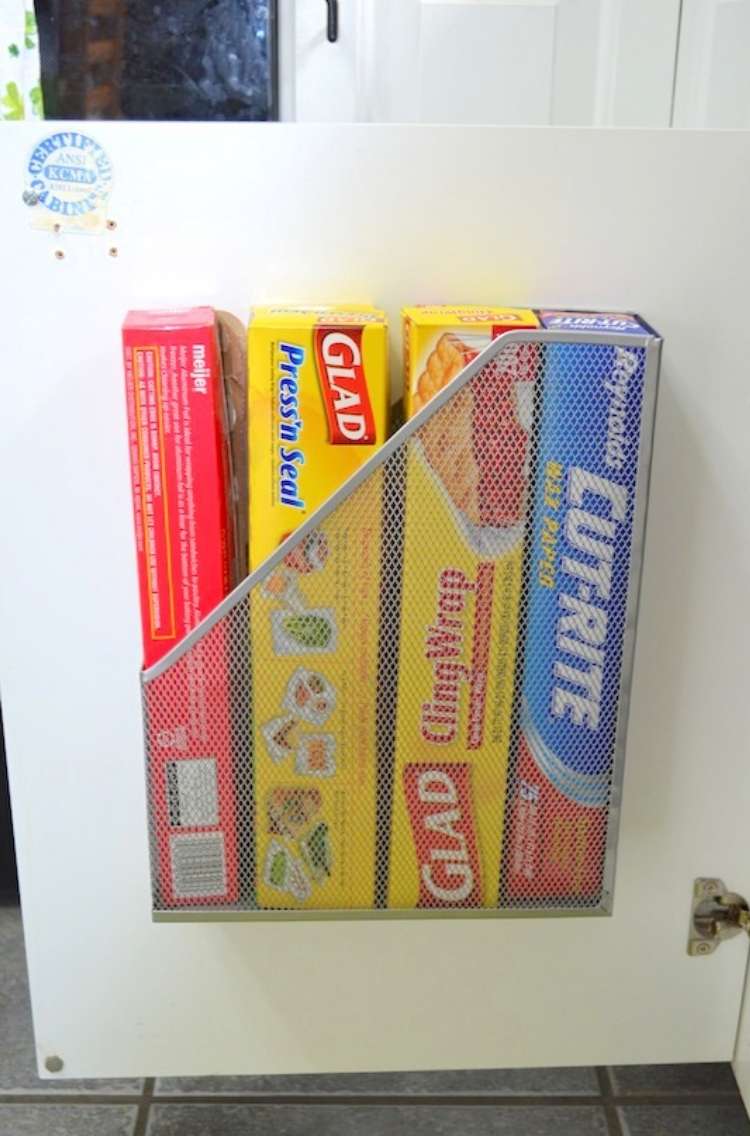 11. Another idea for saving space inside the cabinets by using the inside of the doors
Kitchen Lids: Lids for pots and pans can be difficult to store efficiently. Use a towel rack on the back of a cabinet door to keep them organized and easily accessible. I have also seen this hack with plastic hooks to hold the lids in place.
12. DIY bag sealer for easy storage and dispensing
Reseal "unsealable" Bags: Use an old soda bottle to create a cap for produce bags, chocolate chip bags, and other similar kitchen ingredients. This makes for airtight storage, as well as easy dispensing!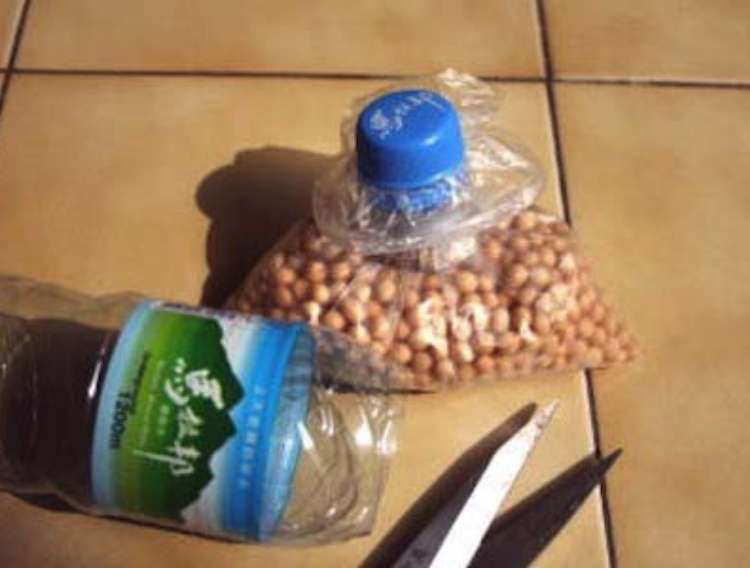 13. DIY Home organization Hanger Hack
Hanger Hack: If you have a broken pants hanger, repurpose it into a chip clip! Upcycle the clip part, and recycle the rest.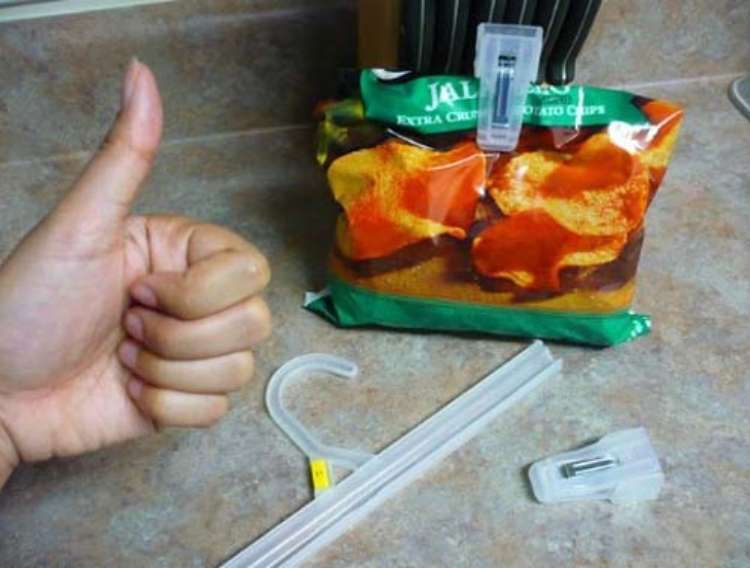 14. Magnetic spice holders to save space in your cabinets
Magnetic Spices: Store spice on the fridge by attaching magnets to them and keeping them out of the way but within easy reach during cooking. Not only does it make finding your seasonings simple, it also looks great and makes for a great conversation piece.
15. DIY Home Organization matching sheets storage hack
Linen Organization: Store matching sheets inside the pillowcase so it is easily accessible and can be stacked within the linen cabinet easier. That way you don't have to search for matching sheets and the linens fit in the cupboard more efficiently. The secret to this hack? Remember to fold your sheets and place them right at the opening of the pillowcase, and then wrap the pillowcase around it to keep it all together.
16. Laundry Room DIY Organization tip
Laundry Room DIY: Build a shelf for your washer and dryer so that you can put baskets underneath them. This will create more floor space if you have a small laundry room and keep your multiple baskets in their place. This hack will help simplify laundry day and allows you to use otherwise unnoticed space. Plus it might make it easier to get your clothes in and out of the machines, which is a nice added bonus.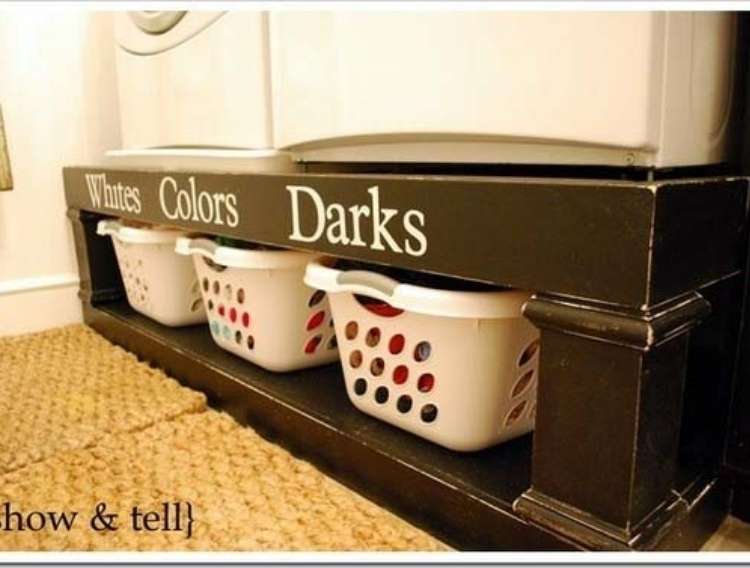 17. DIY Home Organization: Save space and energy in your laundry room
Pull-down Drying Rack: Save space by installing a pull-down drying rack in your laundry room. It folds out of the way when not in use but is immediately available and close by when the washing machine dings.
18. DIY home organization: Create divided shelves by hanging them upsidedown
Upside-Down Shelf: Hang a shelf with the brackets upside down and create divided shelves to help organize linens, clothes, or cleaning supplies.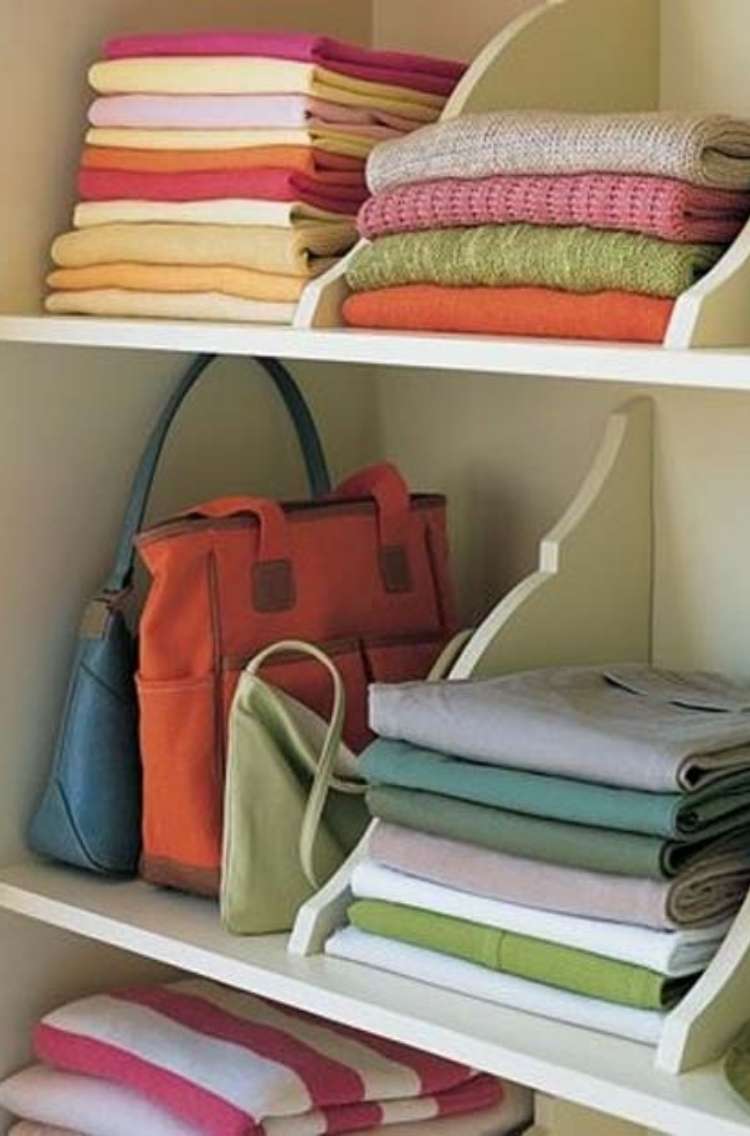 Image courtesy of Indulgy
19. DIY Home Organization Ideas: Create Wall storage
Wall Storage: DIY crates painted in fun colors keeps shoes off the entryway floor but close to the door for immediate use.
20. DIY Home Storage Ideas: Boot Stabilizers
Boot stabilizers: Keep your closet organized by keeping boots preserved and together. Insert a pool noodle into each boot. Color code them by matching noodle colors to boots. Simple and effective.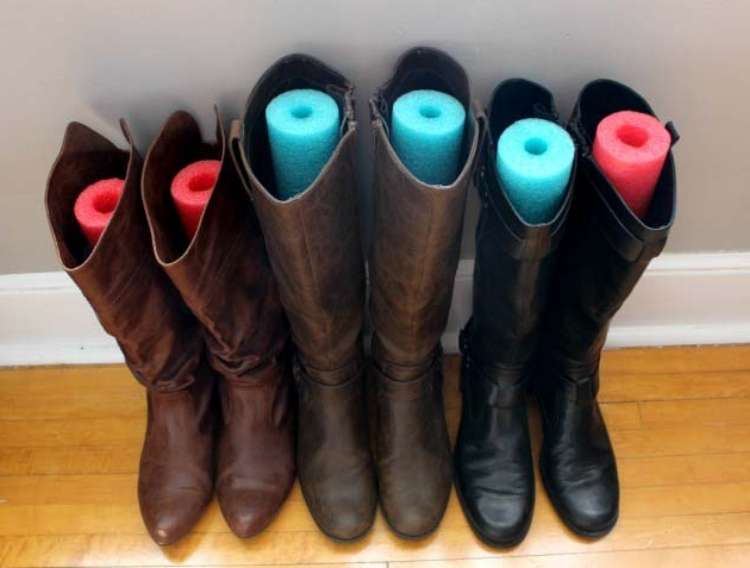 21. DIY Home organization: Upcycle an old stool into a gift wrap station
Gift Wrap Organizer: Turn a stool upside down to make a gift wrap station. It is practical and well-designed so keep everything in one place for your gift-wrapping needs. I love the idea of buying a gift-wrap station, but they can be so expensive. This solution is practical and not to mention adorable! And if you already have a stool, it won't cost anything!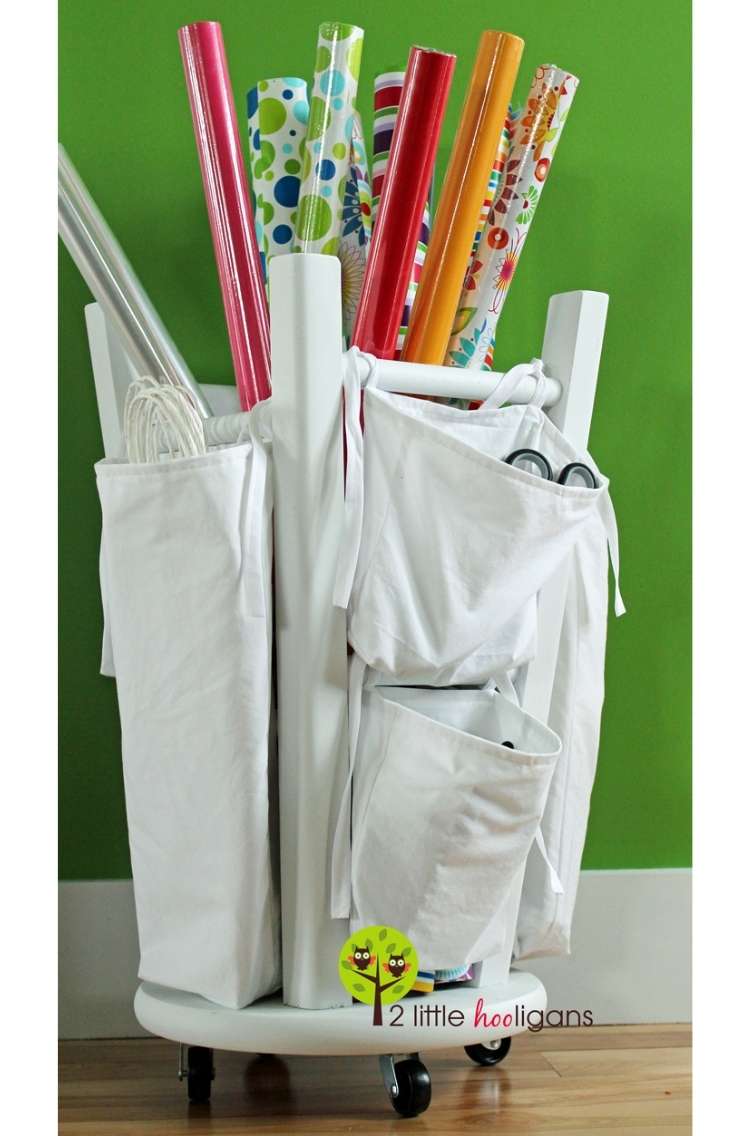 22. DIY Home Organization: Use tension rods to neatly store and even display your shoes
Tension Rods as a DIY organization ideas: Use tension rods in the bathroom, kitchen, closet, and all over the house to help create efficient space and organize a room.
23. DIY Home Organization: Battery Storage
Battery Organization: Instead of keeping batteries clumped in their boxes in a drawer, use a clear tackle box to keep them in their place and in view for quick inventory. Although the photo shows the batteries stored end-to-end, this is incorrect. Make sure that the batteries are not touching on the ends since this can drain them and will render them useless. Have them stored with the sides touching instead to keep them working longer.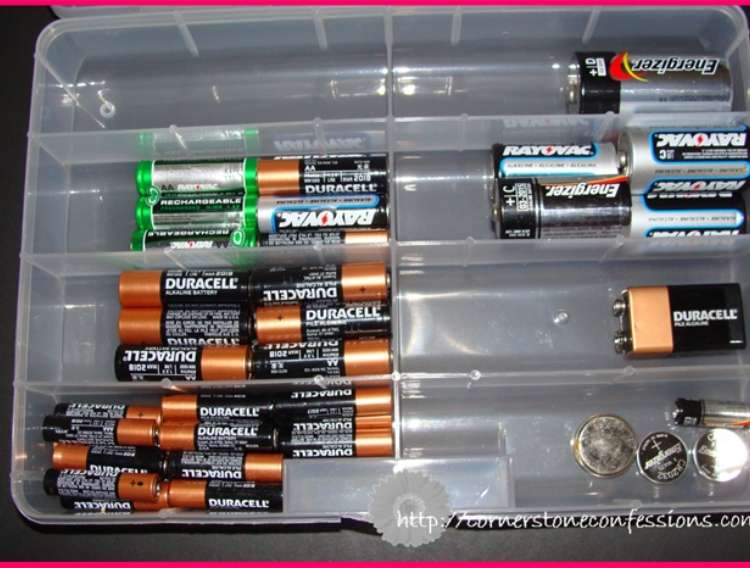 There are so many ways to easily organize your home; try these tips and see what works best for your household!
If you loved these DIY Home Organization tips, be sure to check out these other articles to help keep your home organized.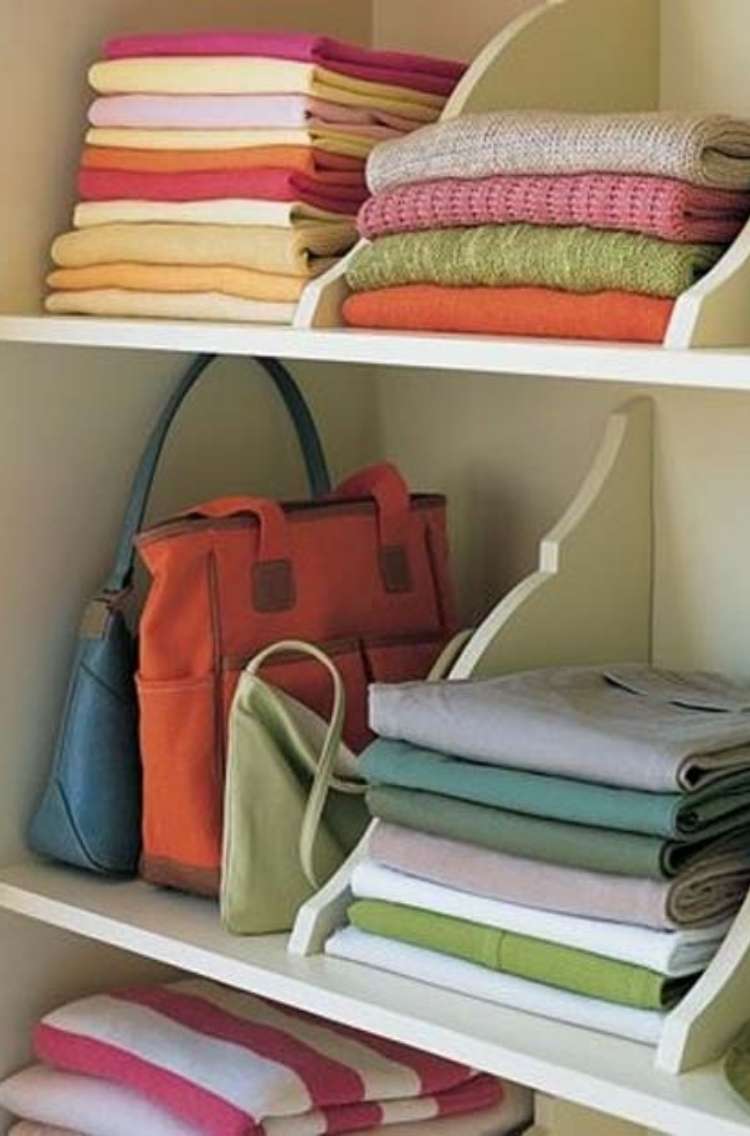 The post 21 Tips and DIY Organization Ideas for the Home appeared first on DIY House Hacks - One Crazy House.