Whether you love spending time in the kitchen or not, new tools and gadgets should always been warmly welcomed. They can make your time a bit more efficient or a bit more hassle-free. And weve found some of the most innovative (and functional) ones around. These 20 kitchen tools are the best for the cooking connoisseur or anyone that wants some extra help at dinnertime.
Nix the knives and almost-sliced fingers. Go with the Mueller Onion Chopperfor nights where you need to include these tear-inducing veggies to the mix. Its truly one of the best choppers on the market and cuts your prep time in half!
The best part? It will reduce the vapors that the onions produce meaning it also minimizes the tears that can come with cooking with onions.
View price on

Amazon
Whether youre looking for a new utensil set as a gift or to replace your old pieces, the Home Hero Kitchen Utensil Setis a great choice! Its completely comprehension as youll be getting everything from a spatula for your scrambled eggs to your ladle for fall-inspired soups.
Youll receive 23 pieces made of high-quality nylon with stainless steel handles. Theyre durable and these utensils will last! Everything you need to cook any meal of the day is here.
View price on

Amazon
These Home Hero Silicone Cooking Utensilsare a great choice too and really stylish too! Theyre crafted with the highest-quality materials including non-stick silicone and acacia wood handles.
You wont have any problem with melting or keeping a firm, comfortable grip on each and every tool. When youre finished cooking, make sure you put these beauty on display. And at such an amazing price point, the set is a great gift idea too.
View price on

Amazon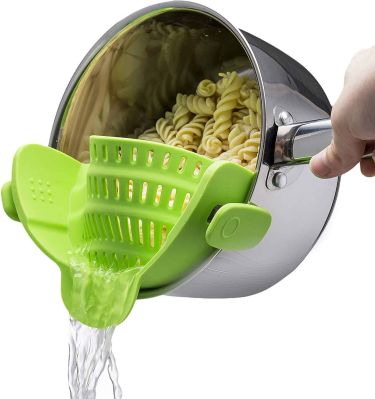 Were loving this Kitchen Gizmo Snap N Strain Strainerand how innovative the design really is. The strainer clips right on to all round pots, pans, and bowls are easy straining. Its also a space-saver in the kitchen for those that dont have ample storage room.
Its a wonderful gift for those moving away to college or starting out in their first apartment. They also come in a variety of colors including green, orange, gray, and red.
View price on

Amazon
Anyone in need of a thermometer? The Etekcity Lasergrip 774 Non-Contact Digital Thermometeris wonderful for checking those meats on the grill or anything else without every making contact. Just shoot, click, and receive the information you need.
The price isnt too shabby either making it a really great gift idea for the BBQ-er of the fam. Wrap it up with Dads new oven mitts and apron!
View price on

Amazon
Heres a fun, new way to slice your watermelon this spring! The Watermelon Slicer Fruit Knifeis inexpensive and works like a charm. With its automatic cutter blade youll be able to serve up perfectly-cubed fruit salad for everyone.
Its also a great idea for those in your life who love spending time in the kitchen and testing out new gadgets. This one may just be our favorite innovation on the list.
View price on

Amazon
Who loves a delicious slice of meat from the grill? The J&B GOODS Professional Automatic BBQ Meat Marinade Injectorwill certainly help you in that venture. Again, this is a wonderful gift for the BBQer in your life.
There are 5 flow settings and 4 stainless steel commercial grade need syringes for optimum flavor enrichment. And the super chic carrying case is a nice touch too, dont you think?
View price on

Amazon
This KIBEE Dish Drying Rackwill make doing the dishes so much more consolidated and simple. Instead of having your dishes all over the countertops, you can dry them right on the sink instead.
But its not just for dishes, you can wash and dry your fruit this way too! And at such an easy price point, youll want to not only gift the to family and friends youll want to snag one for yourself.
View price on

Amazon
We found another kitchen utensil set to love and snatch up. TheMIBOTE Kitchen Utensils Setcomes with tools covered in the highest-quality silicone and stainless steel. Theyre sturdy, durable, and theres no worry about melting, rusting, or bending with this set.
Its important to mention that this particular selection also comes with a utensil holder. And theyre super gorgeous to look at when not in use.
View price on

Amazon
Are you a pro at cutting pineapples because most of us arent. And thats why the Newness Focus Pineapple Coreris an absolute must-have for those that love a slice of pineapple. Its made of high-quality stainless steel and super easy to use.
It will peel, core, and slice an entire pineapple in just seconds. Making perfectly-shaped rings of pineapple and creating a bowl out of the shell, its a wonderful tool to have on hand when prepping for a celebration or a family get-together.
View price on

Amazon
These are absolute must-have items for cooking connoisseurs. Grab yourself and your loved ones who need it a JY COOKMENT Meat Tenderizer. The price is incredibly budget-friendly and even a novice in the kitchen can use these.
What does a meat tenderizer do by the way? Well, it creates tiny channels within the meat making the bite less tough and chewy and more tender and delicious. Basically, your marinades are a lot easier to use as well!
View price on

Amazon
If you want your slices to look great and want to save a lot of prep time in the kitchen, you have to grab yourself a Mueller Mandoline Cheese & Vegetable Slicer. There are 5 interchangeable blades for slicing, julienne and grating. Chop your garlic, peel your vegetables, and slice the cheese!
This device is the only knob-controlled slicer giving your more options and ease of use. You wont have to replace this over and over again either, theyre built to last!
View price on

Amazon
Check out the BUTEFO 8-in-1 Kitchen Tool Set. The innovative design and use is an absolute must-have. All the parts youll be using stack together in the shape of a wine bottle so it not only looks charming and adorable but it saves space too!
The tools includea funnel, juicer, grater, egg cracker, shredder, can opener, egg separator and measuring cup. And each piece comes in a different color for easy recognition.
View price on

Amazon
Separator the yolks from the whites was never easier than this or more adorable. The FOYO Egg Separatoris a wonderful gift idea and is a must-have for avid bakers and kitchen experimenters.
You can separate two eggs at a time and the piece is dishwasher safe making for even easier clean-up.
View price on

Amazon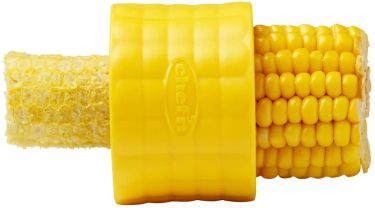 You dont have to handcut the corn off the cob anymore. Instead, all you need is a Chefn Cob Corn Stripper. Do the job in just seconds opposed to fighting with your vegetable while the rest of your dish gets cold.
Grab a bundle that includes two and try out how easy it is to rid your cob of the kernels you want to consume! And the price? Its unbeatable at around just $6.
View price on

Amazon
So, if you really are on the market for new utensils, check out the Joseph Joseph Nest Utensils. The design is completely innovative and works well within a modernized kitchen.
All your pieces sit nicely together and includes the essentials: a slotted spatula, spaghetti server, slotted spoon, solid spoon and a ladle. Theres magnets involved here too so no worries about things falling all over the place because they truly connect!
View price on

Amazon
Youll need one of these when your whipping up some homemade gravy, for example. The Cuisipro 4-cup Fat Separatoris one of the true new essentials no matter if your a veteran in the culinary arts or a novice just starting out.
Theres an easy drip features that separates sauce from fat. And its heat-resistant too so no worries there! Disassemble and place on the top shelf of the dishwasher for easy cleanup.
View price on

Amazon
Have you ever wanted to use a torch in the kitchen? Creme brle just so happens to be a favorite among the masses and you can top some homemade dessert off with the Sondiko Culinary Torch.
This particular design is an Amazon bestseller and the price is unbeatable (approx. only $13!). And dont worry, its super safe and durable to use. Theres a safety lock that prevents use as well perfect for those with kiddos nearby.
View price on

Amazon
Dont waste your time chopping garlic. Instead, just press it with the AIFENTE Garlic Press! This small little gadget is another must-have because it really makes life a lot easier and shaves minutes off of prep time.
Place your pieces of garlic inside the mini bowl and then top it with the claws. Youll have minced bits in a minute!
View price on

Amazon
And finally, this set of PZ Prep Smart Measuring Cups & Spoonsis a perfect gift idea for the baker in your life. Of course, its a nice essential to snag for yourself as well.
The spoons are double sided and the handles are magnetic so theyll stay together in one place. The handles are also incredibly easy to grip and wont slip when your measuring out the ingredients to all your creations.
View price on

Amazon
And there you have it. These 20 kitchen tools are both needed in your own space and perfect gift ideas for those that you know love spending time whipping up new dishes for their loved ones to try.
The post 20 Of the Best Kitchen Tools For the Cooking Connoisseur appeared first on DIYs.com.