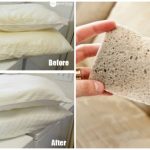 Do you love to clean? If your answer (like mine) is "Not so much," you're not alone. But cleaning doesn't have to take forever, and it doesn't need to be done all at once. With some time-saving cleaning secrets and a handful of totally doable cleaning projects that you can do in 20 minutes or less, you may find that cleaning isn't so bad. And don't miss our green cleaning recipes to clean your home without worrying about harsh chemicals!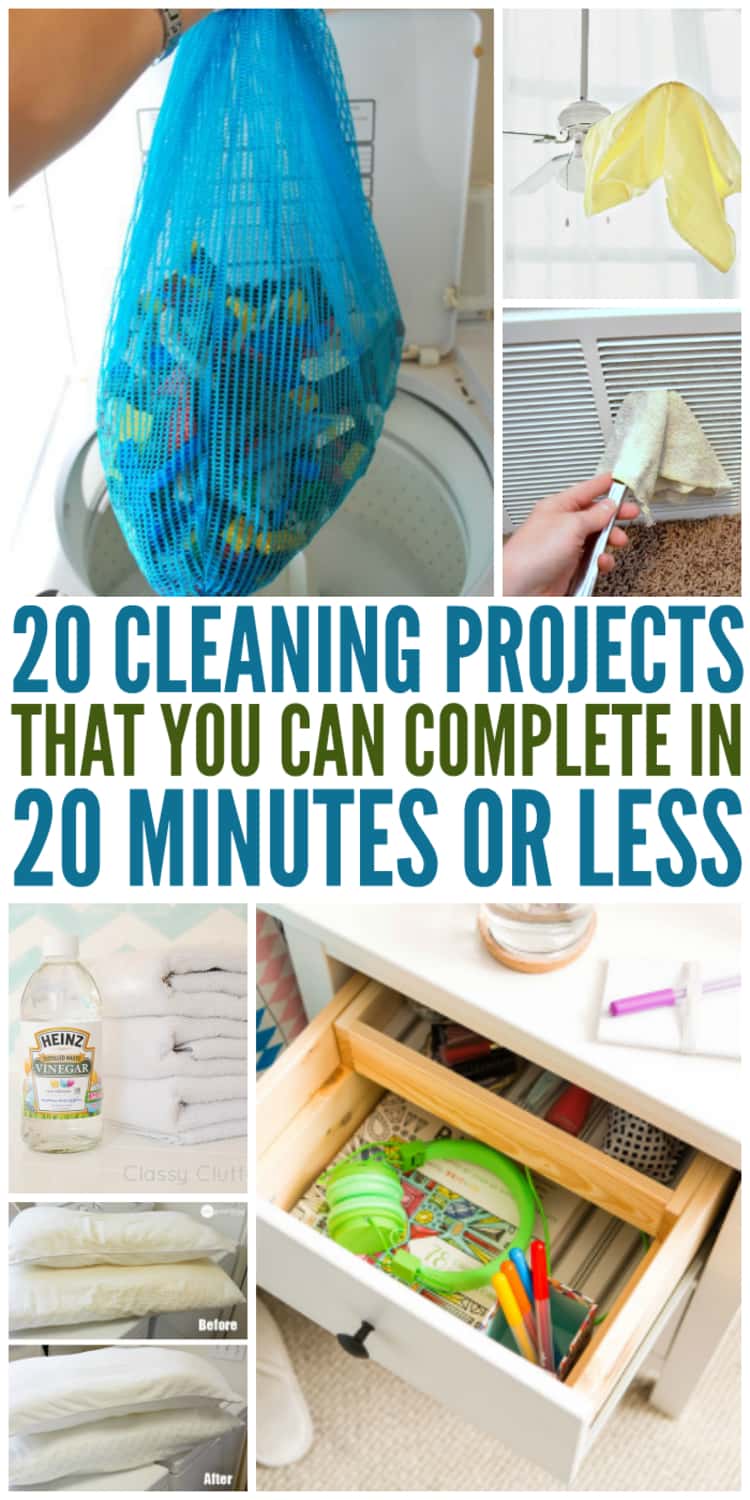 Simple Cleaning Projects That Save Time During Deep Cleaning
1. Effective Cleaning Project For Fluffy White Pillows
Did you know that you should wash your pillows at least twice a year? Neither did we.
While this cleaning project will take you more than 20 minutes, it will be worthwhile because let's be real…if your pillows haven't been washed in a year or two, what will be an extra 30 minutes taken to restore them back to the clean and fluffy pillows they were when you first bought them? Good thing is that those extra minutes are for soaking the pillows – you can carry on with other cleaning projects in the meantime.
To wash and whiten your pillows, you'll need to first soak them in 30 minutes. To soak them, make a solution using water and: 1 cup powdered laundry detergent, 1 cup of powdered dishwasher detergent, 1 cup of bleach, and 1/2 cup of borax.
Halfway through the soaking, make sure you flip them so that the soaking solution gets to all corners of your pillows. Once soaking is done, wash your pillows on a full wash cycle, and then dry them on the 'fluff' or 'air' setting. And your pillow cleaning project is complete!
2. This Is Among The Must-Do Cleaning Projects – Organizing The Nightstand
If there's a cleaning project I don't skimp on, it's the cleaning and organizing of my nightstand! It's the first and last thing I see when I wake up and sleep every day, and having it clean and organized makes my life so much better.
Some ways I've achieved this include:
Choosing a nightstand with drawers to keep stuff tucked and hidden away from sight and leaving its surface clear for stuff I need within easy reach, such as a notebook, pen, and my phone.
Having compartments for almost everything within the drawers so that I don't rummage throw them looking for anything.
Having a hidden drawer for my secret stash
Using rimmed coasters for my bedside drinks.
Using a clip-on bedside lamp so that the bedside table surface is for ALL my other uses.
Bedside reads go into a magazine rack instead of creating a pile on my nightstand.
Using storage stools for anything else I wouldn't want to trip over in the middle of the night.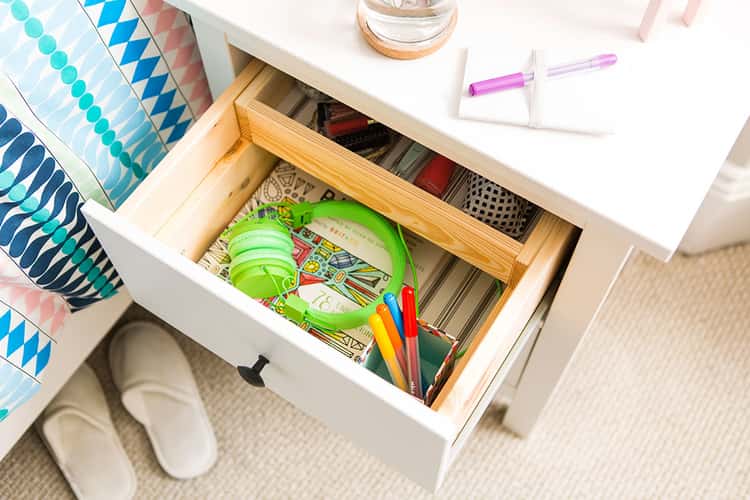 3. Ever Heard Of Cleaning Projects You Could Sign Up Your Butterknife Up For?
Grab some all-purpose cleaner, a soft cloth, and a butter knife to clean the air vents that get neglected during regular cleanings. But before getting down to this cleaning project, suck off loose debris using a vacuum hose. This cuts down your cleaning time and makes this one of those cleaning projects you can complete within 20 minutes or less!
I could almost swear I breathe easier and better every single time I've cleaned my air vents.
4. Save Time On At Least Three Cleaning Projects
Grab some vinegar and baking soda for these three cleaning projects. One of them will definitely take you way less than 20 minutes and you can split the saved time among the other two. Talk about getting a bargain deal and saving time while on your cleaning projects!
5. While Most Cleaning Projects Are Noisy, This One's Way Up There – And Totally Worth It
Do you know all those grimy little toys that your kids play with all the time? Wash them all at once in a mesh laundry bag in the washing machine. This will be one noisy cleaning project but well worth the time saved plus your kids won't be picking up any germs from all the gunk in dirty toys.
Note: Do not attempt this with fragile toys. It works best for plastic blocks and durable one-piece toys like Legos.
6. Trust In Some Vinegar And Water For This Easy Cleaning Project
Is your microwave embarrassing to look at?
Hey, it happens when you're heating food in a hurry. But vinegar and steam will totally change the way you clean your microwave. Heat equal parts of water and vinegar in the microwave and use that solution to clean your microwave. In just a few minutes, all that gunk will wipe right off — no scrubbing required!
PS: And don't forget to check more kitchen cleaning hacks to tackle the rest of the room.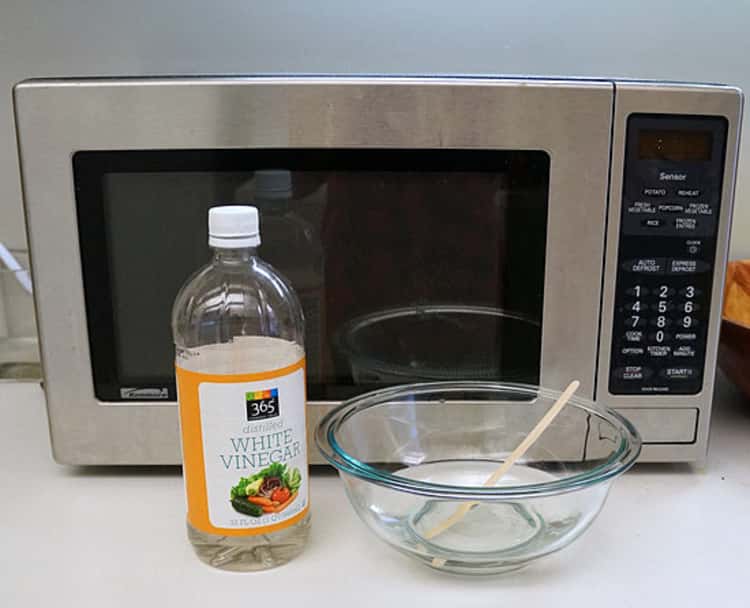 7. Sometimes DIY Cleaners Are The Best For The Murkiest Cleaning Projects
If there are some nasty gunky places in our homes, the kitchen cabinets gotta take the medal for this. They're in constant contact with grimy hands over and over, every single day.
De-gunk a couple of cabinets with this super easy homemade cleaner made by mixing 1 part coconut oil and 2 parts of baking soda. Apply the mixture on your cabinets, scrub with a toothbrush for the hard-to-reach places and wipe off with a piece of cloth.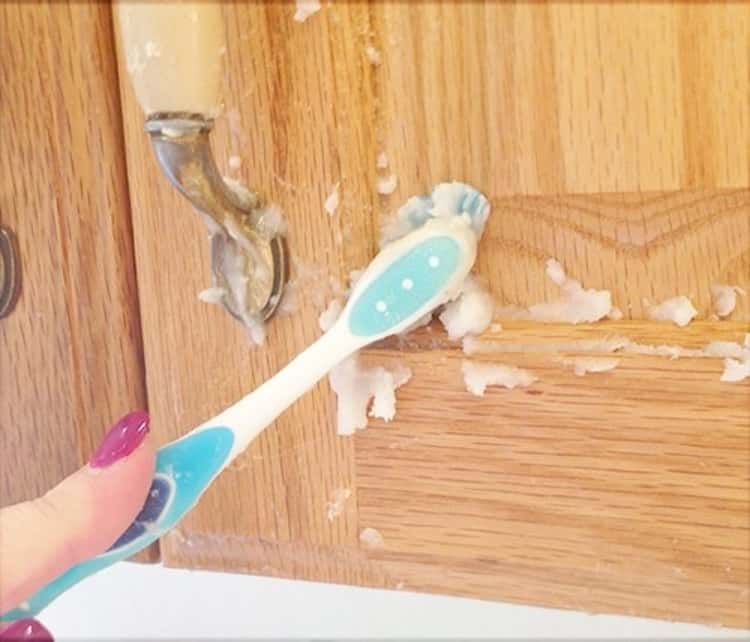 8. This Cleaning Project Goes A Long Way, Especially When Pressed For Time
Want your house to pass the white glove test? Wipe down all the baseboards in at least one room once every while. They get so dusty through the year, but it's not a cleaning job that we have time to tackle often.
Did you know that you can use a dryer sheet for the job? Even a used one will do.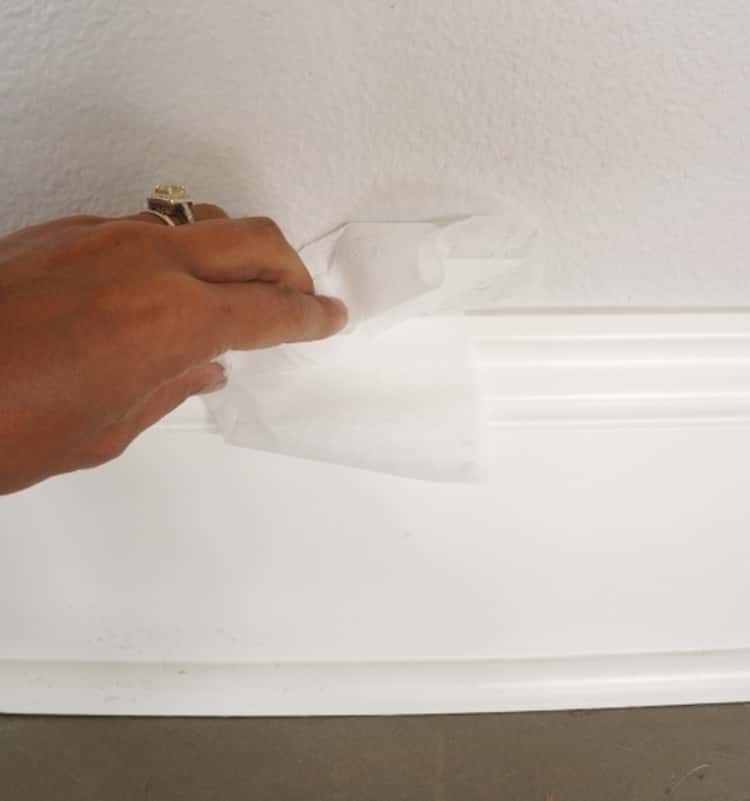 9. Some Heat, Towel, and Windex Is All This Cleaning Project Needs
Iron the stains out of your carpet. Yes, you read that right. The iron helps lift lots of different types of stains, so it's worth a try! Just don't iron them out directly –  squirt some Windex on the stain, place a towel on the stain, and iron the towel. This should lift and pull the stain off your carpet and onto your towel.
10. Stop Nasty Breakout Cycles With Simple Cleaning Project
If you have breakouts that you just can't get rid of no matter what, your dirty brushes may be to blame.
DIY a batch of this natural makeup brush cleaner and clean all of your makeup brushes. For this, you'll need 1/2 cup witch hazel, 2 teaspoons of baby mild castile soap, 1 teaspoon of almond, grapeseed, or olive oil (optional), and 1 cup of distilled water. In a mason jar or bottle, mix the ingredients exactly in the order as they're listed, shake the bottle, and your natural makeup brush cleaner is ready for use.
To stop those breakouts, clean your brushes at least twice a month by soaking them in the DIY cleaner, and once it turns murky, dump it out, rinse your brushes, and leave them to dry on a towel.
Tip: When not using your DIY cleaner, store it in the fridge.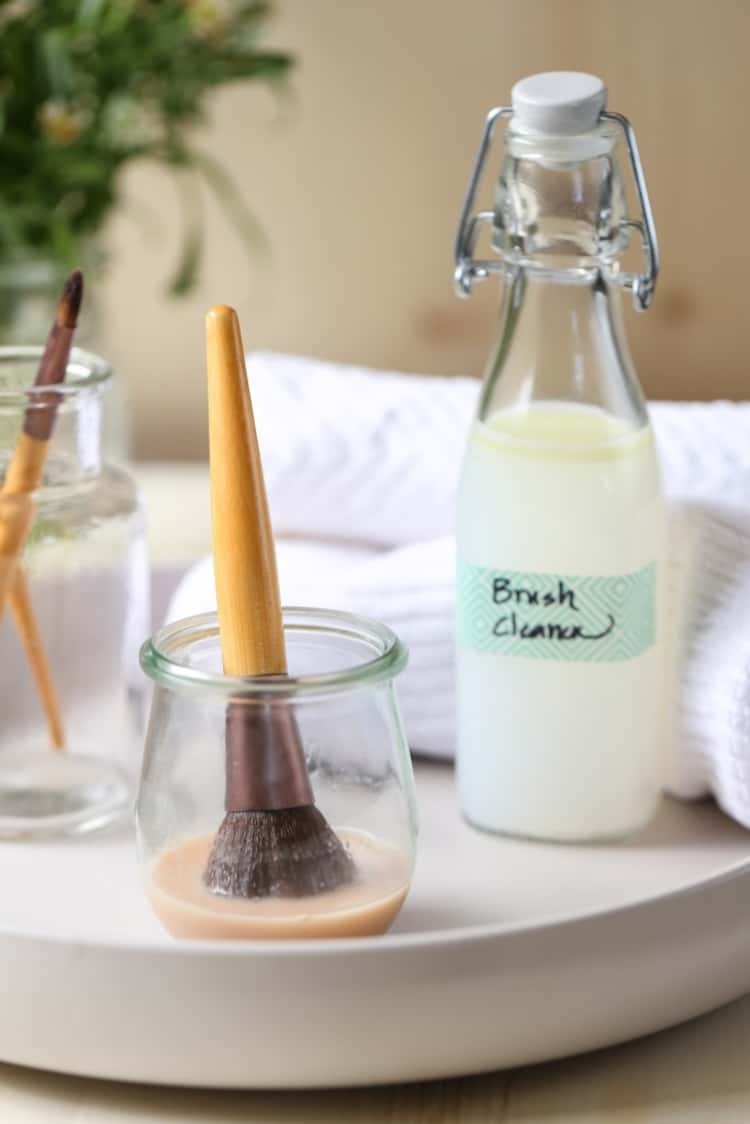 11. Pillow Cases Aren't Just For Your Pillow. They Make For Great Tools In Cleaning Projects!
Dust all the ceiling fans in your home. I'm embarrassed to tell you how much dust came flying off of ours when we turned it on for the first time this spring! Simply slip a pillowcase onto your fan's blade and pull the fabric back to allow it to collect all that dust and dirt then turn it on! Cleaning fans don't have to be a chore anymore!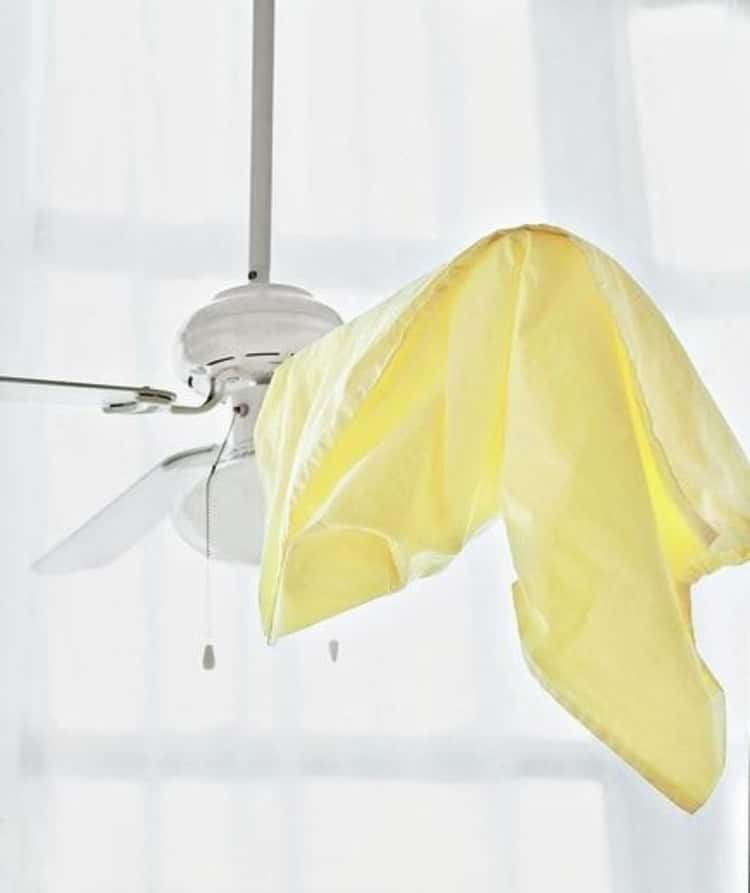 12. Get That Stainless Steel Stainless Again With One Of The Easiest Cleaning Projects Invented!
Although stainless steel is highly durable and can stay stainless under the right conditions, we don't always have control over what cleaning products we have, and with time, our stainless steel sinks are not so stainless. If you want to get rid of those stains that have built up over time or you just want a shiny sink, this combination of vinegar and coconut oil is all you've ever needed. Nothing's better than looking at a bright, shiny, stainless steel sink every morning. You owe yourself that.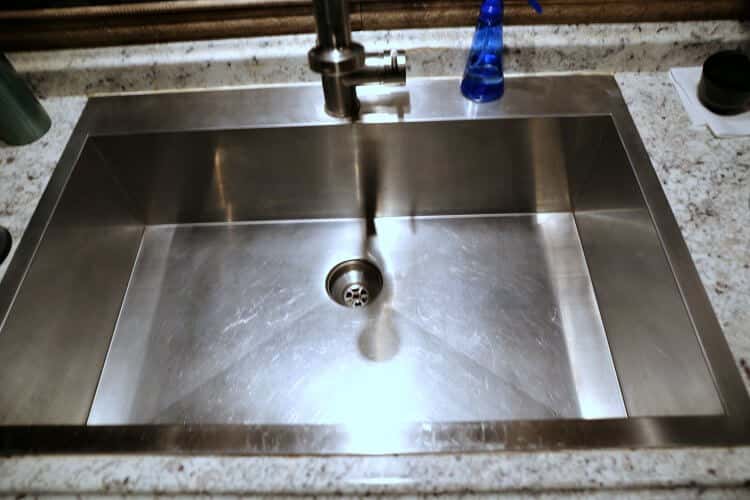 13. Get Your Towels Smelling Fresh Again With This Simple Cleaning Hack
NO ONE likes the smell of mildew and mold. It is sickening and gross. But, that doesn't mean that our towels are always smelling not mildewy. It happens. You tossed them in the washer and forgot about them for a while and now you feel like you wasted a ton of detergent. Not to worry! Get rid of the mildew smell in your towels by running them through a cycle of hot water with only a cup of vinegar. If they still have a bit of smell left, run another cycle of hot water and only 1/2 cup of baking soda. You can thank us later!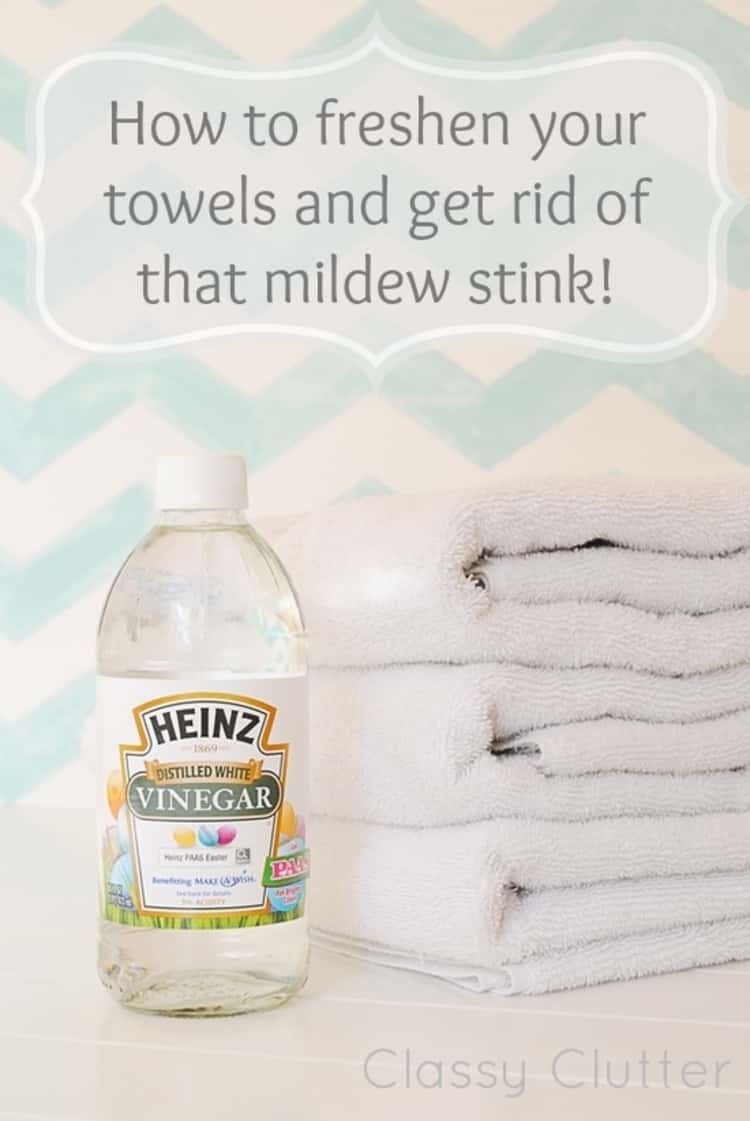 14. Slow Drain Ruining A Perfect Shower? Some Cleaning Projects Were Made For You
Is your bathtub drain noticeably slower? Before you call the plumber, clean out all that gunk and hair and see how it does. It might be a bit disgusting cleaning out the muck but it will save your wallet a few dollars. Follow that up with a bit of baking soda and vinegar to really clean the drain.  Voila! Your shower will drain as well as new!
15. Got Tile Grout? Here's A Homemade Grout Cleaner
There are many grout cleaners out there but most are not very effective and you have no idea what you're using and whether it's safe for you. This homemade grout cleaner is made with two simple ingredients; baking soda and bleach! It is also super effective and works on the toughest tile grout there is. Scrub the grout lines in your shower with your own grout cleaner. It's a dirty job, but it has to be done at least once in a while.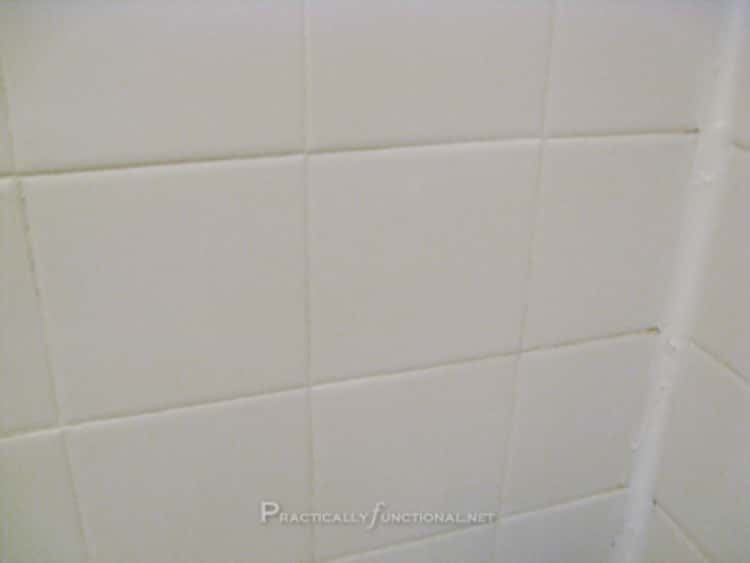 16. Give Your Oven Window A New Look With A Clever Cleaning Project
Is your oven way beyond the self-cleaning stage? Use these tricks to get the glass (and even between the panes of glass) clean again. You only need baking soda, water, and vinegar for the cleaning solution and a feather duster or microfiber cloth, and a hanger to help you reach between the glass panes.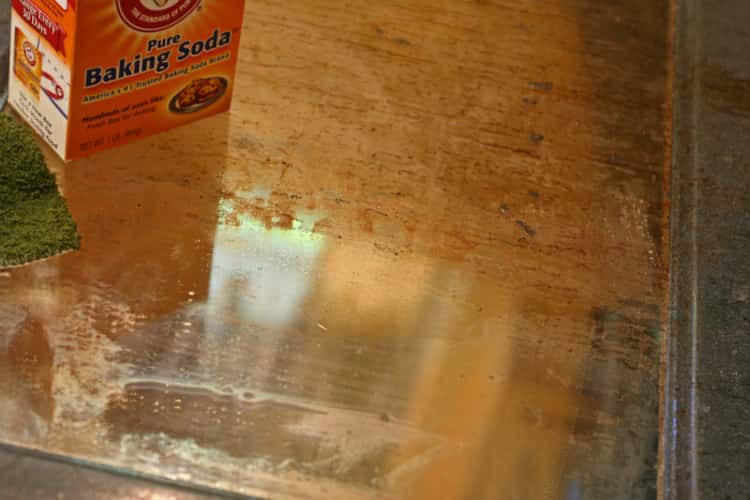 17. Is That Stink Coming From Your Garbage Disposal? Kill It!
The stink from anywhere in the kitchen can embarrass you big time. Especially when you have guests who don't understand how hard it is to clean that garbage disposal unit! Clean and deodorize your garbage disposal naturally with vinegar, baking soda, ice, and lemon. It's simple but effective.
All you have to do is sprinkle 1/2 cup of baking soda down the disposal and add one cup of white vinegar. Let the mixture fizz away for a few minutes then pour hot water down the drain. Fill the drain with 2 cups of ice and sprinkle some salt over the ice. Run cold water and turn on the garbage disposal until the ice is gone. Cut a lemon in half and with the water running and the disposal on, add the halves down the disposal. The lemon will keep the disposal clean and smelling fresh.
18. Kids Making You Rethink Your Choice In Upholstery? This Cleaning Project Might Keep You Sane
Microfiber. Seems like a good idea because of its durability and ability to withstand harsh conditions. By harsh conditions I mean kids – lol. Those little humans have an innate ability to ruin stuff. Your microfiber couch might be no exception. Remove the stains from your microfiber furniture. All you need are a sponge, a cleaning brush, and some rubbing alcohol. The stains will come off like that! So stop thinking of replacing your sofa or sending your kids to their grandma and buy you some cleaning supplies!
19. 5-Minutes Can Be Life Savers – Especially With Cleaning Projects
If you hate those weekends when you have to do a deep clean of the house because of the filth that you have to clean up, you will love this cleaning hack.
Not only does it keep your home free from accumulated dirt, but it also saves you fatigue when you do decide to do that deep cleaning. Learn how to clean your bathroom (and keep it clean) in just 5 minutes a day.
20. Cleaning Your Toaster Isn't As Hard As You Think
Have you ever cleaned your toaster? If not, now's the time to tackle it! It's easier than you think.
Those tiny hard to reach compartments can be scary but it's better to clean the toaster than risk contaminating your food, right? With a few drops of water and 1 tbsp cream of tartar, you can have that toaster looking brand new!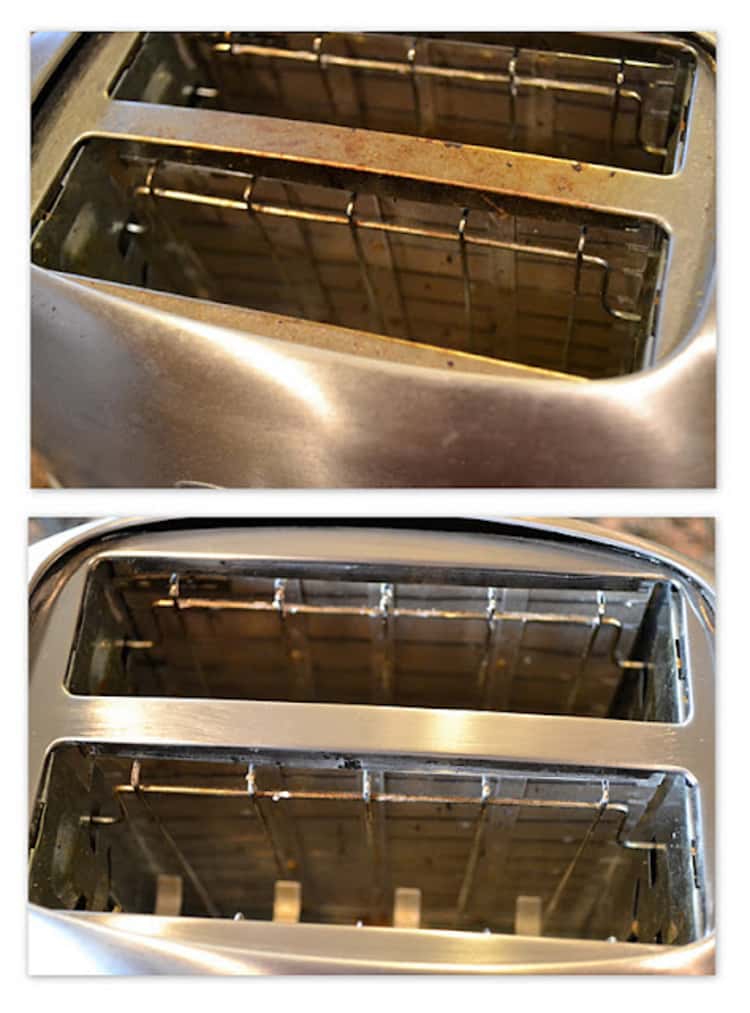 21. Clean Your Kitchen Hood With This Genius Cleaning Project
It may sound counterintuitive, but the easiest way to clean your range hood is with a few drops of oil on a cloth or paper towel. I've been doing it all wrong for years! This oil-on-oil trick is just a chemistry experiment but it sure does the job and doesn't stink as much as ammonia.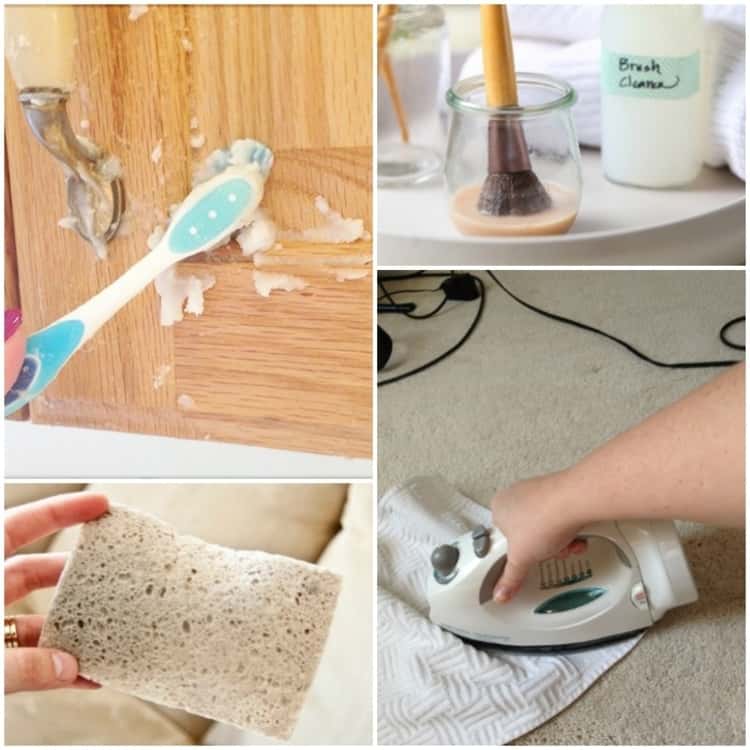 Loved These Time-Saving Cleaning Projects? Here Are More Cleaning Hacks You Should Try!
The post 20 Cleaning Projects That Take Less Than 20 Minutes appeared first on DIY House Hacks - One Crazy House.