Some ideas are so practical and genius that you could smack yourself on the forehead for not thinking of them first. Know what I mean? That's how it felt when I first stumbled upon these towel bar organization hacks. I have been obsessing over them since I figured them out and already bought a few to start the big project of towel bar organization DIY.
Crumpled up spaces and corners are a huge turn-off and so these hacks are a lifesaver. Want to clear out space in your cabinets? Use a towel bar. Need to make use of space on a wall or door? Install several of them to create organization stations with baskets and pails. Check out the list for lots of smart ideas!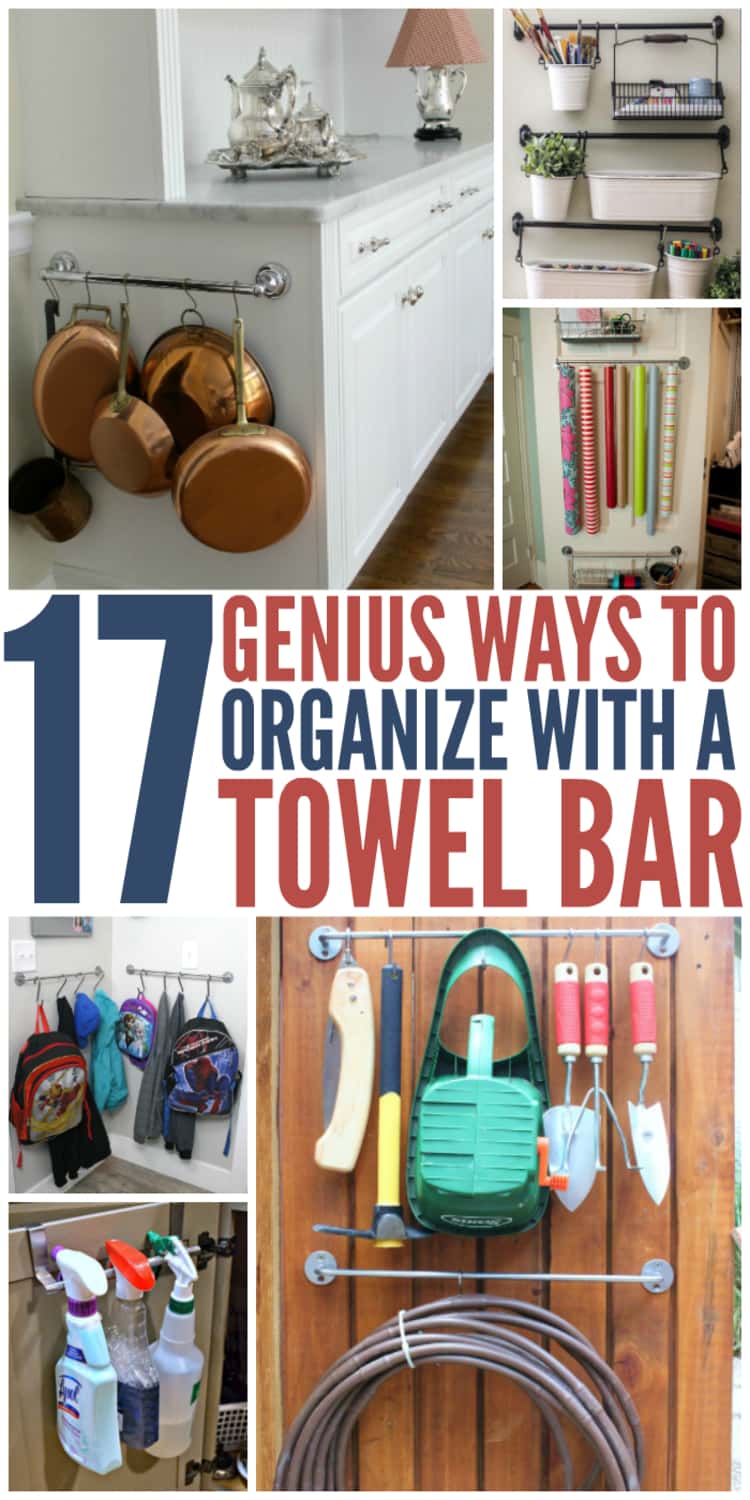 Ways to Organize Using Towel Bars
These days towel bars come in all sorts of different lengths and sizes and are readily available at your local hardware or DIY store.  They can be as utilitarian or as decorative as you want.  In fact, one of the benefits for using towel bars is that you can fit your decor with a little shopping!
1.Towel Bar For Lids Storage
Kitchen organization gives your kitchen space and room to have everything you need fit in it. Your cabinets don't have to be excessively packed. You need to install a towel bar near your pots and pans to store lids without having them get lost in the shuffle. This bar can be installed next to a drawer or cabinet. Don't they just look easy to retrieve and safe from breakage?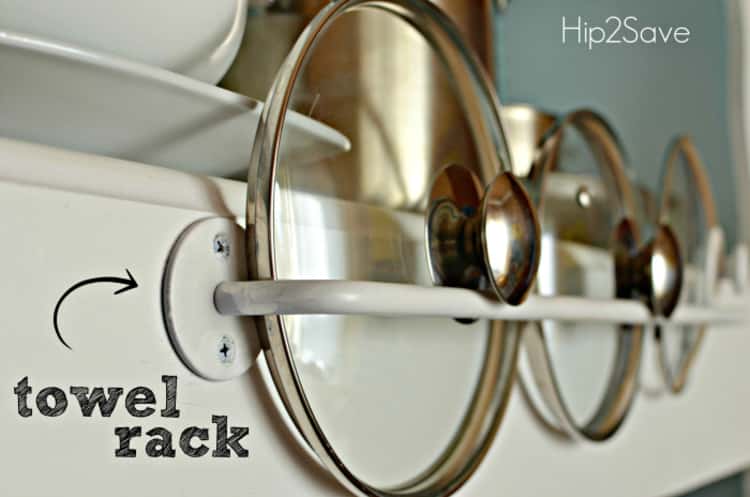 2. Pot and Pan Holder From Towel Bars
An easy way to save kitchen space and to decorate it at the same time is to hang your pots and pans from a towel bar. This gets you a lot of storage room and beautifies your kitchen with lovely pottery wear. You can have one or two bars depending on the number of pots and pans that you have.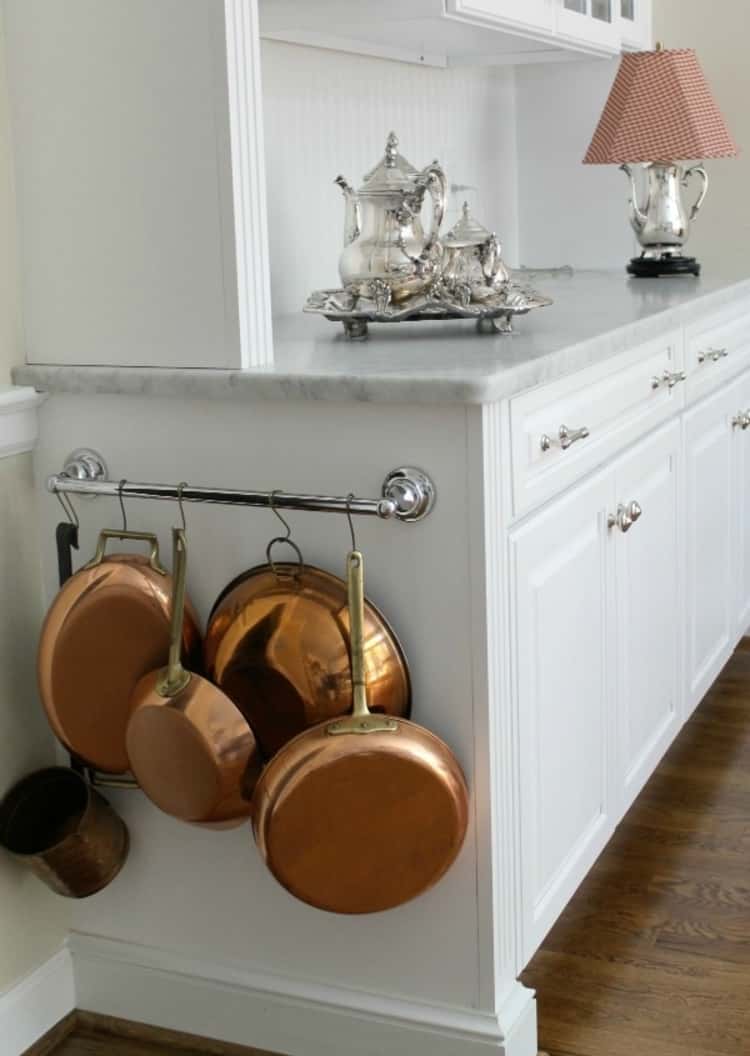 3.Hanger for Cups and Mugs
Coffee lovers are going to love this a whole lot more. You can display your super collection of coffee mugs and your k-cups. Now you'll have your very own coffee station in your kitchen with your coffee maker and coffee supplies. Family and friends streaming in the kitchen can prepare their coffee as they check out how organized your space is.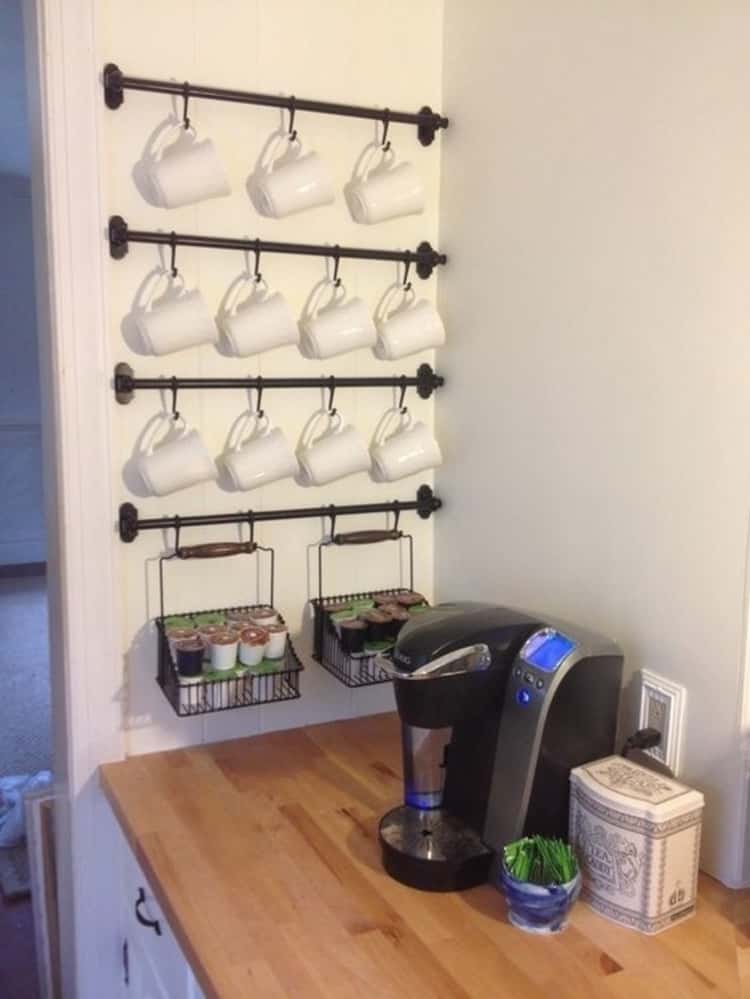 Courtesy of DIYandMag (inactive)
4. Charging Station Using Towel Bar
Use a towel bar or IKEA's Fin torp system (affiliate) to make a designated charging station for your devices. All you'll need is a phone basket and the bar placed next to a  socket. Your devices are safer as they won't be susceptible to falls or the cables being hazardous to your playful kids.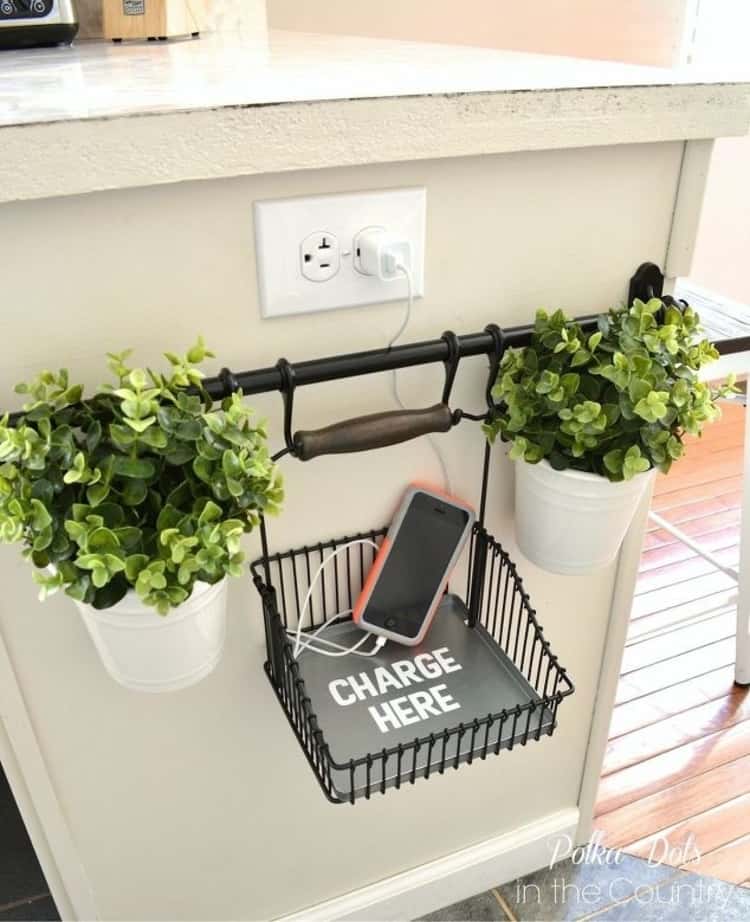 5. IKEA Produce Basket System Hanged on Towel Bar
Use the same system like the one in tip number four to add a produce basket to your kitchen island. You can place fruits or vegetables in it and declutter your island leaving it spacious enough to prepare meals from.  The oranges and plants bring life to this kitchen. This is a must-add in my kitchen.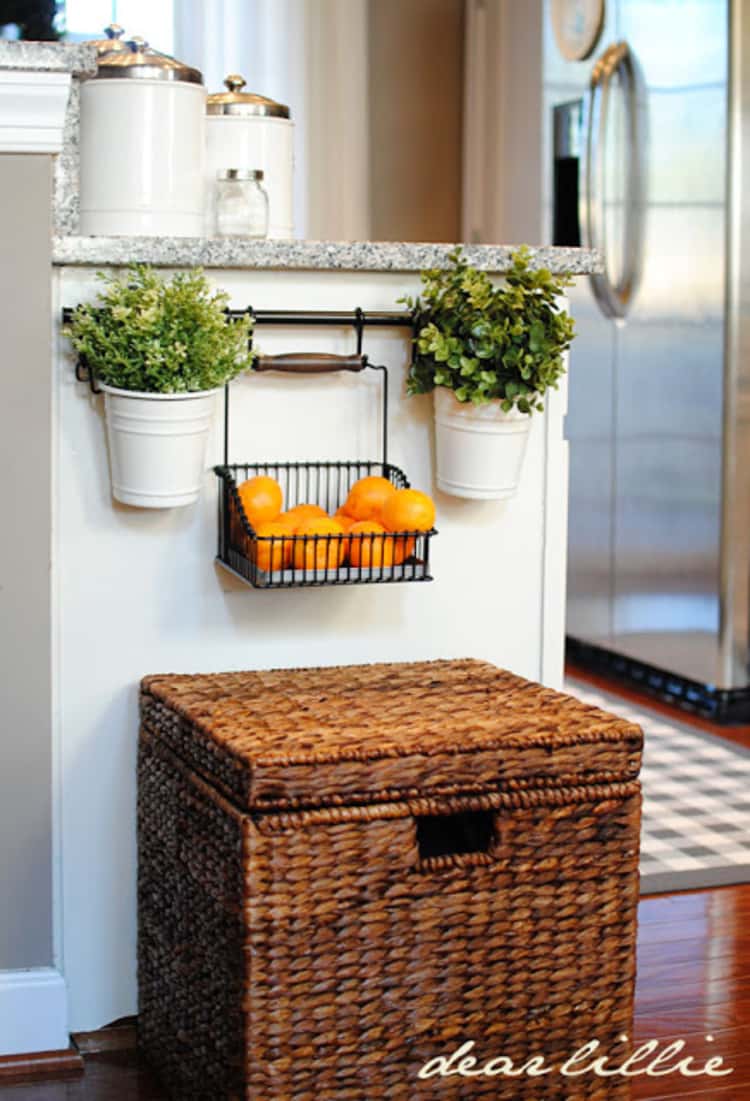 6. Bars as Kitchen Towel Hangers
You can add a towel bar to that fake drawer in your kitchen to hang your dishtowels from. This is so handy during holiday baking and dish-washing. Plus it's not a drawer that was useful anyway. So there's no loss at all. Your favorite kitchen towels can get a spot of their own now.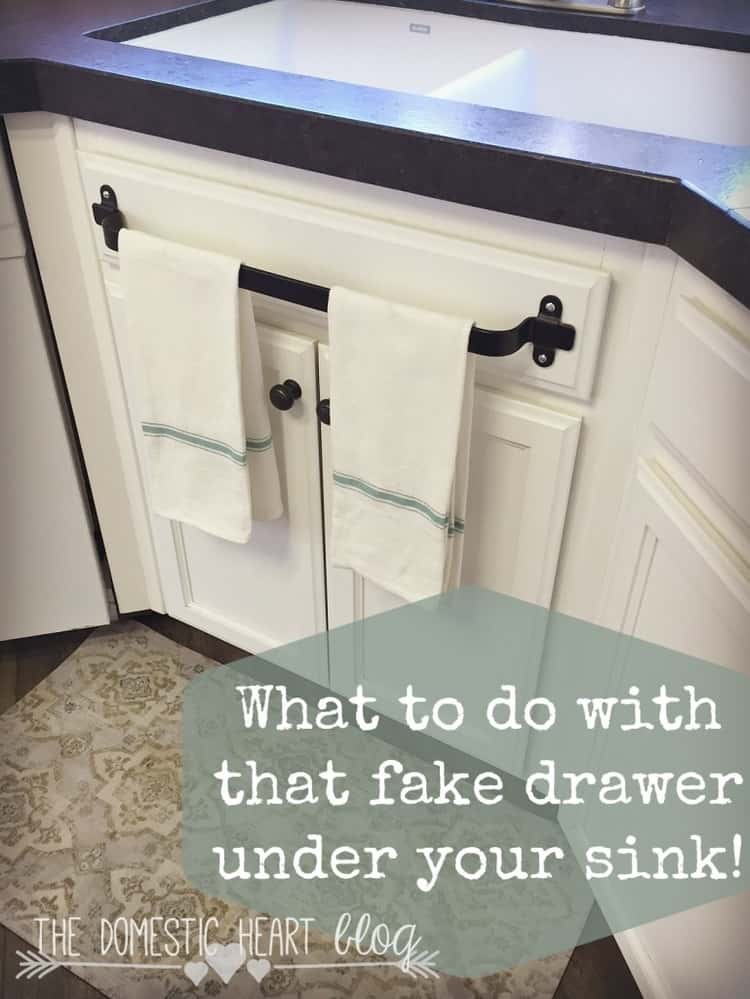 Courtesy of The Domestic Heart blog (inactive)
7. Yoga Mats Storage
Yoga can't get any more interesting than this. Especially when you can have a storage corner for your yoga mats. Use a towel rack to store your mats. What a great space saver for your small home gym! To add more fun to this installation activity you can spray paint the bars to add aesthetics to them. This is motivation enough to wake up and have your morning exercise routine.
8. Toiletries Storage Hack From Towel Bars
Even if towel bars are known mostly for the toilet, they could be used in a unique way. All your body products and hair products don't have to lie on the floor or in closed cabinets. You could have them in one place at the same time and use them after using the washroom. Create a storage area above the toilet with hanging wire baskets on towel bars to corral all your toiletries. Now you have more space to move around and utilize.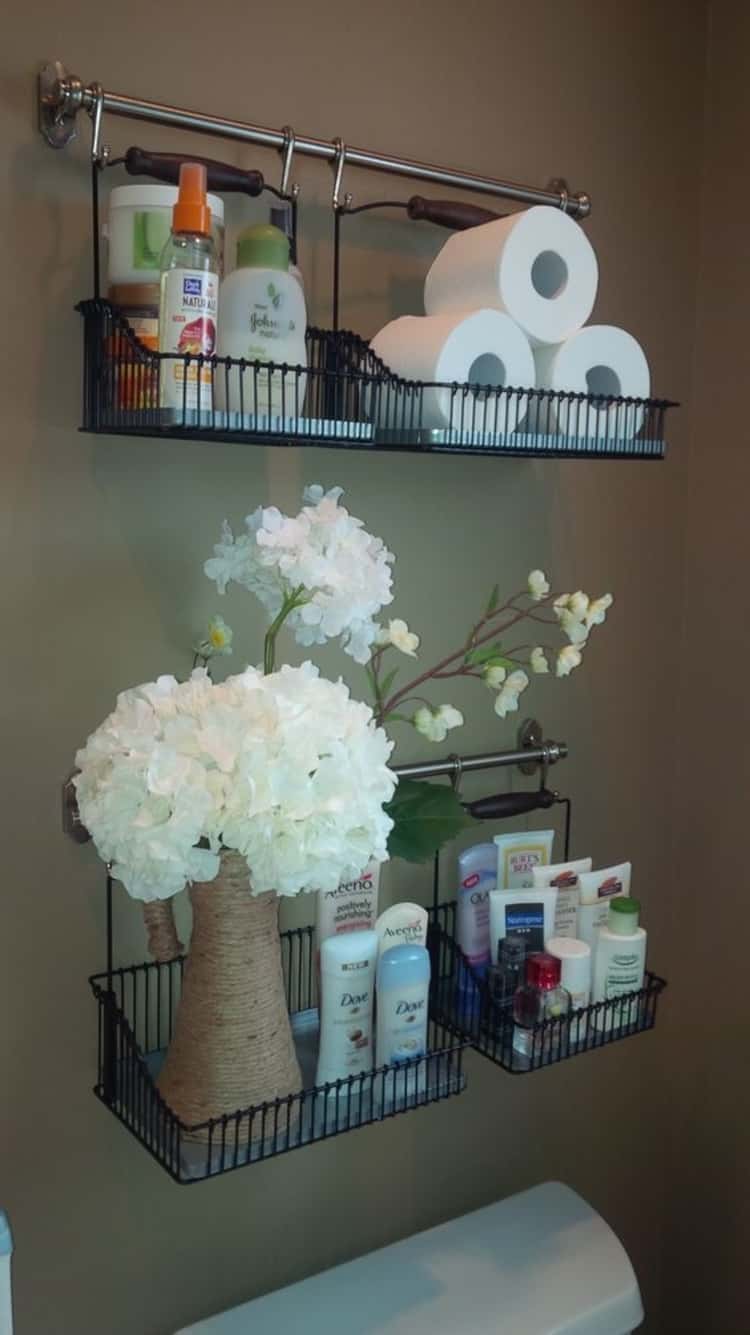 Courtesy of Fanatiqueof (inactive)
9. Gift-Wrapping Material Holder
Wrappers can easily get messy once they unravel and thus be a pain in the neck. To avoid this create a vertical system for storing and organizing your gift wrap behind the door by using a couple of towel bars. It's totally out of the way and won't clutter up your closets! This keeps them intact and saves on space. More to the wrappers you can have baskets for your scissors, pens, notepads, and ribbons that come in hand while wrapping a gift.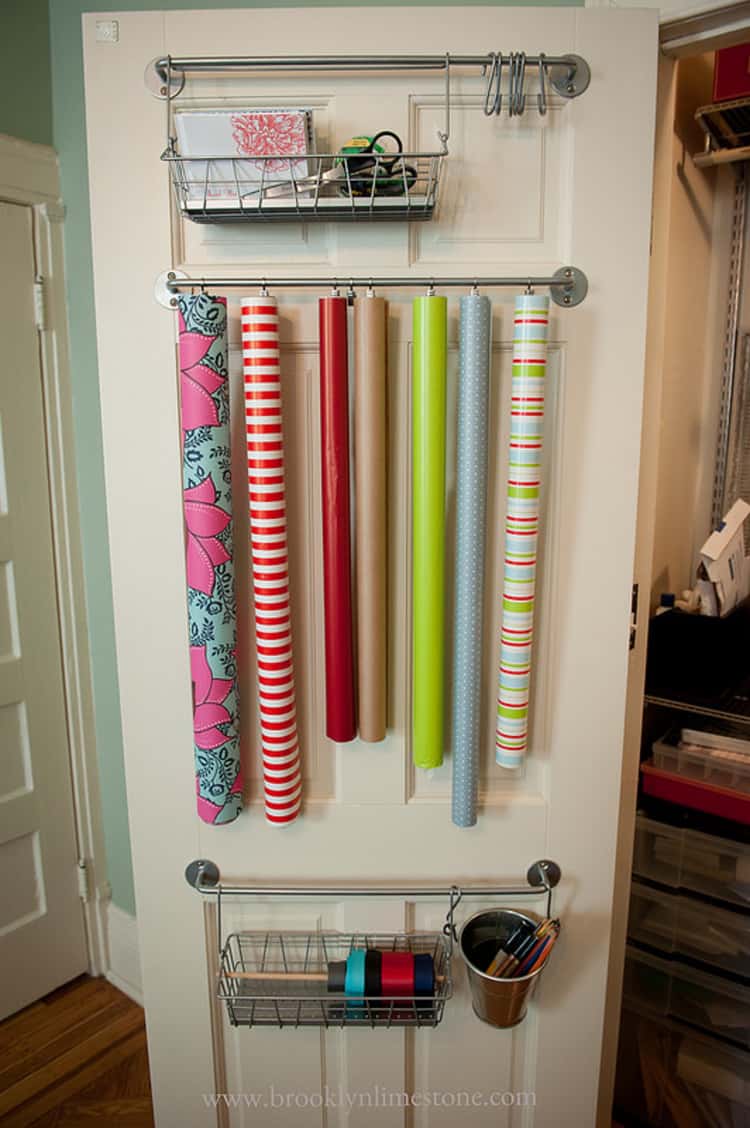 10. Chopping Boards Holder
Nothing makes work in the kitchen easier than chopping boards. They are that one thing that your kitchen shouldn't miss. How easy you retrieve them when about to chop your onions makes the whole difference. You don't have to place them inside a drawer that has your every other cutlery and utensil.  Creatively hang your chopping boards on a towel bar installed on the end of your island or kitchen counter.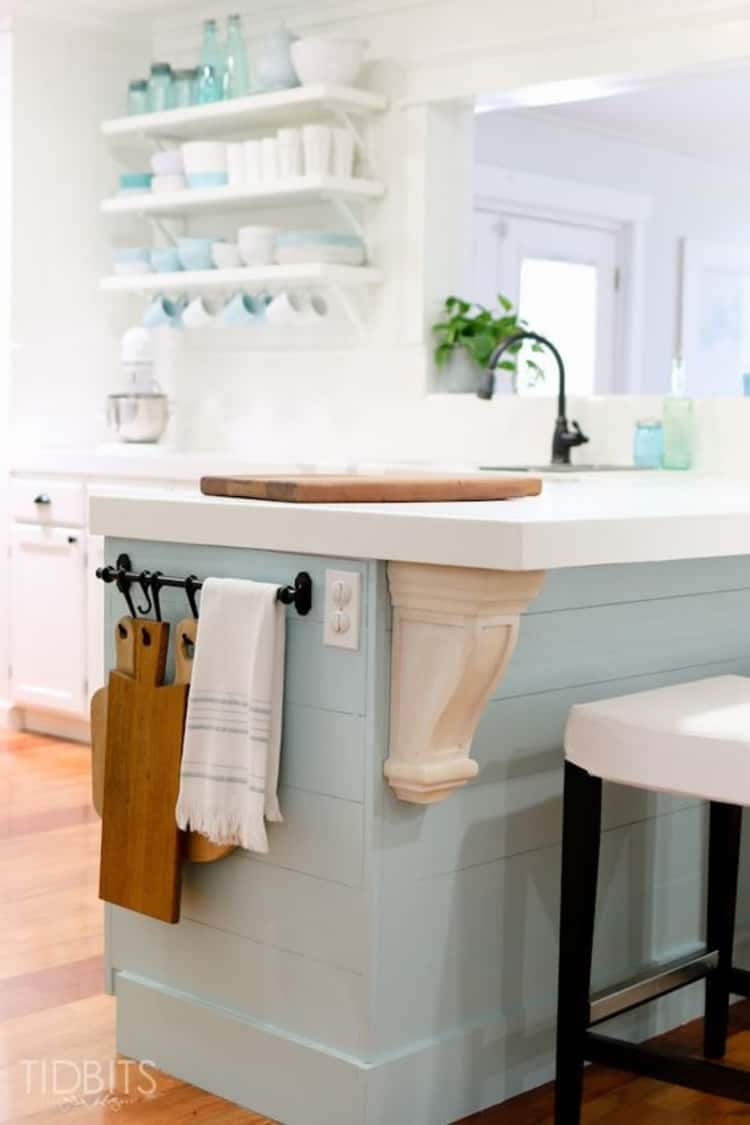 11. Laundry-Room Drying Bar as a Towel Bar Hack
There are clothes such as cotton shirts that can't be dried in a drier coz of their tendency to shrink. Thus they need to be air-dried separately and this warrants a drying area for them. Unlike the traditional drying rack, a towel bar creates more space for lots of shirts. So put up a towel bar in the laundry room (under a shelf) to hang items that can't be dried in a drier. In addition to this task, the bars can be used to hang already ironed clothes when ironing after a laundry day.
12. Scarves Organized On a Towel Holder
Women's scarf organization problems get solved with this genius hack. With just a towel bar and shower curtain rings a magic formula for successfully organizing a ton of scarves is devised. Your head scarfs and winter scarfs are all neatly arranged and ready for use whenever the need arises. My favorite scarves will definitely take the first bar. No debate about this.
13. Towel Bar as a Gardening Tools Organizer
Gardeners in the house, this is your cue to get your spaces neat and easy to navigate. To maximize the space in your tool shed, hang your gardening tools using a bath towel rod. Whatever tool is needed can now be picked easily without having to waste time looking for it.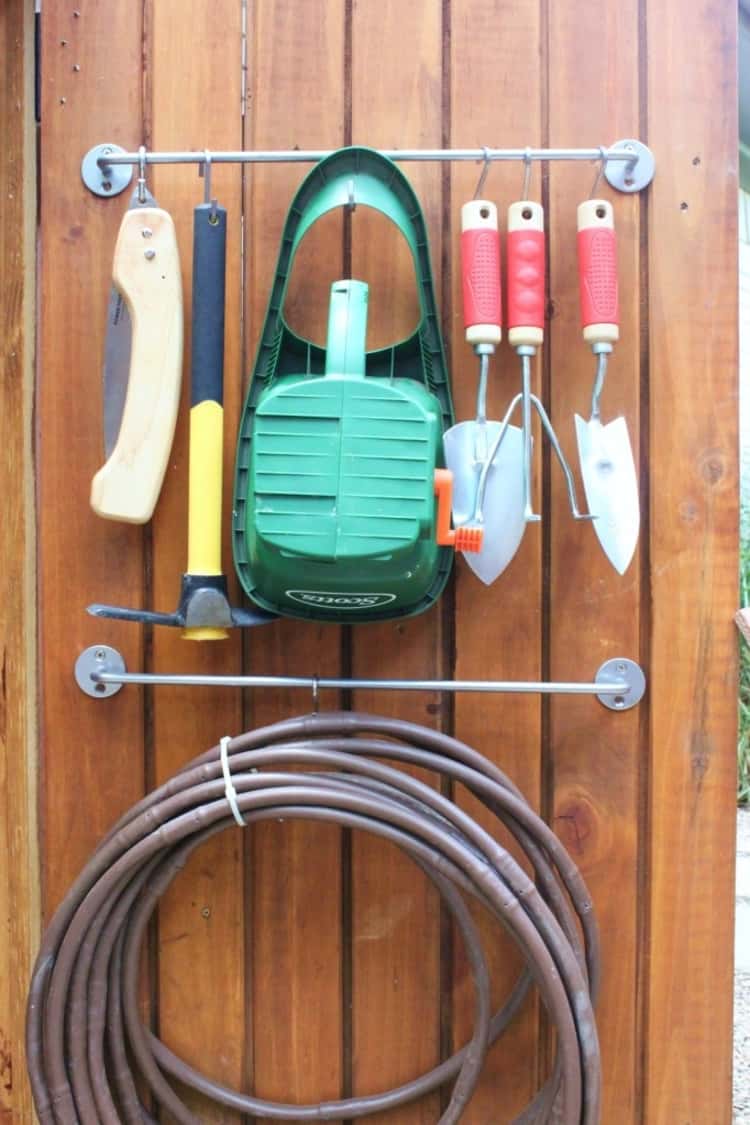 14. Towel Bar Organization Hack For Jewelry
Ladies rush over here. Don't make a mess of your bedside or dressing drawers by placing your necklace, loops, and bangles anyhow.  Use a towel bar and shower curtain hooks to hang all your jewelry. Before discovering this easy DIY craft I would struggle to untangle my neckpieces whenever I wanted to use them. It was so frustrating that some would end up breaking from their whole pieces. I no longer get frustrating mornings since I installed this Towel Bar Jewelry Hanger. Life is enjoyable and I can beautifully be adorned in my pieces.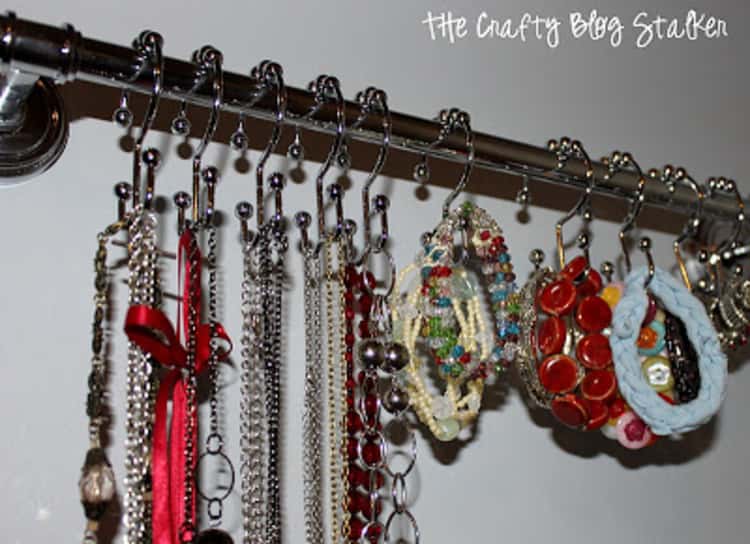 15. Craft Supplies Towel Bar Organizer
Art is magnificent and so much relaxation for me and my kids. Every now and then do crafts and paint as a bonding activity. Almost all the time things get messy and everything is thrown everywhere. I came across this DIY idea which has helped me hang pails and baskets from a towel bar to organize my craft supplies and my kids are getting the hang of placing things where they ought to be. You could also do the same and create more space for yourself and have an organized home.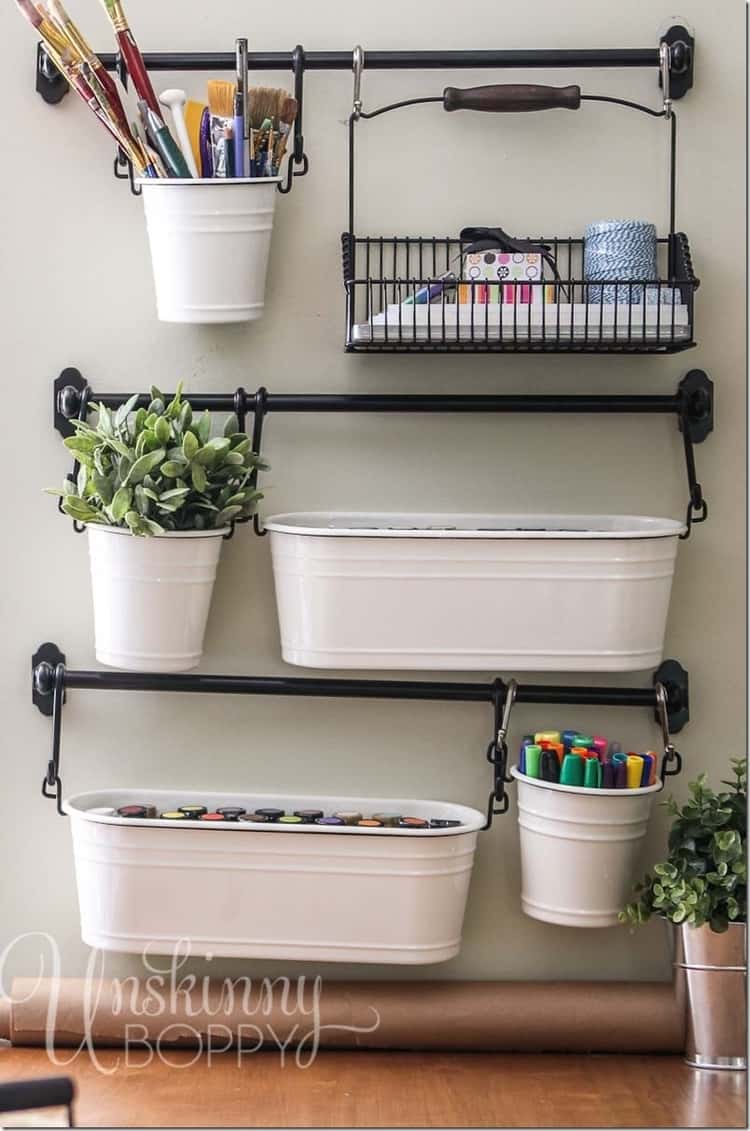 16. DIY Mudroom From Towel Rods
Do you have kids and are in the midst of the spring season where the rains are an almost daily thing? Here's a simple idea for the mudroom. All you need are towel bars and s-hooks to hang backpacks, jackets, raincoats, and more. How genius of an idea! The rest of the house doesn't get dirty with a mudroom in place. And you only need cheap tools to be able to create one.
17. Cleaning Supplies Hanger
Install a towel bar just behind your cabinet door in the washing area or in the washroom. Use this door rack to hang your cleaning supplies under the sink. You could hang two or more spray bottles and retrieve them easily during wash or cleaning time. The hack is an easy one to come up with and serves to help from spillage of cleaning liquids and saving on space as well. Your general cleaning days don't have to be hectic when you know where every supply of yours is stored.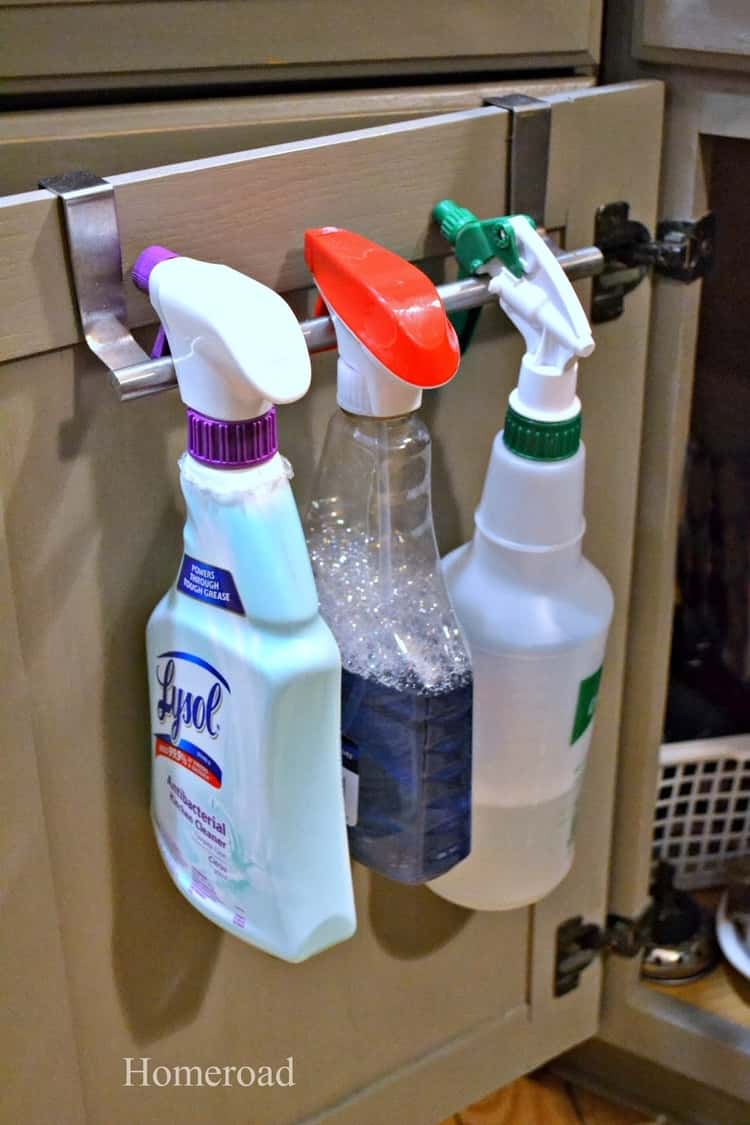 Enjoyed These 17 Towel Bar Organization Hacks and Are Looking for More Clever ways to Organize? Try These Posts!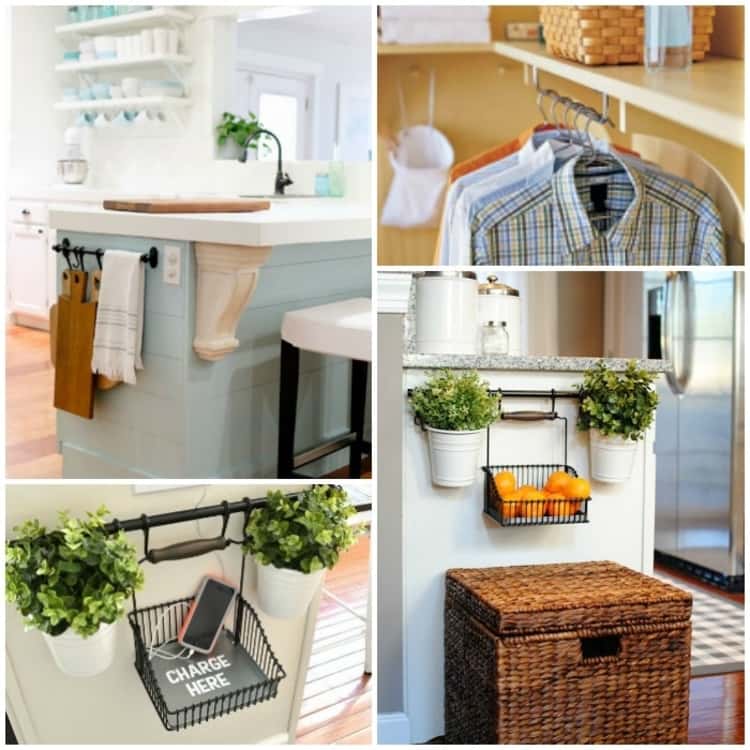 The post 17 Genius Towel Bar Organization Hacks appeared first on DIY House Hacks - One Crazy House.