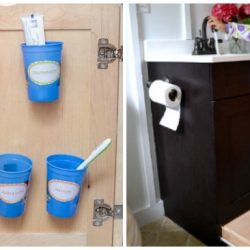 Big bathroom, small bathroom – no matter the size everyone faces the same challenges. How do you maximize the space you're given? How do you create a functional, beautiful space? We've found some amazing bathroom organizing tips that will help you do just that. Whether you need a smarter way to store towels or ideas to help the kids share their bathroom better, you'll find something handy here!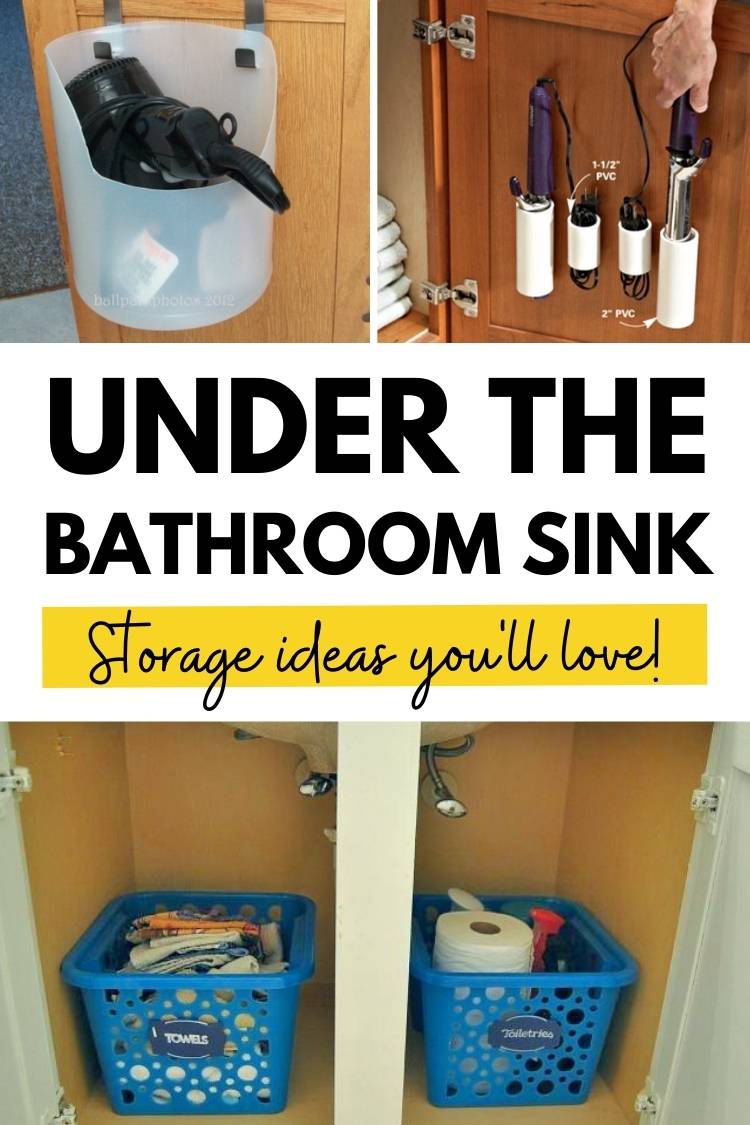 Bathroom Organizing Tips for a More Functional Space
1. Trio of Towel Bars on Back of the Door
Most bathrooms have one hook or towel rack to hang towels. But, what happens if you have a larger family and need to hang several towels in your bathroom? Install a trio of towel bars on the back of your bathroom door rather than hanging them on the wall. This not only saves wall space but is more aesthetically pleasing to boot. This is an idea I'm definitely going to implement (right away) in both of our bathrooms!
2. Bathroom Organizing Tips with Plastic Cups
Does your bathroom counter get cluttered with multiple toothbrushes and toothpaste? Here's a solution you may find helpful, especially if you have small children. Put toothbrushes out of sight while still keeping them organized with this trick. And it's cheap… you can get several plastic cups at the Dollar Store for next to nothing! Plus, each of your kiddos could have their very own cup too.
Here's what you'll need:
Inexpensive plastic cups (you can get these from the dollar store)
Printable labels or you can make your own with a label maker
Velcro tape
All you do is attach one part of the velcro tape to your cup, and the other part to the inside cabinet door. Then, firmly press the cup to the velcro on the door and you're all set. When choosing your plastic cups, make sure to get ones that don't have a wide rim at the top because your velcro won't lie flat or stick well. You can also use red solo cups in place of the plastic ones, but they probably won't last as long. This is a great way to tidy up your bathroom counter!
3. PVC Pipe Toothbrush Holders
PVC pipe also works well, and you can add extras to hold your curling iron, hairdryer, etc. With some 1-inch pipe, end caps, and command hooks, you can have these clever toothbrush holders. These can be installed inside a cabinet door so they're hidden away and your counter stays uncluttered. It's also easy to customize them with vinyl letters or stickers. See more clever PVC pipe projects here!
4. Trim Your Shower Curtain
Shower curtains that are too long, trap dirt and moisture causing things like mold and mildew. Want to avoid that moldy mess? Trim it by a couple of inches or more before you hang it. Measure and make a line on either side, on the inside of the curtain, so when you cut, it's even. I love this super simple bathroom organizing tip!
5. Wicker Window Boxes for Storage
Do you have an unused nook in your bathroom that can be turned into storage? Store extra washcloths, hand towels, and toilet paper in these cute wicker window boxes. They'll fit into the narrowest of spaces! Just hang them on the wall with some hooks, that can easily be found at Lowes or Home Depot. You can pretty it up with some wooden cutouts or even a chalkboard label on the front too.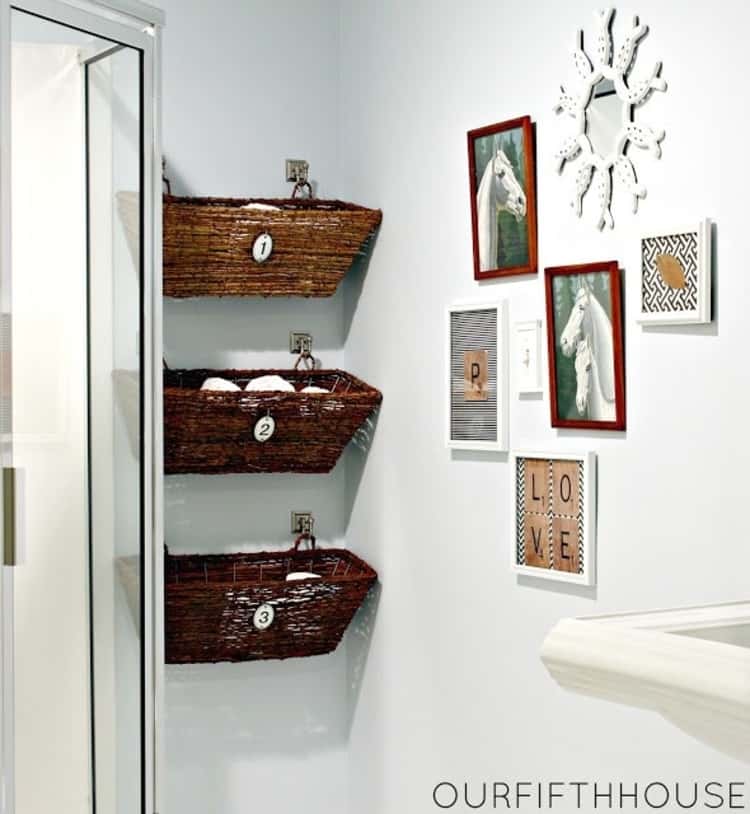 6. Bathroom Organizing Tips Using a Shoe Organizer
Install a shoe organizer under the bathroom sink to hold products and hair styling tools. This can easily be screwed to the inside of the cabinet door or you can install hooks to hang it instead. This might seem excessive and permanent, but simple velcro won't be strong enough to hold the weight. It's so convenient to have all your products right there at your fingertips. And don't miss our tips on other ways to use shoe organizers!
7. Dresser Turned into a Bathroom Vanity
Need more drawers in the bathroom? You'll love this dresser-turned vanity conversion! The top two drawers can only be used on the sides (organizers can keep things in place), but the bottom two drawers are functional. I love the white paint because I think it looks so pretty and retro. Isn't this so neat?
8. Hanging Bath Towels and Hidden Medicine Cabinets
For shared kid bathrooms, try this trick. Give each child his or her own monogrammed towels and their own medicine cabinets! Here, the medicine cabinets are hidden by picture frames. This makes the wall space in the bathroom functional but elegant This is such a clever space-saver AND nobody will suspect there's anything behind the picture frames!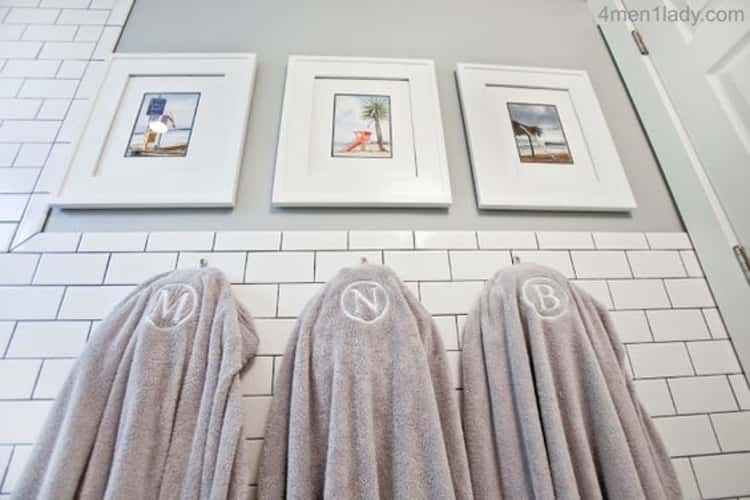 9. Bathroom Organizing Tips with Color-Coded Towels
When more than one person uses the same bathroom, towels often become an issue. If you all use the same color towels, color code them so you never get your towels mixed up between washes. I know I don't want to grab a wet towel when I need to dry off. You'll just need strips of cotton ribbon and a needle and thread, plus hooks to hang the towels. Cut the ribbon to the length you want and fold it in half, sew it to the end of each towel, then hang.
10. Ladder Shelf for Storage
Add storage near the shower with a ladder shelf. There are so many things you can store on the shelves, like rolled-up towels, potted plants, and a basket to hold your toiletries. You'll be surprised at how much it can hold! This can be a fun DIY project as well. What a beautiful addition to the bathroom.
11. Bathroom Organizing Tips Times Two
Do you have multiple kids that want to use the bathroom to brush their teeth at the same time? Or teens fighting over who uses the blow dryer first? I love the idea of the kids' bathroom having two sinks, two hand towels, etc. If you have the extra space, this will definitely make the morning teeth brushing and hairstyling routine go a lot faster! And the bucket in the middle, used as a trash can, is SO cute!
12. Decorative Knobs for Hanging Bathroom Items
This is more of a decorating tip than a streamlining tip, but if you're not a fan of hooks, try decorative knobs instead. Here's a gorgeous example that blends right in with the bathroom decor. Hang accessories, hair tools, and towels, and even a bathrobe from them. Not only is this functional, but it's very beautiful as well. Plus, decorative knobs can be placed in any convenient location in your bathroom.
13. Back of the Cabinet Door Storage
The back of the cabinet door is often neglected, but if you need extra storage space, you may want to look into utilizing this area. Look how much you can fit in an under-the-sink cabinet if only you maximize the space you're working with. This makes a cute DIY project and can hold toiletry bottles that normally take up space on the counter. Wallpaper or contact paper (to pretty it up) is a nice touch as well. I love how organized everything is!
14. Open Shelving for Storage
Open shelving looks beautiful if done right, and it adds lots of storage to small bathrooms. Here's a beautiful example with wicker baskets and a pretty mirror. There's space for extra toilet paper rolls, cotton balls, Q-tips and so much more. I absolutely love the magazine rack on the wall, too. Hey, sometimes you just need something to read, and the magazine rack is conveniently within reach!
15. Kid-Friendly Vanity
This idea for a kid-friendly vanity is genius! The bottom "drawer" is really a step, so you'll save space by not adding a stool to an already crowded space. Quickly slide the drawer out and your kiddos can easily reach things like the sink, the water faucet, the toothbrush, and toothpaste, etc. What a clever way to help your little ones gain independence and feel more confident. You can get the DIY plans here.
You May Also Love These Cool Parenting Tricks
Do you have trouble with the toilet paper in your bathroom unraveling? I know my kiddos love to pull too much off the roll. Here's a cool solution to that problem. Ha! I never thought of this before. There are some other super cool tricks in this video you may love!
Such as:
Keep track of how much medicine you've used in your bottle
Quick and easy way to slice meatballs in half (without slicing them one at a time)
and a clever way to make the bathroom water faucet closer for little hands
Love These Bathroom Organizing Tips? Here are MORE Bathroom Hacks:
The post 15 Brilliant Ideas to Streamline Your Bathroom appeared first on DIY House Hacks - One Crazy House.