This post contains affiliate links - using affiliate links from Homeschool Coffee Break helps fuel this blog. 
Plans are under way for our co-op classes to begin in the fall, so I am updating and tweaking my lesson plans for the classes I'll be teaching. One of these is the Non-Fiction Writing class for high school students. I've taught it twice at the co-op and it will be offered again this coming year. I've reviewed the curriculum we use previously, but it was a few years ago, so I thought I should update with a review on how we use 
The Power In Your Hands f
rom
Writing with Sharon Watson
in this classroom setting.
As I've noted several times in previous articles, 
Writing with Sharon Watson
has earned its popularity among homeschoolers fairly. Sharon Watson is a veteran homeschool mom herself, and has also taught literature and composition in co-op settings. Her relaxed and conversational teaching style comes through in her textbooks, which are all written directly to the student. Her website is a great resource in itself, with lots of free writing prompts, teaching tips, and resources. The textbooks are user friendly and reasonably priced.
As in her other texts, Sharon Watson writes directly to the student in 
The Power In Your Hands
.
It's designed to be used quite independently, but it's also very easy to adapt for use in a classroom setting. It works very well in a co-op class, in which students work on their own during the week and meet for instruction once a week. The lessons are clearly presented, and written in a relaxed tone with a little humor interjected. Students will learn how to write several types of persuasive essays, a biography, a literary analysis, and a position paper, and other essays as well.Students learn how to edit their own work, and proofreading and editing is emphasized throughout. The course is a good preparation for SAT essays and college writing. 
There are 117 suggested daily lessons, guiding the student through 21 essays, reports, articles, and narratives all together. 
How did we use it? In the co-op class, we work through the text systematically, although I found it necessary to switch the order of chapters a few times in order to fit it best to our class schedule and calendar. Students first work on Opinion Essays, learning how to organize their talking points for effectiveness and practicing coming up with good arguments for or against certain positions. In these first couple of writing assignments, the correct format for handing in drafts and finished works is explained clearly. From Opinion essays, the students move on to learn about persuasive essays, and later on they also learn specific types of expository writing, including position papers.
The textbook explains the writing process and steps clearly, with plenty of practical examples and advice. There are great ideas for writing hooks to introduce essays, for writing strong conclusions, and even advice on managing time.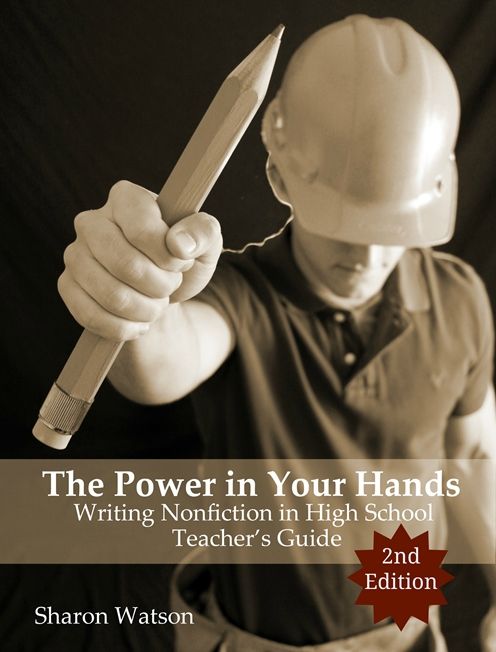 The Teacher's Guide is loaded with teaching helps, and has a detailed Grading Toolbox for Teachers, which explains how to give a grade, and what types of things a paper should demonstrated to earn an A or a B and so on. There's a good answer key to the discussion questions and practice assignments in the text, and an evaluation form and grading rubric for each of the chapter writing assignments. Other helpful information in the Teacher's Guide include a selections of 14-Minute Power Surges. These are writing prompts designed to encourage students to write without thought of being graded. These prompts cover a wide variety of topics and styles, and upon completing a selection of these, a student will have "starter" material for many kinds of essays. The grading templates are a favorite tool of mine, because it takes the guesswork out of evaluating student writing.
What we liked best:
The text does a great job of breaking 
work down into manageable chunks, and it's easy to see where the stopping place is for each day's lesson. As a teacher, I love the clear grading rubrics!
What I need to mention: Do pay attention to which edition is called for if you plan to use this in a co-op or class setting. The first edition and second edition are not exactly compatible. The page numbers won't match and there's some material that's different, so save yourself some confusion by making sure you use the same edition the teacher plans for.
Our bottom line: Since I will be teaching this course for the third time, I think it's safe to say that it's been popular with our homeschool co-op families, and it's easy for a teacher to use. This text makes it fun and interesting to learn writing techniques, and the assignments are flexible and not overwhelming.
Would you like to power up your student's writing skills? Here's what you need to know:
Age recommendations: This course is intended for high school students.
This review is adapted and updated from our previous full review here: 
The Power in Your Hands (A Schoolhouse Crew Review)
and an update in the Blogging Through the Alphabet series here: 
The Power in Your Hands (Blogging Through the Alphabet)
.
 ©2006-2020 Homeschool Coffee Break. All rights reserved. All text, photographs, artwork, and other content may not be reproduced or transmitted in any form without the written consent of the author. http://kympossibleblog.blogspot.com/ 
 We are a participant in the Amazon Services LLC Associates Program, an affiliate advertising program designed to provide a means for us to earn fees by linking to Amazon.com and affiliated sites.
I have done my best to provide accurate pricing and links at the time this post originally appeared. Please be aware that these may change.