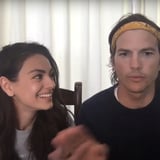 If all else fails, Ashton Kutcher should definitely consider a career in teaching. The actor-slash-producer-slash-entrepreneur, who is clearly in no need of a backup plan, sat down with wife Mila Kunis to chat with Jimmy Fallon about what they've been up to since isolating at home. For starters, it sounds like they've been absolutely crushing homeschooling their two kids - 5-year-old daughter Wyatt and 3-year-old son Dimitri - and even shared a helpful hack to help out other parents.
Mila said that over the last few weeks, she's come to the realization that she's a "fantastic TA. I'm a professional TA," she said, pointing to Ashton and praising his homeschooling skills. "I like me some teaching," Ashton said. "We set up a curriculum for the week and figure out what the kids are going to learn throughout the week." So far, they've tackled energy and electricity and architecture and building, and next on the agenda is the human body! We know what you're thinking: how the heck do they know so much about the digestive system?! Ashton said it best: "We all have Google, it's magic."
They've also tapped their friends to help out with some at-home entertainment and schooling, and we have to say, it's a pretty genius idea. "We enlisted our friends to do 20-minute Zoom sessions with our kids, and they can teach them anything," Mila shared, explaining that these lessons could be about whatever they want, such as baking cookies, how to make flower arrangements (*cough, perfect for Mother's Day, cough*), and more. "And that gives us 20 minutes of not parenting and it also allows our kids to have another type of interaction." They said it keeps the kids totally engaged.
Watch the video above to see how Ashton and Mila are making the most of the homeschooling situation, then check out some useful homeschooling tips here.